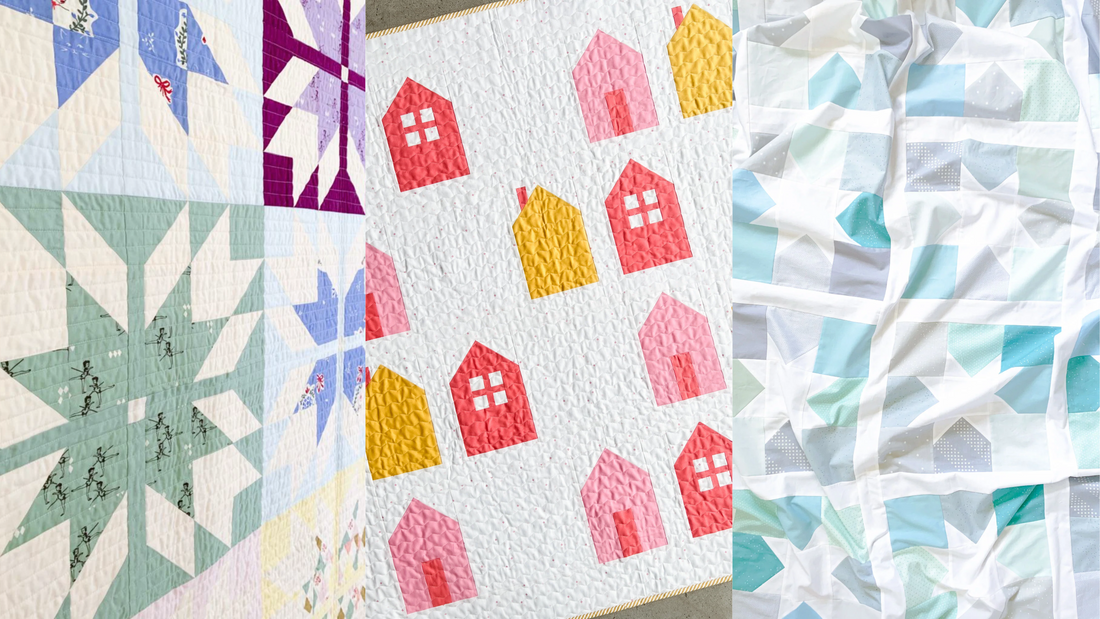 Modern Baby Quilt Patterns
Create a timeless keepsake with one of these beautiful modern baby quilt patterns. The list below features an assortment of patterns, including both free patterns and those available for purchase.
Welcoming little ones into the world is a special occasion filled with excitement and anticipation, and making a baby quilt is one great way to express our love for the little ones and their families. Plus, baby quilts tend to be smaller, and therefore, quick projects to put together!

Over the years, I've had the pleasure and honor of making a few baby quilts, so I thought today I'd share some of my favorite modern baby quilt patterns with you - from ones I've tried to ones I cannot wait to make when the occasion arises!
Baby Quilt Sizes
Before we jump into the patterns, let's talk about one of the most asked questions when it comes to baby quilts - size!

The good news is that baby quilts are pretty flexible when it comes to sizing. Ultimately, the size will depend (or determine) on how it'll be used. Most baby quilts are designed to be used during tummy-time, or for babies to lie on their backs. While other quilts are specifically designed to fit in a crib (but keep in mind that it is not advised for babies to sleep with quilts - or any blankets, etc). Here are the most common baby sizes:

Multi-Use: quilts can range from 36"x 36" to 50"x50" (and they can be square or rectangular within those measurements)
Crib: roughly 36" x 52"
Modern Baby Cotton and Joy Quilt Patterns
Solstice Lights is a beginner friendly and block based that uses fat quarters or 1/3 yard cuts of quilting fabric. I've made two different baby boy quilts using my Solstice Lights pattern. This is a very versatile quilt pattern and can be made very quickly - the bright white and blue version was actually made in 7 days! 
Prairie Tracks is a big block pattern inspired by spring. It combines the classic bear paw block and a tulip block for a stunning result. This fun mix-and-match pattern is perfect for confident beginners and is fat quarter friendly. Check out this version of Prairie Tracks I made using the Pirouette fabric collection from Birch Fabrics.
Joyful Stars is a fun and modern star quilt pattern that works well with solids, prints, or scraps. No tricky piecing makes this a great beginner quilt pattern. I made this version of Joyful Stars using grays, mints, and light blues - as well as, a nice balance of prints and solids!
Squared Up quilt pattern is a fast and fun pattern, perfect for quilters looking for a quick project! This pattern is perfect for showing off your favorite prints - in those found in your favorite layer cake! I made a scrappy baby boy version of Squared Up for a dear family friend that I shared over on my blog. My pattern testers for Squared Up also made some pretty rad versions too!
Cozy Village is modern house block quilt pattern. The pattern includes three different house blocks for a dynamic design. Fun Fact: Cozy Village is actually a companion quilt pattern for my fabric collection - South Hill! I sewed up this adorable baby Cozy Village quilt using Confetti Cotton solids and paired it with my print from the Hush Hush 2 fabric collection.
Cabin Valley quilt pattern is a fun and modern take on the classic Log Cabin quilt block. The quilt block in this design is set on point and is a great place to start for those that have never assemble a quilt top using this method! And depending on which size you choose to make, you can choose to use jelly roll strips, layer cake squares, or fat quarters making this a very precut friendly pattern. I made a baby version of Cabin Valley using the Ahoy! Mermaids fabric collection by Melissa Mortenson that turned out so cute!
More From Other Modern Quilt Designers
Free pattern alert! Rachel of Wren Collective has this free quilt pattern called Punch Lines available over on her site! She made quite a few versions of this pattern, including this adorable green baby quilt that has some very cozy-looking hand quilting on it.
Rachel also has this very fun quilt pattern called Double Edge available in her shop! It looks great in these bright, neon colors, but I imagine it would look fantastic in just about any colors or prints!
My good friend, Julie, over at Running Stitch Quilts made this Chevron Points quilt using my Daybreak fabric collection! I love that this pattern really lets the fabrics shine while still being modern and adorable!
Free Pattern Alert! Melissa of Polka Dot Chair has this Giant Star baby quilt pattern available for free over on her site! As Melissa says - this is a baby quilt that you can stitch up in an afternoon! What a great option for a quick gift quilt!
Free pattern alert! My friend Amber over at Alderwood Studio has this quick and simple free quilt pattern called Green Gradient Quilt available on her blog. This quilt can be used as either a baby quilt or a wall hanging. 
Sarah of Sarah Jean Makes has this modern super pre-cut friendly pattern called Ingleside Quilt that I just love! You can use charm packs, layer cakes, fat quarters, or yardage for this modern quilt pattern. Check out this Ingleside baby quilt that Sarah of Acorn Corner Quilts made using a black background.