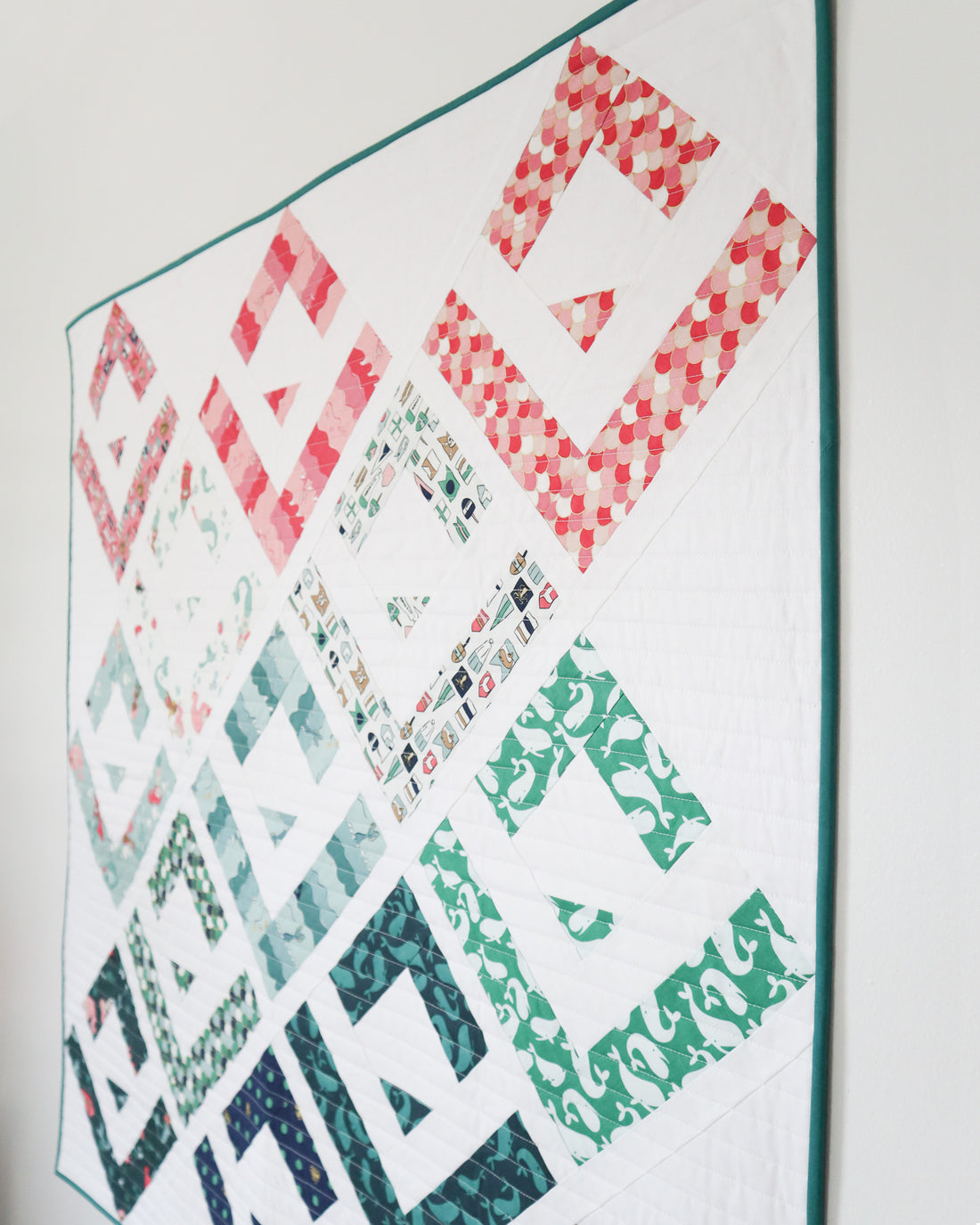 Cabin Valley Quilt - The Scrappy Baby One
The Cabin Valley quilt pattern is now available in my shop
I am so excited to share the second sample for my Cabin Valley quilt pattern today - the scrappy baby one!
Funnily enough, this was actually the first version I made of this pattern. As I explained in my previous post, I wanted to make a quilt pattern similar in vibe to my Cabin Peaks pattern, but that worked with precuts. That meant I needed to check my math and ensure the pattern really did work with precuts, so I got my hands on a 10" stacker of Ahoy! Mermaids by Melissa Mortenson and got to work.
Since I was making a baby size quilt I picked 13 of my favorites prints from the 42 included in the 10" stacker and arranged them into an ombre sort of look. I decided on the arrangement of the colors before I cut into the fabric to make sure there wasn't too much or too little of any one color.
Once I had the quilt finished, I couldn't stop smiling. It was better than I imagined it'd be! The colors were perfect, 10" fabric squares worked perfectly, and it all came together so, so fast!
Straight Line Quilting
Since I sent my Modern Ombre sample and my all-purple sample to the long armer, I decided to quilt this one myself. I kept it simple by going with my trusty 3/4" apart straight line quilting.
I did this on my Janome 9450, using the walking foot, and it quilted in an afternoon! I've said this before and I'll say it again - 3/4" apart straight line quilting is the perfect quilting for just about any quilt! The perfect balance of texture and cozy.
Purchase The Pattern
Quilt Information
Pattern: Cabin Valley by Cotton and Joy
Quilt Top Fabric: Ahoy! Mermaids by Melissa Mortenson for Riley Blake Designs
Backing: Kisses in Raspberry
Binding: Confetti Cotton Solids in Jade
Pieced and Quilting on a Janome 9450
---
Tester Quilts
And what would a new pattern release be without amazing testers? I had the opportunity to work with both long time testers and new-to-me testers and it was so fun to see how everyone made this pattern their own. So without further adieu and in no particular order, here are the Cabin Valley tester quilts!
Julie
Julie always makes some of my favorite versions during testing and this time was no exception. I love how happy and bright her quilt is!
Amy
It always blows my mind how different a pattern looks depending on fabric choices and Amy's quilt is the perfect illustration to this. It's lovely and incredible and SO different from my own samples and I love it all the same.
Claudia
Claudia's fabric choices are so lovely for this muted baby quilt - and a dogs with quilts? YES PLEASE.
Jenn
I LOVE Jenn's use of these Tula Pink fabrics and it looks like the perfect beach quilt!
Delphine
Delphine always surprises me in the best ways with her fabric choices and this was no exception. I love how different this quilt looks from all the others!
Lauren
I'm not kidding when I say I wish I could steal this quilt from Lauren. I love how each print from this Christmas collection looks in this quilt and I might, just might, make my own version of this exact quilt!
Jessica
Jessica always makes some of my favorite quilts during testing and she for sure killed it with this scrappy-licious Cabin Valley!
Pam
I am IN LOVE with this Cabin Valley Pam created. The navy blue background is simply perfection!
Lori
Lori from The Grey Finch Company used one of my favorite fabric collections of this year - Gingham Gardens from Riley Blake. It looks so lovely in this quilt!
Sarah
Sarah was another tester who used a dark background, and she changed the Modern Ombre layout a little bit for this incredible quilt! I love, love this one!
Kasie
Kasie from Marmalade Mood Quilts made this adorable baby quilt with a navy background. I love that navy and red combo so much!
Rosie Girl Quilting
The lovely ladies from Rosie Girl Quilting made this all-solid beauty and I cannot get over their pictures! You can purchase a quilt kit for their version on their website!