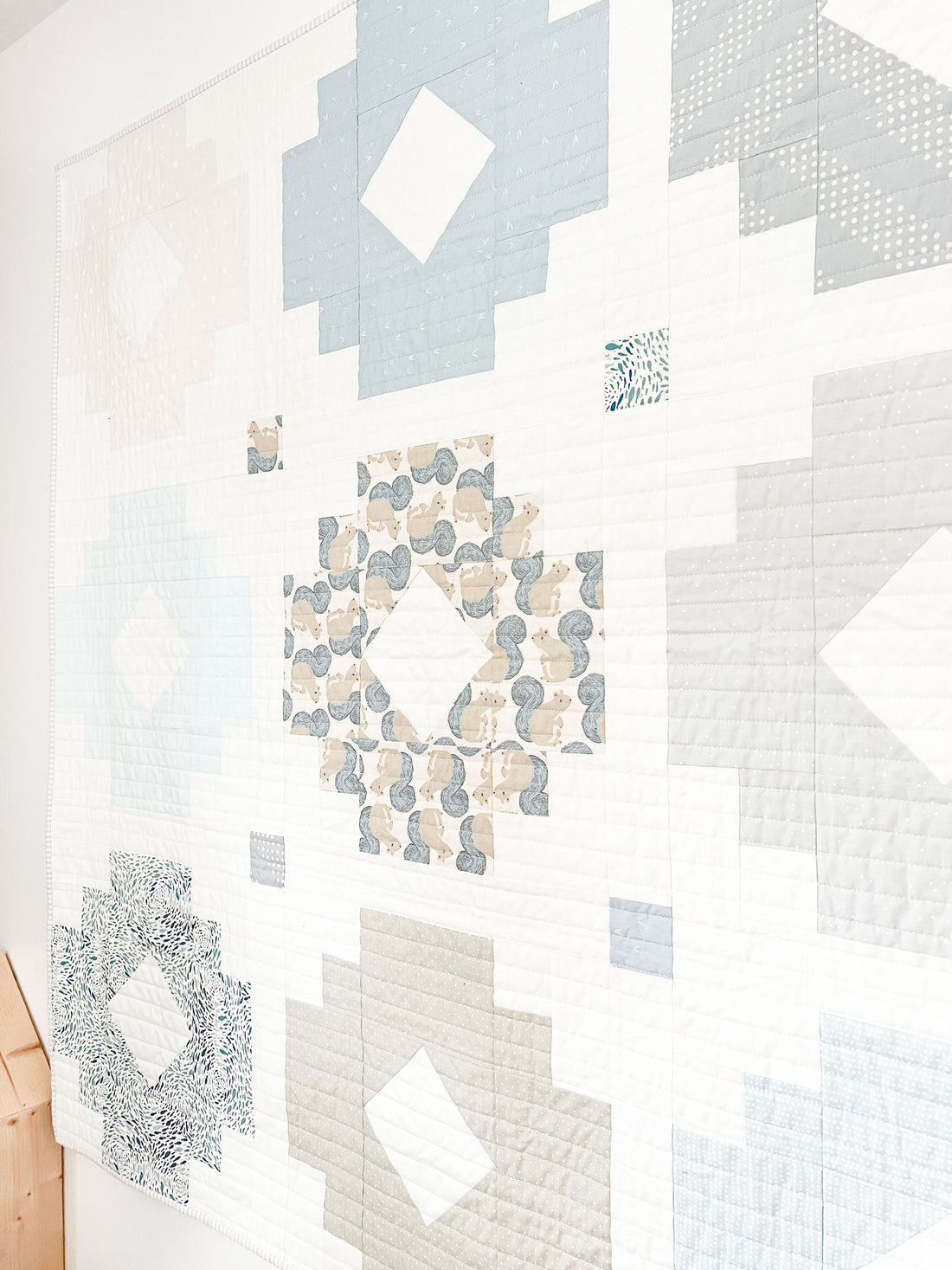 Baby Boy Quilt - Solstice Lights
This is the story of how I made a baby quilt to gift - from learning of the gift opportunity, to the actual gifting of the quilt. So scroll on down to learn how this modern baby boy quilt using my Solstice Lights pattern came to be!
--
May went in a blink for me, so as we kicked off June I stared at the calendar realizing we were inching ever closer to the last day of school for my oldest and I did not have a teacher's gift. I knew I wanted to make her something - she was an incredible First Grade teacher to our kiddo and I wanted to show my appreciation, but I was drawing a blink as to what to make her.
That is, until I learned she was pregnant with her first. She's expecting a boy - I immediately knew I had to make her a baby. Only problem? I was exactly one week until the end of school. That meant I had exactly 7 days to make this quilt, did I dare? Could I do it?
Yes and Yes. I dared and I did it and I love, love the end result!
So here's the day by day breakdown for making a baby quilt in a week (keep in mind I only sew in the afternoons from around 1 to 5-ish)
Day 1: Pattern, Fabric Pull, Cutting
We came home with my kiddo after school, and I sat in my sewing room and debated for about 20 minutes about whether or not I would be doing this. This would be a challenge, for sure, but thing is? I like challenges. 
The first step was deciding on a pattern. I knew it had to be something quick and easy. Thankfully, I had a few options available to me - it came down to three options: Joyful Stars, Squared Up, and Solstice Lights. Things was, I've already made a Joyful Stars Baby Quilt and a Squared Up Baby Quilt, and I wanted something new. So that left Solstice Lights.
This is one of my favorite patterns, and one I think it's under-appreciated among all my other patterns. It's not flashy, but it's fun to make and comes together incredibly fast so I was super excited to make this.
The second step was fabric. Since I had my pattern, I knew I would be needed 9 prints (one for each block), plus a solid for my background. Thankfully I always have a few yards of white or off-white fabric on hand so I grabbed some Confetti Cottons in Off White, and then dove into my stash for the main prints,
I knew I wanted some light blues and light grays for this quilt. I immediately grabbed an OG Cotton and Steel squirrel fabric I've had in my stash for ages - it finally felt right to use for this project and kept grabbing fabric that went with it. I ended up with this collection of 9 prints -
Third step was to cut all my fabric. Thankfully, this pattern doesn't have a ton of pieces (big blocks for the win!) so this went really fast!
Days 1 and 2: Sew Blocks
With all my fabric cut, I got to sewing. I did a lot of chain piecing while making this quilt because it makes everything so much faster. By then end of Day 1 I had all my center squares for my blocks.
Day 2 was all about doing the Block Corner pieces and then sewing the blocks together. At this point, I knew I had made the right decision - from pattern to fabric, these blocks just looked so good.
Day 3: Quilt Top and Basting
On day 3 I put put the quilt top together and basted my quilt sandwich. These are two of my least favorite steps in quilting -- something about adding sashing... I just don't particularly like it and basting hurts my knees but I got it all done and even got a little quilting done until it was time to make dinner!
Day 4: Quilting and Binding
Day 4 was all about finishing - I finished the quilting I started on Day 3. I went with some straight line quilting with my walking foot since it's so fast and I kept my lines about 3/4" apart. 
Once I got the quilting done, I squared up my quilt and I added the binding. For the binding I went with my one true love striped binding using this light gray stripes woven from my stash. 
I debated whether I would be finishing the binding with my machine (much faster) or by hand (slower, but nicer finished) and decided to finish it by hand. Even though it's slower, this was only a baby quilt so I knew I could finish it that night if I had the right entertainment on TV, hah.
Day 5: Wash
I don't always wash my quilt immediately upon finishing them, but for this one I did. I always wash quilts before gifting them so I can ensure the first wash is done with 2-3 color catchers since I don't prewash my fabrics.
I am so, so glad I did with this one because the navy blue fabric I used for the backing let out quite a bit of dye! The color catchers came out looking dark blue!
Day 6: Gift
This was technically done on Day 7 since I waited until the last day of school to give the teacher the quilt, but you get the drift. I stopped at the store the day before and got a gift bag, and handed it to the teacher that last morning. She really liked it and appreciated the gift :)
As I mentioned in the beginning, I only sew in the afternoons (my mornings are for chores and working out), so this could've been done much faster than I did it. That said, I think taking a bit of time allowed me to really enjoy the process.
Quilt Information
Pattern: Solstice Lights by Cotton and Joy
Fabrics: Confetti Cotton in Off White (Background), (from top to bottom as seen in the first photo) Squirrels by Sarah Watts, Unknown print from Art Gallery Fabrics, XOXO by Cotton and Steel, Dottie in Dove by Rashida Coleman Hale for Cotton and Steel, AGF Enchanted Voyage, Add It Up in Khaki, Moda Woven, Sugar in Pottery, Moonscape in Arctic by Dear Stella. 
Backing: Shades in Navy by Riley Blake Design
Pieced and Quilted on my Janome 9450
Get the pattern