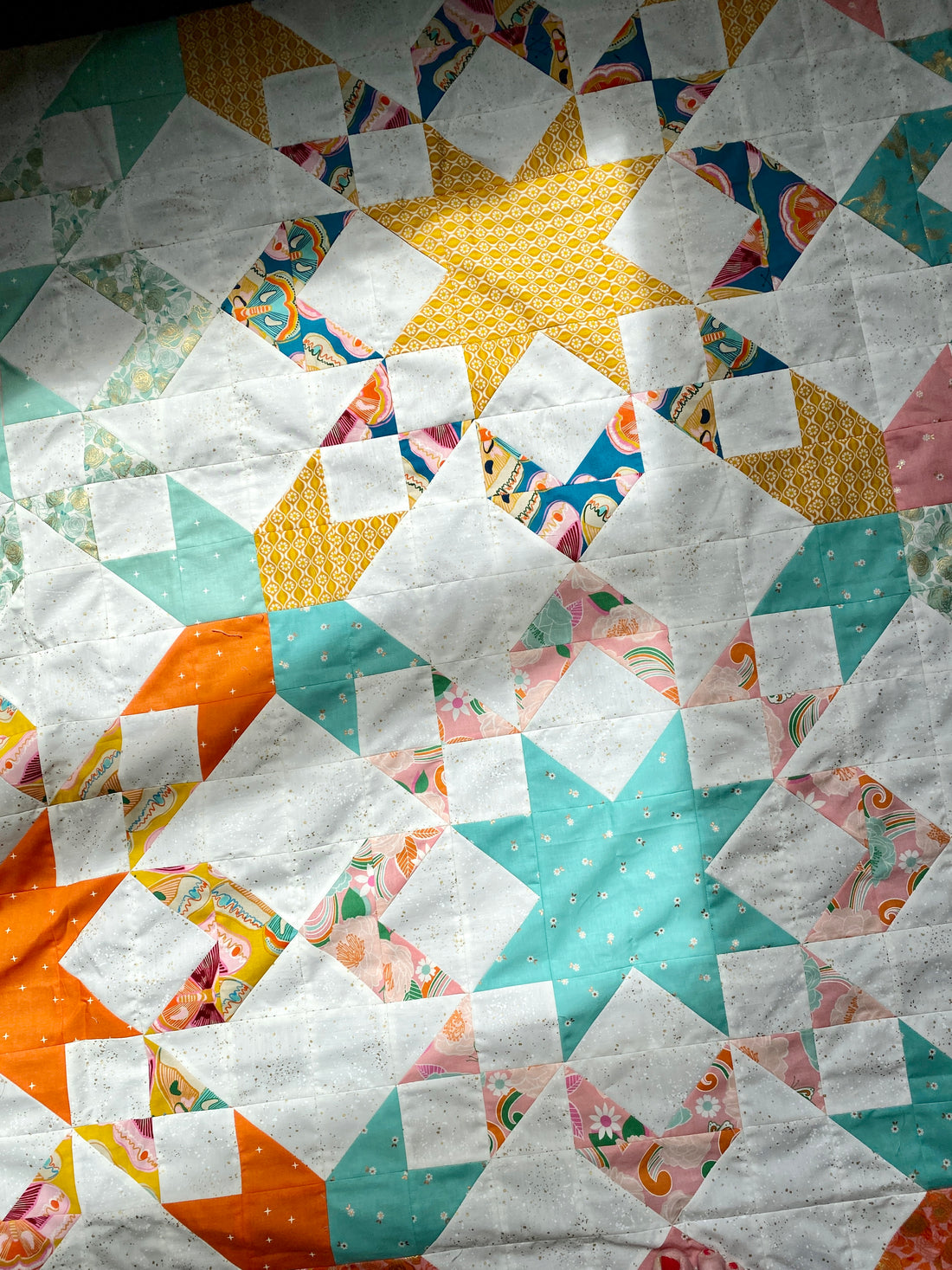 Starly Quilt - The Tester Parade
Did you hear? I released TWO (yes, two!) new quilt patterns this weekend - Starly and Reverie! These two quilt patterns are part of my upcoming fabric collection - Moonchild - for Riley Blake Designs that's being released in September.
Moonchild Fabric Collection
My Moonchild collection is the product of my long-standing fascination with the night sky, the bright moon, and swirling stars that have always called to me. In my adult years, I learned that my astrological sign of Cancer also gets the name Moonchild. After reading more about it, some of my fascination made sense. In colors pulled straight from the sky, with sunset pinks and purples, midnight blues, and sunrise yellows, the Moonchild collection is an exploration of what we might encounter if we take a break from the every day and simply look up.
If you'd like to read about my own Starly Quilt in my Moonchild fabrics, you can read about them here.
Tester Quilts
While the Starly Quilt Pattern was made for my Moonchild fabric collection, it looks so good in other fabrics as well! I wanted to take some time and show off my amazing testers and their versions of the Starly Quilt.
If you'd like to see the Reverie tester quilts, you can read about them here!
Pretty In Pink Starly
This Starly Quilt was made by Amy and features another one of her fabulous fabric pulls! She never ceases to amaze me with her bright, fun, and bold fabric choices.
Garden Party Starly
I can't get over how pretty this Starly Quilt is! Breanna made this version using fabric from the Curio collection from Ruby Star Society and a little bit of Speckled as the background. 
Baby Blue Starly
Jessica made this baby size Starly and showed off how pairing solids and prints together in a quilt can turn out so beautiful! I love this sweet and soft version of Starly.
Scrappy Binding Starly
I loved watching Lauren's Starly Quilt come together! This is another example of how great solids and prints together in a quilt can be! Lauren backed this baby Starly with faux fur and finished it off with scrappy binding!
RSS Starly
Last but not least, Sarah made a throw size Starly with a dark background fabric and paired it with some fun Ruby Star Society prints! She has a quilt kit for this version and one with a white background listed in her shop if you'd like to make one just like hers!
Purchase The Pattern