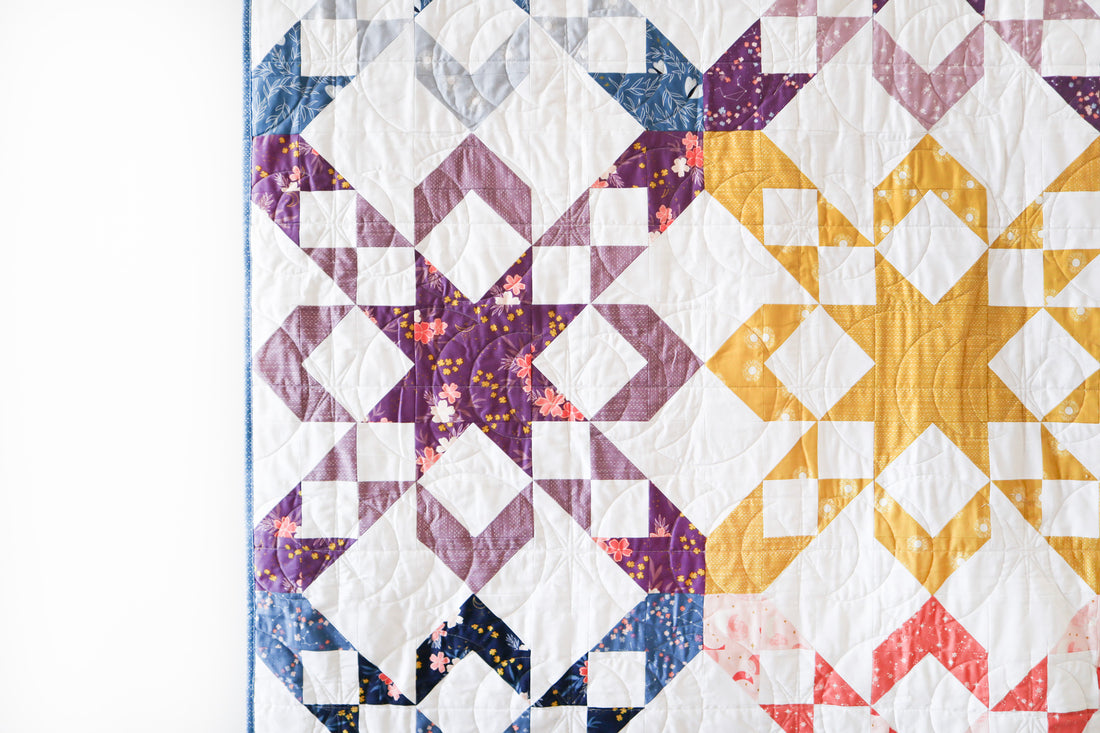 Starly Quilt - The Moonchild Fabric One
Meet the Starly quilt pattern - the third pattern of 2023! 
Starly is now available in the shop
I am so, so excited to introduce my newest pattern, Starly! Starly is one of two patterns I'm releasing this weekend and I honestly, adore it.
The Starly quilt pattern was born a little over a year ago, so it's incredible finally being able to share it with you all!
Modern Sawtooth Quilt
As I mentioned above, Starly was born over a year ago. I designed this pattern while finalizing my Moonchild fabric collection. This fabric collection, shipping to stores September 2023, was inspired by all things celestial, so I knew I had to have a star-based pattern with this collection.
I had this design of a classic sawtooth star sort of wreathed from a previous design for the Quilts and More Magazine, but I wanted to play around with the possibility of a secondary design between the blocks. So I opened the file in illustrator and after a little while, I landed on this design. 
As soon as I tiled the block design and saw how it'd look as a full quilt, I knew I had the perfect design for what I wanted. I added the Moonchild swatches, and Starly was born!
Moonchild Fabric
As I mentioned above, I designed this pattern to go along with my Moonchild fabric collection. Unfortunately for me that meant I had to sit on this design for a little over a year (!) and couldn't see it come to life in this very fabric for allll that time. But the wait paid off!
I got my advanced yardage in July and the very first thing I did was pick 12 prints out of the 25 in the collection. Let me tell you - it was not an easy decision! In the end, I ended up going with 6 pairs of prints from each colorway - lighter blues, dark blues, two purples, yellows, pinks. 
I wish I had taken more picture of the sewing process, but unfortunately I had a pretty tight deadline so it was all about sewing for me!
Longarm Quilting
Due to my tight deadline while working on this pattern release and still needing to sew one more sample (my Moonchild Reverie quilt), I knew I didn't have time to quilt this myself.
Thankfully, the ever patient Jenn of Jenn B Quilts made some room in her schedule for me and quilted this beauty! Together we went through a few different options, but decided on the Vast panto from Sew Shabby Quilting. 
The panto has mixture of stars and moons which prefectly match the fabric theme!
For the backing, I went with a soft blue fabric and the binding is the blue striped fabric from the collection - because ya girl loves a good striped binding!
Quilt Information
Quilt Pattern: Starly by Cotton and Joy
Fabric: Assortment of prints from Moonchild Collection. Get the quilt kit here!
Binding: Signals in Denim from Moonchild collection
Pieced on my Janome M7
Quilted by: Jenn of Jenn B Quilts
Panto Used: Vast
Purchase the Pattern