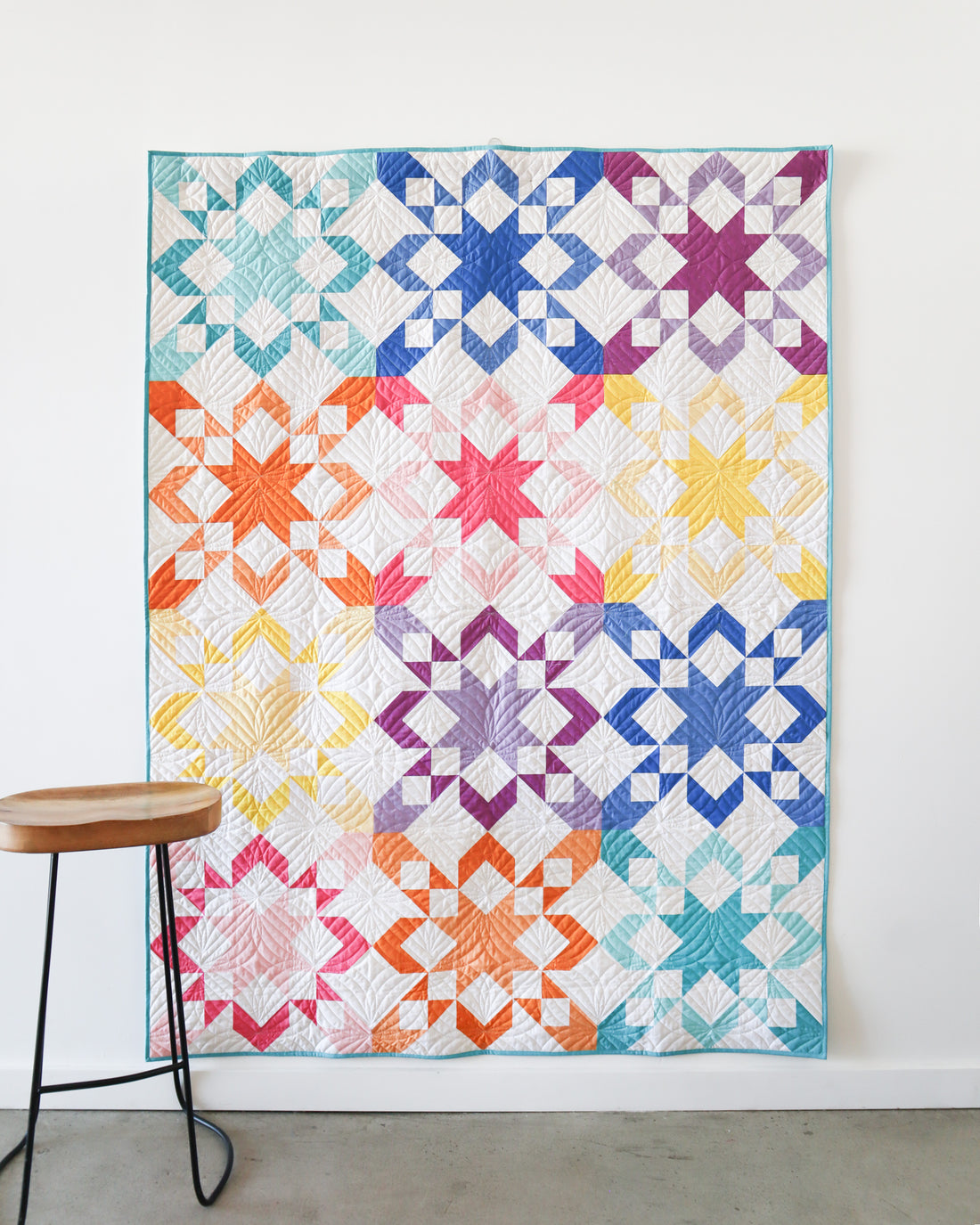 Starly Quilt - The Solids One
Meet the Starly quilt pattern - the third pattern of 2023! 
Starly is now available in the shop
I'm so excited to share with you the all solids version of my Starly quilt pattern. It's no exaggeration to say I'm on love with how this quilt turned out. 
This was actually the first sample I made for Starly, since I was waiting for my Moonchild advanced yardage so I worked ahead a little.
Summer Solids Fabric
When picking out the fabrics for this quilt, it was still spring time. But living in the Pacific Northwest this meant, I was still under cloud cover and craving summer. What did this mean for the fabric pull? I wanted color. Lots and lots of happy, vibrant colors.
So I headed to my stash and grabbed the solids that I gave me that summer feel and ended up with a good range of cool and warm colors. My overall formula, if we can even call it that, was a grabbing a really vibrant/saturated fabric and a more muted, softer companion in the same color family.
Quilt Piecing
This quilt pattern really lends itself to chain piecing, since the pattern has a few subunits (HSTs and Flying Geese) that need to be put together before assembling the blocks.
So I did all of the fabric, subunit by subunit before putting the blocks together. You don't necessarily have to do this, but it's the way I went. I did briefly question my decision when I felt like I was doing a lot of work and had no blocks to show for it. But when I did get to put the blocks? It was incredible!
From there, the process went really quickly from blocks to a full quilt top in no time at all!
Longarm Quilting
Since I knew I still had a lot of sewing left to do after putting this quilt top together, I sent this baby off to Ashley of Hen House Quilting for quilting.
I'm always pretty indecisive when it comes to picking out the panto I want for my quilts, so Ashley gave me a few options and together we landed on the perfect panto.
It's called Starlight and it leans into the 45º angles in the quilt design, while also adding some nice curved touches that add movement to the overall look. 
Backing and Binding
I kept it pretty simple for the backing and binding on this. I used a low-ish volume Blossom print on the back that perfectly matches the peacock solids from the quilt top and then used that same color solid for the binding.
I love the quick pop of color the binding gives the overall look!
Quilt Information
Quilt Pattern: Starly by Cotton and Joy
Fabric: Riley Blake Designs' Confetti Cottons Solids. Get the quilt kit here!
Backing: Blossom On White Peacock
Binding: Confetti Cotton Solids in Peacock
Pieced on my Janome M7
Quilted by: Ashley of Hen House Quilting
Panto Used: Starlight
Purchase the Pattern