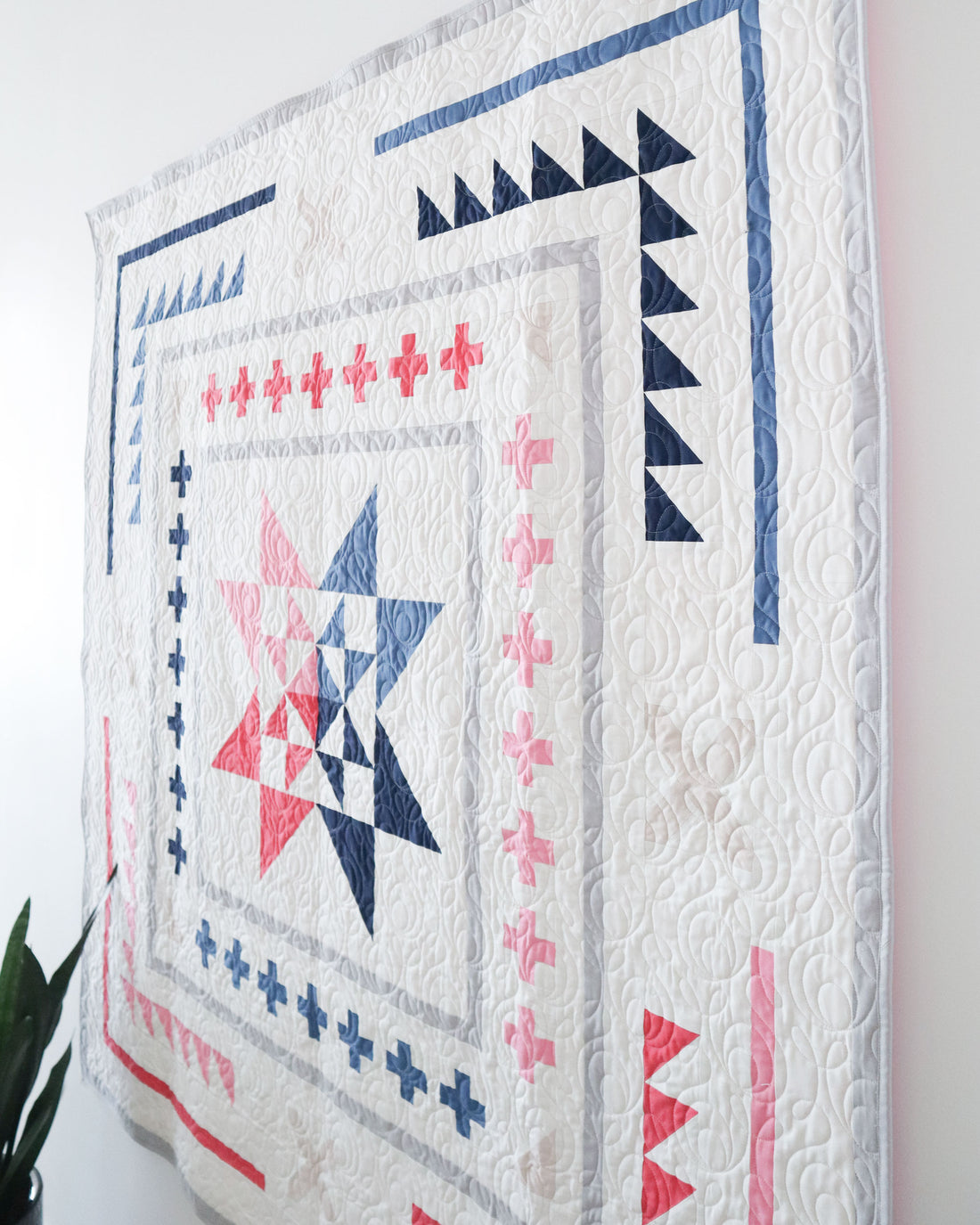 Golden Hour - The Cover Quilt
I am back with my second sample of my newest pattern, Golden Hour. Today I'll be sharing all about the cover quilt!
The Golden Hour quilt pattern is now available in the shop!
I debated a lot whether I would use the original quilt for the cover or something different. I played around with about a dozen mockups but kept going back to one with pinks and blues - which, if you've been around here for more than minute, surprises you zero percent haha. These are, after all, my favorite color combination!
In the end, I decided that while I love the colors in the original quilt, they weren't 100% me and I wanted this to be 100% my take on modern medallion quilts. So I got some Confetti Cotton Solids and got to work on this version.
Once again, the second I put together the center block for this, I knew I was onto something. There's just something so incredibly beautiful about that center block. I am honestly a little obsessed haha
I really wish I had taken more pictures of the sewing process, but this quilt required all of my attention. I was fully focused on sewing whenever I was working on it and barely stopped to breathe.
I can fully say the end result was completely worth it, though! The day after I finished the quilt top, I walked down the block with my mom and we snapped this pictures. I love how the colors look against the pines in the background :)
For the quilting, I knew I wanted something whimsy and fun to help soften the structure in the pattern design. I went with the Ginger Snap panto and Lilo at Trace Creek Quilting did a wonderful job!
Last week, I took this beauty along with the original Golden Hour quilt, to the Now Now Space, a photography studio I rented for 2 hours and took some beautiful photos!
Quilt Information
Quilt Pattern: Golden Hour by Cotton and Joy
Fabrics: Confetti Cotton Solids in Denim, Navy, Rose, Raspberry, Latte, Silver, and White.
Binding: Confetti Cotton Solids in Silver.
Pieced on a Janome 9450.
Quilted by Trace Creek Quilting.
Panto: Ginger Snap
Purchase the Pattern