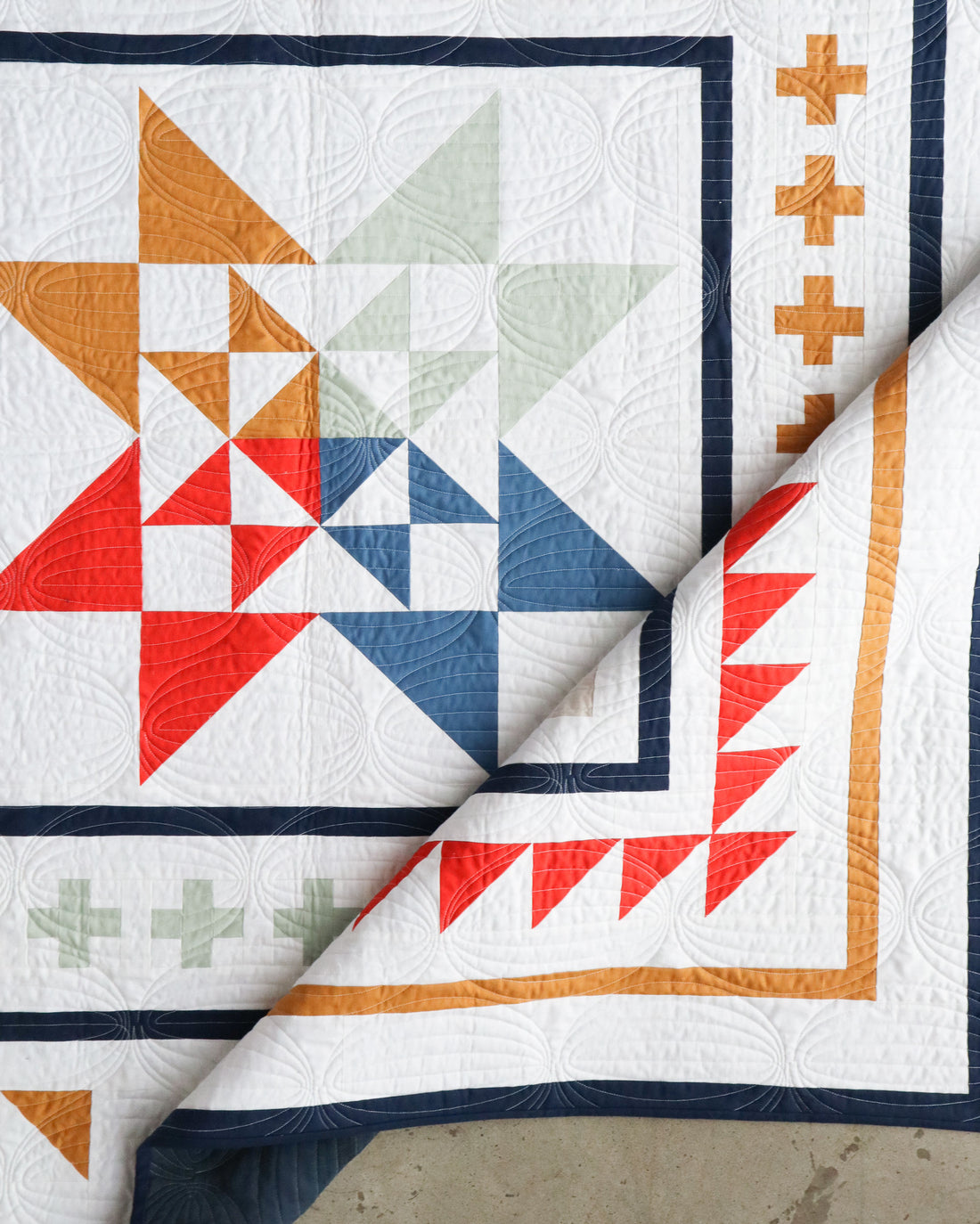 Golden Hour - The Original Quilt
The day has finally arrive - The Golden Hour quilt pattern is now available in the shop! I am so excited to finally share this quilt with you all.
I have been wanting to make a swing at designing a modern medallion quilt for a long time now. I initially tried my hand at at about 2 years ago but I didn't like what I came up with. Then, I got busy and didn't try again until about a year ago. That's when I came up with this design - Golden Hour.
This is actually the second design I came up during that design session, and the second the I finished it, I fell in love. The next day I went to my sewing room and realized I had just the right fabrics in my stash to make the mockup come to life so I got started on it almost immediately. 
I did some very rough measurements using the Illustrator mockup and got to sewing. The second the center block came together, I knew I was onto something. So I sew and sew and before I knew it I had a full quilt top. The end result had me looking like a hearts eyes emoji. 
Thankfully, right after I finished my best friend came to visit and we took the quilt top out for a trip in downtown Spokane and got the amazing photo just above.
That was September of last year. I had grand plans of writing this pattern Fall of 2021, but life got in the way, big time, and then when I did sit down to write the pattern I realized I had gotten myself into quite a pickle. This pattern is a beast. A beautiful, wonderful, amazing finished, but the math involved nearly took me out haha.
It took a while to work my way through it and to figure out the best way to write this pattern in a way that made sense to someone other than myself. Thankfully, with the help of a tech editor and a copy editor, this came together much better than I ever imagined.
Once I finally felt ready to release this pattern, I dug out my quilt top and sent it to my girl Katie at Modern Textitles for quilting and she did incredible. I love how the curves of the quilting design soften the angles in the pattern design. 
For the binding I used the same blue that I used in the borders within the quilt. I love how it frames the quilt without taking attention away from the overall design.
I cannot wait to share with you all my second sample, the cover girl, and the testers versions which are just amazing!
Quilt Information
Quilt Pattern: Golden Hour by Cotton and Joy
Fabrics: Kona Cottons in Cadet, Seafoam, Flame, Caramel, Navy, Oyster, and white.
Binding: Kona Cotton in Navy.
Pieced on a Janome 9450.
Quilted by Katie of Modern Textiles
Panto: Rondelle
Purchase the Pattern