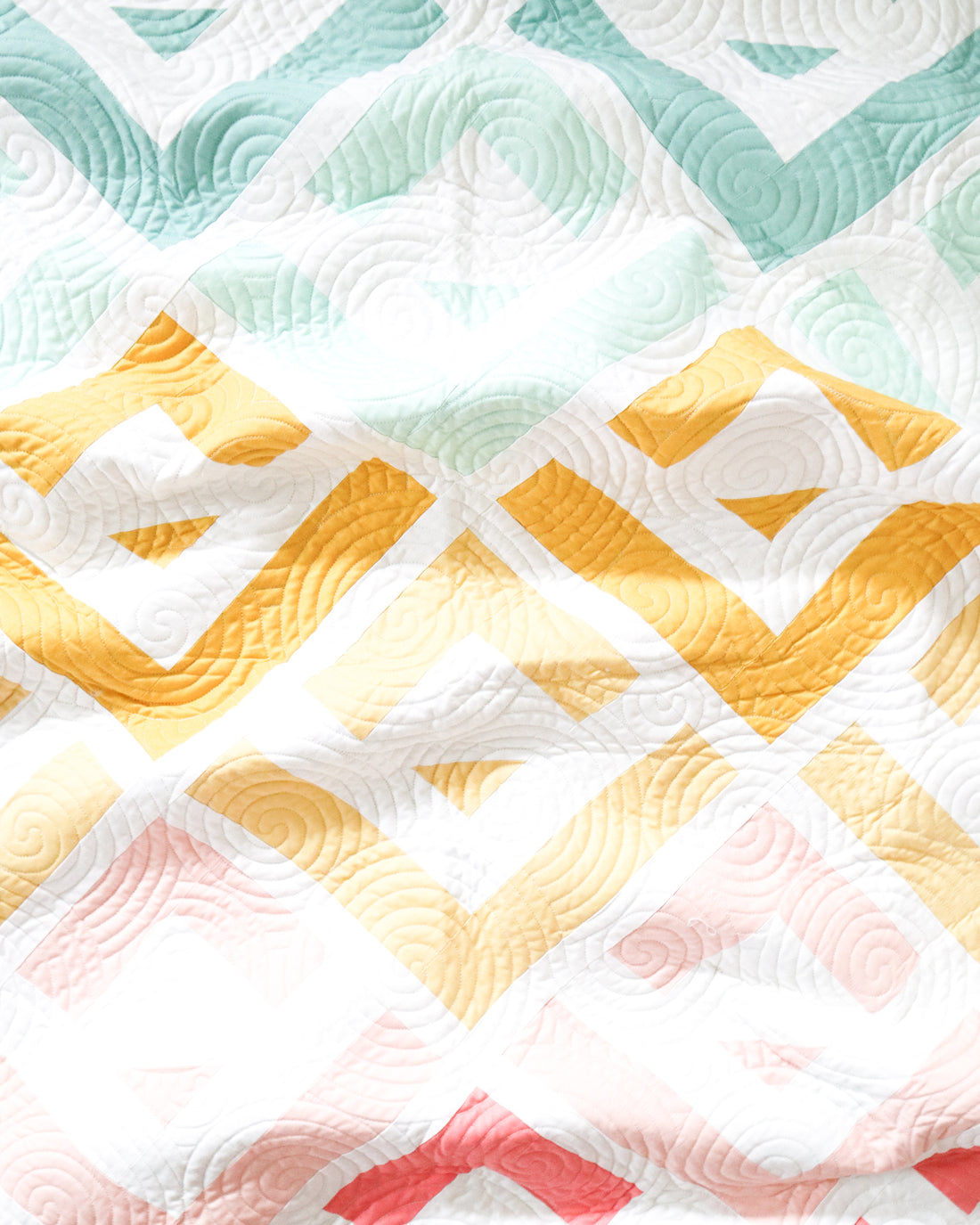 Cabin Valley - Modern Ombre in Solids
I am so, so excited to share the Cabin Valley quilt with you today! This pattern has been in the works in one way or another since February 2021. I've been wanting to make a sister pattern of sorts to Cabin Peaks for a good year, but hadn't gotten around to it.
Then in February when I had to put together quilts for my first fabric collection, I saw the chance to design it. In the end, this pattern didn't make the cut to go along with the collection, but I loved it all the same so I decided to save it for later - and later is now!
So why a sister pattern to Cabin Peaks?
Cabin Peaks is by far my most popular quilt pattern, and the number one question I get about it is "is this pattern precut friendly?". Sadly, it isn't, so I wanted to create a pattern that had a similar feel and look and that was precut friendly.  
Cabin Valley comes with two design options - a modern ombre, shown here, and a scrappy version. The scrappy version is precut friendly! You can use jelly rolls or layer cakes (10" stackers). 
Modern Ombre
Today I'm sharing the cover quilt - a throw size modern ombre in all solids. I chose colors that coordinate with my fabric collection, Daybreak! They are all Confetti Cotton Solids in the following colors: Navy, Denim, Seafoam, Hint of Mint, Mustard, Beehive, Peaches 'N Cream, Coral, and Lipstick.
The modern ombre version is FQ friendly in the baby and throw sizes (twin and queen require yardage).
Fast and Easy Quilt Pattern
One of the things I absolutely love about the Cabin Valley quilt pattern is how fast and easy it comes together. Each block only has 7 seams total, and if you do some chain piecing, all the blocks come together in no time at all! I had to stop myself at 3 samples because I kept wanting to make more!
Long Arm Quilting
I sent this Cabin Valley off to Katie at Modern Textiles to be quilted and I love, love how it came out! Initially I wasn't sure what quilting design to go with, so Katie showed me a few options. In the end we went with Raindrops on Water. 
The circles on the quilting provide a nice balance to all the straight angles on the piecing and it has the perfect amount of texture! 
Purchase the Pattern
Quilt Information
Quilt Pattern: Cabin Valley by Cotton and Joy
Fabrics: Confetti Cotton Solids in White, Navy, Denim, Seafoam, Hint of Mint, Mustard, Beehive, Peaches 'N Cream, Coral, and Lipstick.
Binding: Confetti Cotton Solids in Lipstick
Pieced on a Janome 9450
Quilted by Katie of Modern Textiles.