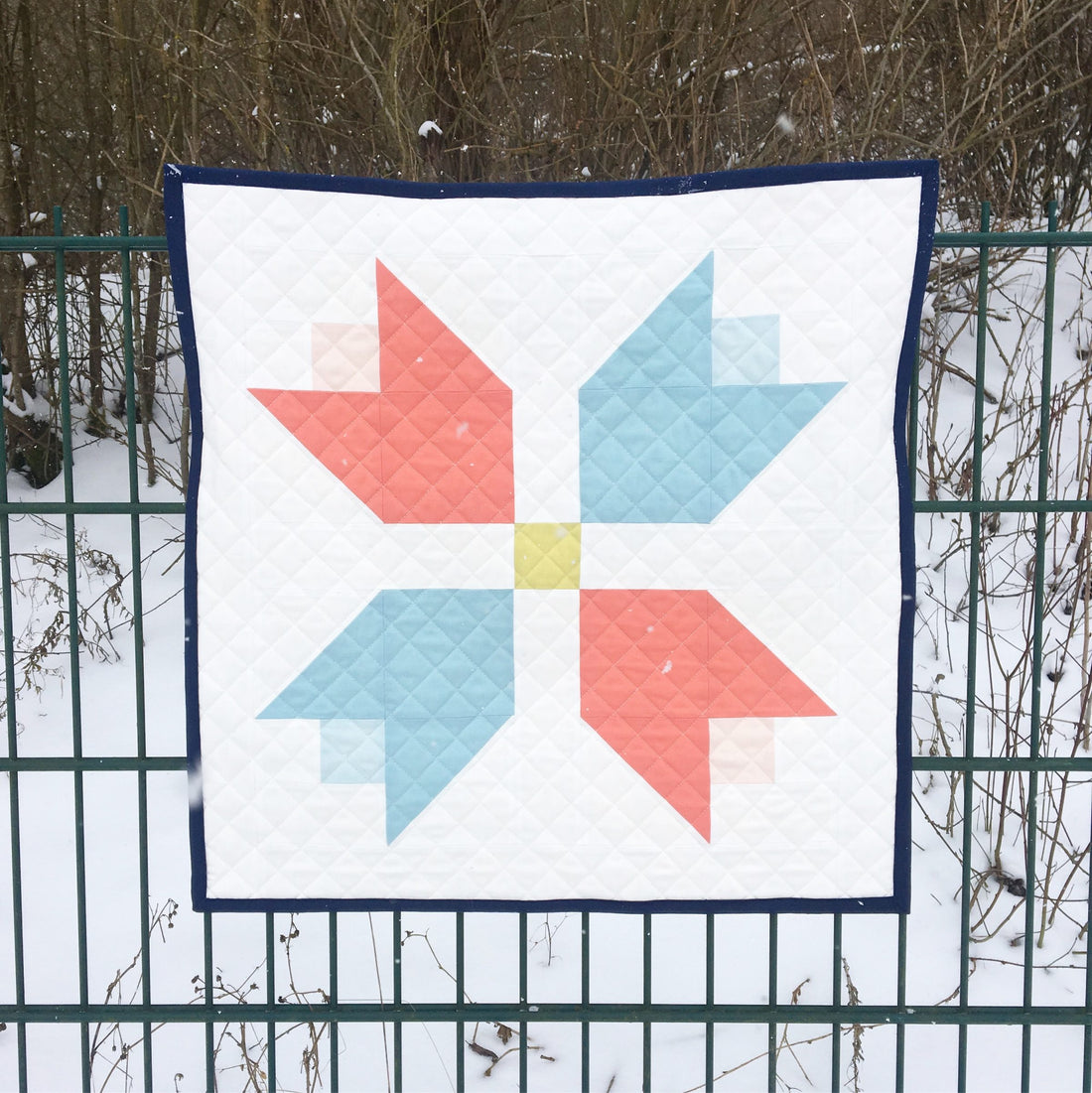 Tulips Bouquet Wall Hanging - Free Pattern!
Bring some spring into your home with this tulip quilt bouquet wall hanging. Made up of an oversized tulip quilt block, it's beginner-friendly and fast to put together.
It was sunny and in the 60's. Every window in the house was open, and I was loving it after spending weeks in the single digits. I looked around the house, and I realized I still had all of our Valentine's Day decorations up even though it was the middle of March and that had to change, stat.
The only problem was we didn't have anything to put up on the wall above our console table. I considered not putting anything up after taking down the burlap heart wreath, but it just looked downright sad. So I decided to make a quilted wall hanging.
I spent a few days, weeks even, looking on Pinterest for a pattern, for anything that would work there and nothing felt quite right. So I did the only thing I knew to do: I pulled out some graph paper from the bottom of my office closet and whipped up an oversized tulip quilt block pattern during lunch.
I was so excited that I couldn't stop there. I pulled out some fabric from my scratch, and by the time my littlest one woke up from his nap, I had all the pieces ready for this beauty.
The next day, I finished the piecing and raided my fabric stash for the backing and binding material. I went with navy blue for the binding to provide a nice contrast and used Savannah Stone Furry fabric, leftover from my Butterfly quilt for the backing.
It's the perfect size for above a console table or a gallery wall at 22" x 22". It's beginner-friendly for sure, and it's super quick to put together. The only bit you have to pay attention to is when arranging the tulip blocks, so they're all facing the right way.
Tulips are some of my favorite flowers, and I'm in love with how this turned out. I was so excited to take some pictures in the warm afternoon sun. I thought of laying this on the grass that was finally coming back to life.
Except I evidently jinxed us because the day after I finished this up, the temperatures dropped, and two nights later it snowed haha.
However, I love the contrast of the sunny, warm feeling the tulips in the quilt give me versus the snowy background.
Hopefully, the warm days return soon - and stay for good!
Download the PDF pattern below!
If you'd like to create your own tulip beauty for your home, you can download the PDF pattern FOR FREE below :)
Tulip Quilt Block Materials