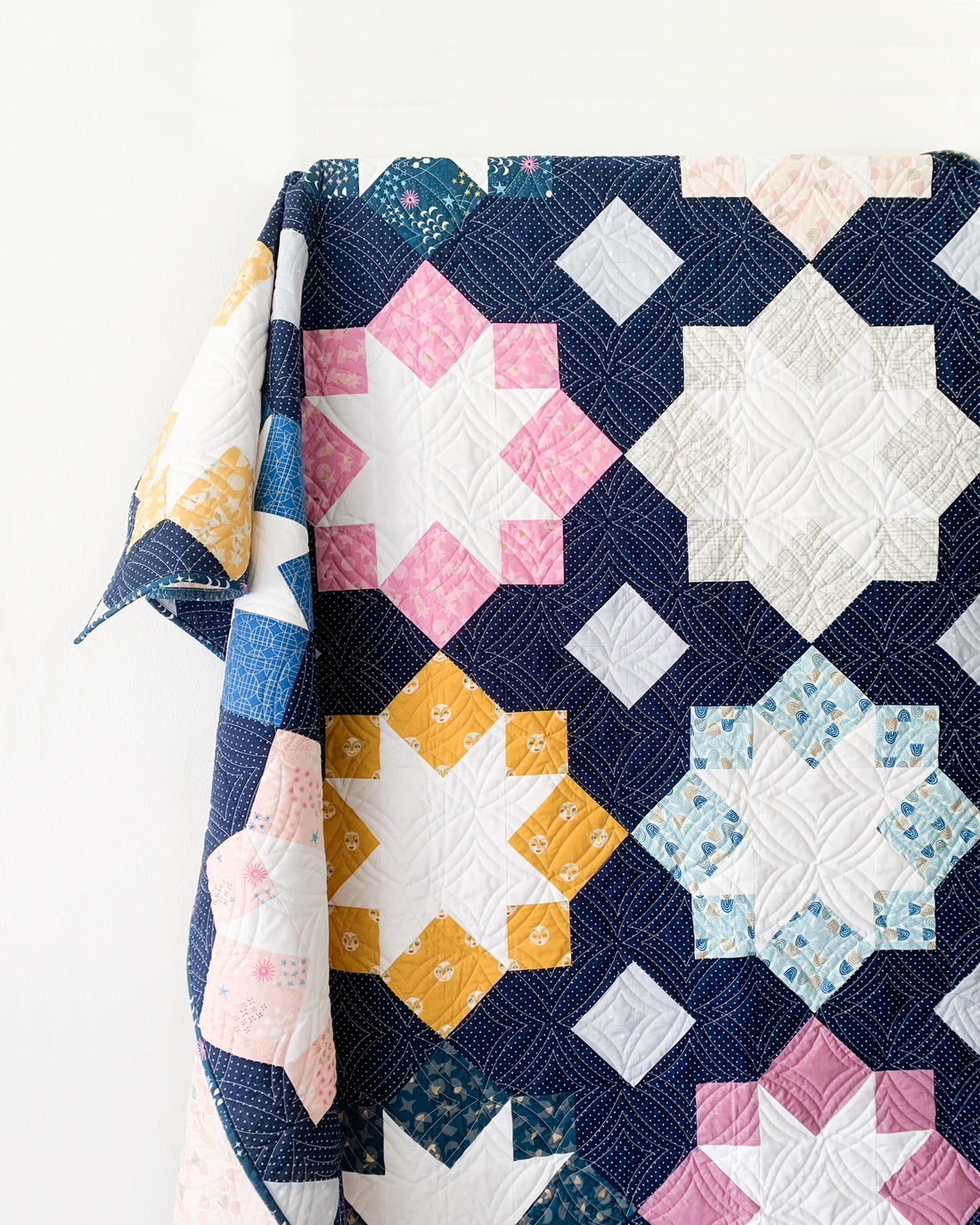 Stellar Mosaic Quilt Pattern
Stellar Mosaic quilt pattern is now available in the shop!
I'm often asked how I come up with an idea for a quilt pattern. It honestly changes from pattern to pattern, but in this case, it came down to really, really wanting to create a pattern that used the classic sawtooth star quilt block.
I fell in love with the sawtooth star a while back and have been dying to create my own pattern using this block. A few months ago, I saw down with good ol' pen and paper and started doodling. After a little while, I had this idea of using the negative space surrounding the star as color tiles, reminiscent of a tile mosaic.
I quickly hopped on Illustrator and off I went. After a few mock-ups and a quick back and forth with Devon from Ruby Star Society, I landed on this plan - white sawtooth star, dark background, and colorful tiled negative space around the star.
I knew the upcoming Stellar fabric collection from Ruby Star Society would be perfect and I was so excited when it came in the mail, that I couldn't wait to start cutting the fabric.
Is there any denying that this fabric is absolutely breathtaking? So I had a hard time picking a favorite - I think I narrowed it down to 6 "favorites" which is half of the prints I used haha
Almost certainly at the top though, is the sun faces print. I had to do some clever fussy cutting but I needed to get those suns just perfectly in the color tiles.
I sent the quilt top off to Katie Garrett so she could work her quilting magic and I love the end result. The slight curves help off-set all the lines and angles in the design and soften its look.
I honestly think this quilt is all in the details, so I took a lot of detailed shots - sorry not sorry!
This last picture includes a peek at my all-solids Stellar Mosaic - stay tuned tomorrow for the full look :)
---
Quilt Kits!
I am so, so excited to share that there are not one, not two, but three quilt kits available for Stellar Mosaic - you can see them all below!
Wintery Ombres from Fabric Bubb
I've had the absolute pleasure to partner up with Kristina from Fabric Bubb once again to offer an amazing quilt kit! Kristina helped me from the very beginning to choose the perfect Kona colors for my all-solids version and I'm so excited that it's now in a bundle available on their website!
Carolyn Friedlander Quilt Kit
The lovely ladies at Rosie Girl Quilting made this lovely Carolyn Friedlander Stellar Mosaic which will be hanging in their booth at QuiltCon next month! I cannot wait to see it in person!
Stellar Valentine Quilt Kit
Last, but definitely not least the lovely Nuria at Fabric Stork put together this AMAZING Valentine's Inspired Stellar Mosaic with velvety rich Pure Solids from Art Gallery!
Purchase The Pattern