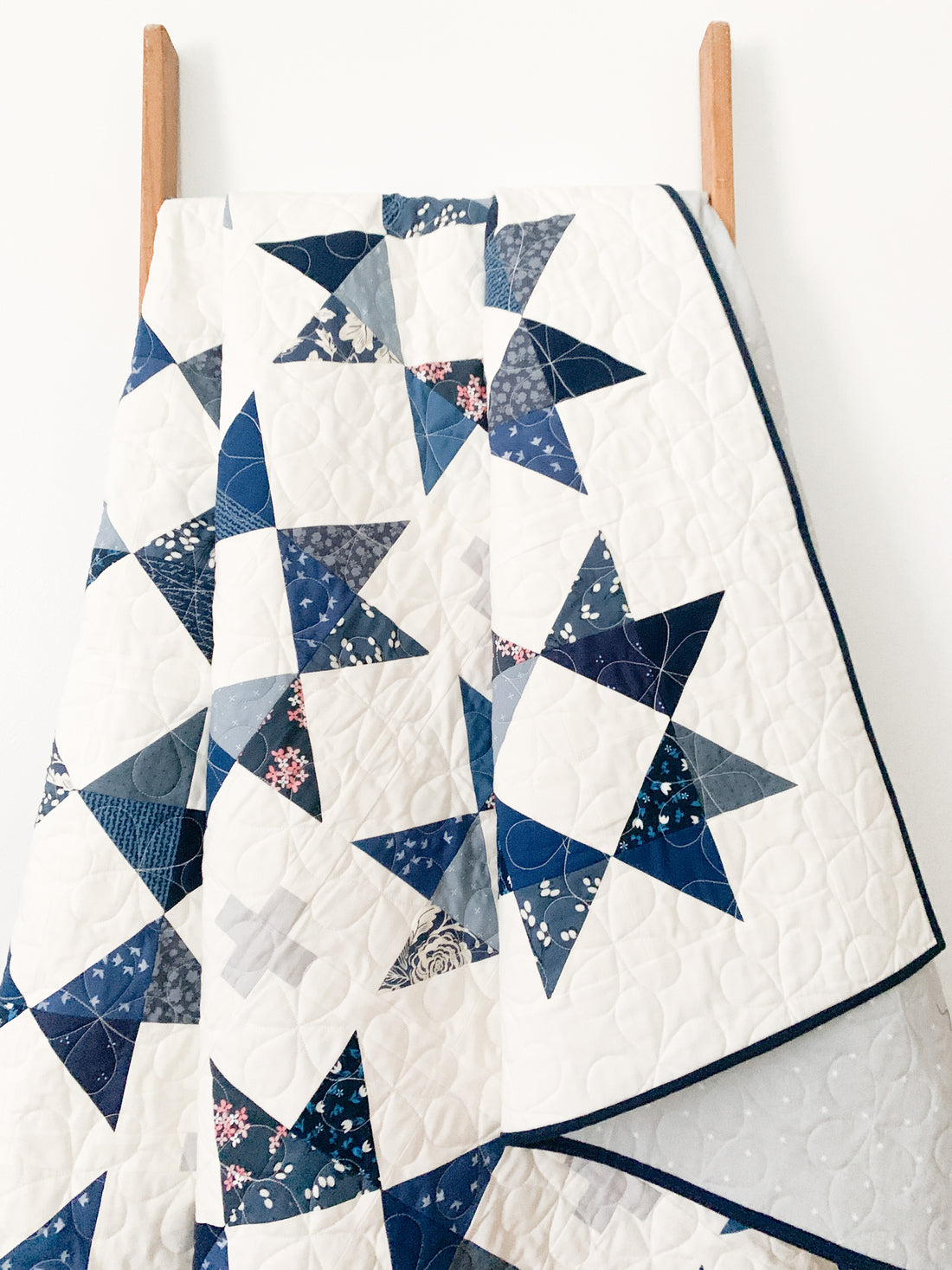 Stellar Flare - The Scrappy One
I am so, so excited to share this quilt with you all! I already shared the cover Stellar Flare quilt, but this is the original one!
When working on a new pattern, I always make a sample while I try out the design and construction. And it's a good, good thing I do because this quilt changed drastically from this version to the final version haha This quilt, I made with 240 half-square triangle. Two. Hundred. And. Forty.
That's a whole lot of half-square triangles and I regretted it almost immediately, but there was no turning back once I got started. Thankfully, the second I started putting quilt block togethers, it was love at first sight.
Scrappy Navy Quilt
Ever since I made my navy scrappy Joyful Stars, I've wanted to make a sister quilt to match, and as soon as I jumped into this quilt pattern I knew this would be the perfect pattern to do so. I picked a bunch of cut-into fat quarters and smaller cuts that I've been saving in my stash and got to work.
As I said above, I did this original quilt with HSTs, but the final pattern uses a different (faster, easier) construction, but you can still get the scrappy look!
Follow the Cutting Instructions table to know how many S1 squares you need, and then mix and match as you work through the Flying Geese and Star Centers sections of the quilt pattern. So for the Flying Geese section, use 4 non-matching S1 squares for each 4-at-a-time group. And for the Star Centers section, use 4 non-matching S1 triangles (I hope that makes sense!)
Long Arm Quilting
I decided to send this beauty to Katie at Modern Textiles for some long arm quilting. The pantograph she used is called Cartwheels and it's perfect for the spring time! It gives the quilt just enough texture without overtaking the quilt and it makes it soooo cozy. I can already tell my husband and I will be fighting over this one when we're on the couch watching TV haha.
Spark Backing
I had the hardest time picking a backing for this quilt. I wanted something that matched, but wouldn't overtake the quilt top. After a lot of back and forth, I decided to use Ruby Star Society's Spark in Dove. It matches the accent pluses almost perfectly bringing those out, and the little stars are just the perfect touch of adorable.
Solid Quilt Binding
For the binding, I decided to go with a solid navy. I used some of this same navy in some of the stars, and I wanted something that wouldn't take away from all the scrappy goodness on the quilt top.
Bonus points? I had just enough of this navy in my stash already! I used 2.25" inch strips and I attached them to the front, and hand stitched them in the back for a nice clean finish.
Materials Used
Quilt Pattern: Stellar Flare by Cotton and Joy
Quilt Top: Variety of Navy FQs and scraps, Kona Snow for background.
Binding: Kona Storm
Backing: Ruby Star Society's Spark in Dove
Pieced on a Janome 9450
---
Get The Pattern