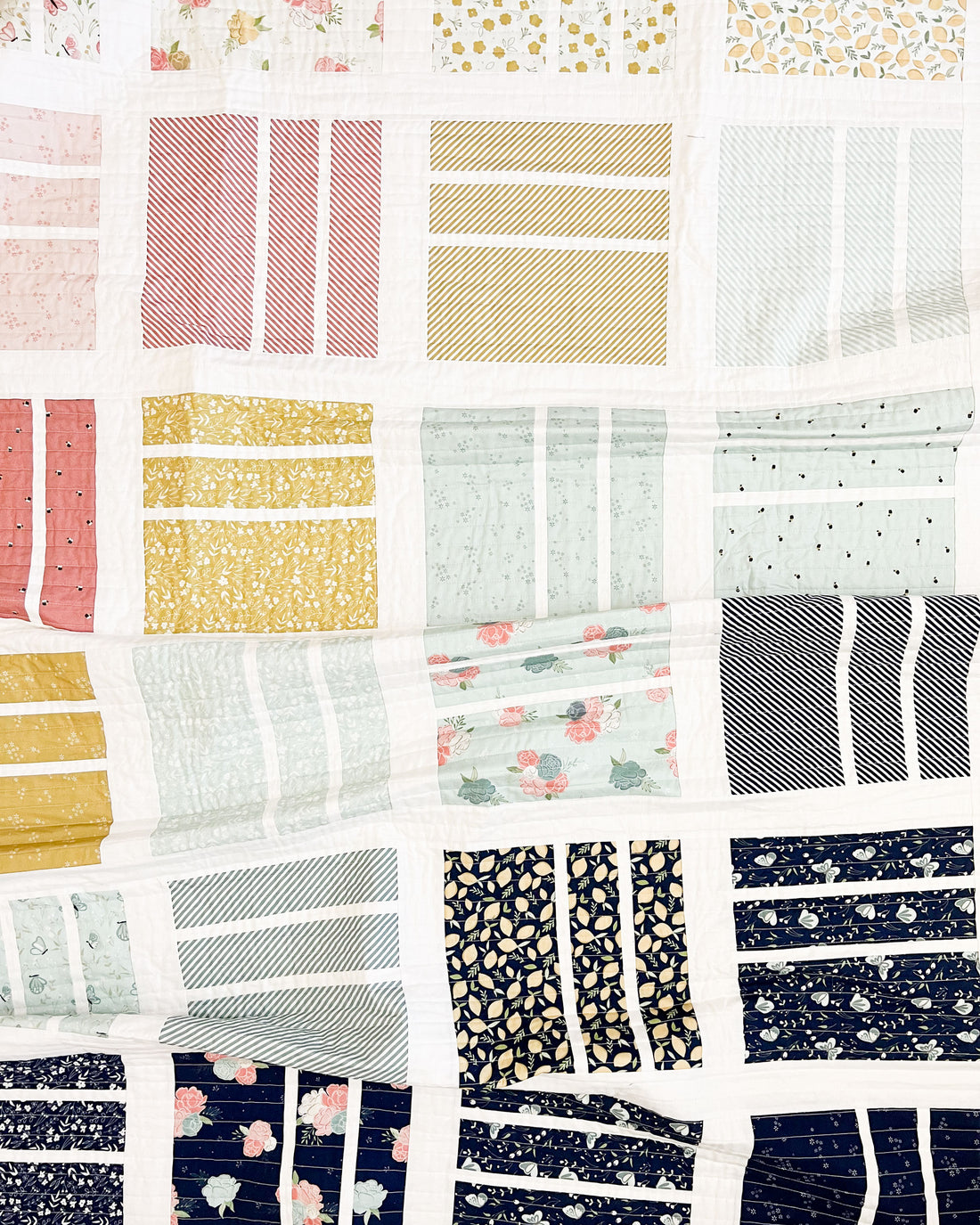 Squared Up - Daybreak Fabric
Where do I even start with this quilt? It's so near and dear my heart! Squared Up is the second pattern that's attached to my upcoming fabric collection, Daybreak.
I designed it to work with precuts, specifically 10" stackers (also called Layer Cakes). I'll admit I don't usually work with precuts, but they are the best way work with a full collection - and sometimes you just gotta have the whole fabric collection haha.
I was honestly a little scared it wouldn't come out quite like I envisioned it, but oh my - it did! 

Beginner Friendly Pattern
I had two goals when I was designing this pattern. First, I wanted it to beginner friendly. And it is! It's fast to prep and sew, there is no tricky piecing, and no points to match.
Second, I wanted to be able to showcase the prints in the fabric. One of the biggest issues when working with precuts is that the fabric tends to end up cut into teeny tiny pieces and the prints get lost in the piecing. Squared Up blocks have large pieces so if you have a print you're afraid of cutting up - this is the pattern for you.
Straight Line Quilting
For the quilting on this, I went back and forth a lot. I thought about sending it to a long armer, but the more I worked on it and the more I looked at it, the only quilting that made sense was some classic straight line quilting. I went with my favorite 3/4" apart quilting with my walking foot. 
I'm honestly so in love with how this quilt come out - I hope you all love it and the pattern as well!
Purchase the Pattern
Quilt Information
Quilt Pattern: Squared Up by Cotton and Joy
Fabrics: Daybreak Fabric by Fran Gulick for Riley Blake Designs (ships to stores February 2022). Background fabric is Riley Blake Confetti Cottons in White.
Pieced and Quilted on a Janome 9450