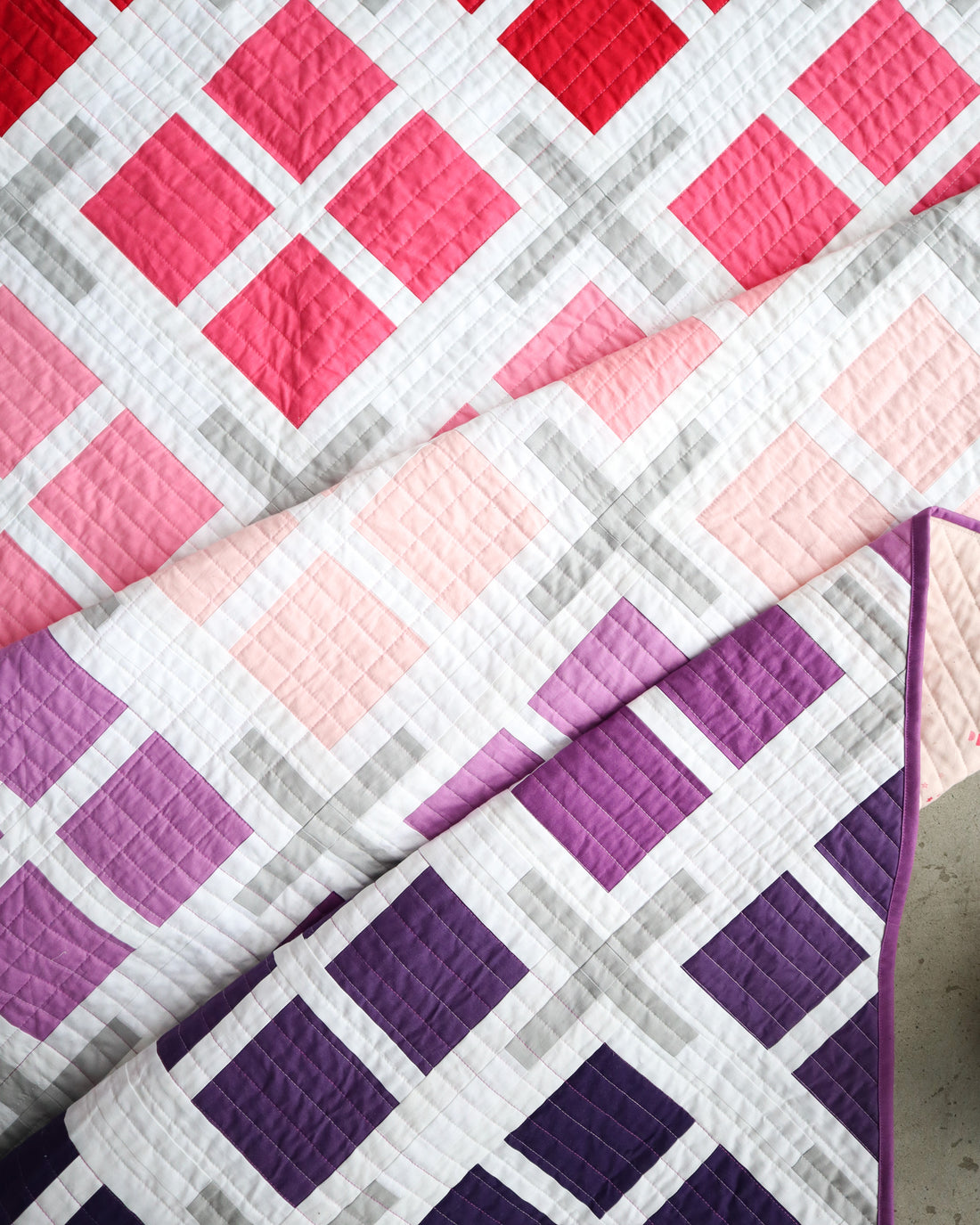 Skylight Quilt Pattern - Ombre Solids Version
The second Skylight quilt sample I have for you is the Modern Ombre one!
As I mentioned in my previous post, even though I started to design this quilt pattern as a precut friendly pattern, I also really wanted it to work with yardage. And once I mocked it up with an ombre look, there was no going back. I simply couldn't NOT include this option. 
If you'd like to recreate this version for yourself, you can check out this quilt kit for everything you need to make the quilt top!
Modern Ombre
Once I decided that, yes I would be including an ombre option in the pattern, I started playing with colors in Illustrator. I ended up with no less than a dozen mockups of the Skylight quilt in an ombre color scheme, so deciding which one to actually do was really hard. After some back and forth I decided to go with this pinks and purple version. 
The fabric I used is Riley Blake's Solids, Confetti Cottons in (from top to bottom): Cranberry, Super Pink, Rose, Petunia, Ballerina, Lilac, Violet, Purple, and Eggplant. Plus Silver for the accent, and white for the background fabric. 
Now, this is the part where I admit I actually had A LOT of doubts throughout the sewing process. I loved the colors before cutting them. I loved them as I started sewing the blocks... but then, at some point, I started questioning the whole thing. 
It wasn't until I saw the quilt top fully put together while taking the two pictures above that I thought "oh yes, this was the right choice" haha
Straight Line Quilting
As January, and then February got away from me, I quickly realized I didn't have time to send this quilt top off to a long-arm quilter so it was up to me to quilt it. So after I finished the quilt top, I pieced together the backing and then basted this bad boy.
I went through a lot of different ideas on how to quilt this and ended up doing a mixture of my options. Essentially, I did an X from corner to corner in white thread, then I did some echo quilting at 1.5" apart in color threads matching the primary color in each section.
Then, I felt like it didn't have quite enough quilting so I added more in between in a different color. I ended up using something like 6 or 8 different color threads on this and I love the end result. I really wish the photos did it justice!
<p">
Quilt Details
Quilt Pattern: Skylight by Fran Gulick of Cotton and Joy
Quilt Top Fabric: Confetti Cottons in Cranberry, Super Pink, Rose, Petunia, Ballerina, Lilac, Violet, Purple, Eggplant, Silver (accent) and White (background). Check out the quilt kit here!
Backing Fabric: Confetti Sky in Blush, from South Hill fabric Collection.
Binding: Confetti Cottons in Violet. 
Pieced and Quilted on a Janome 9450
Purchase Pattern