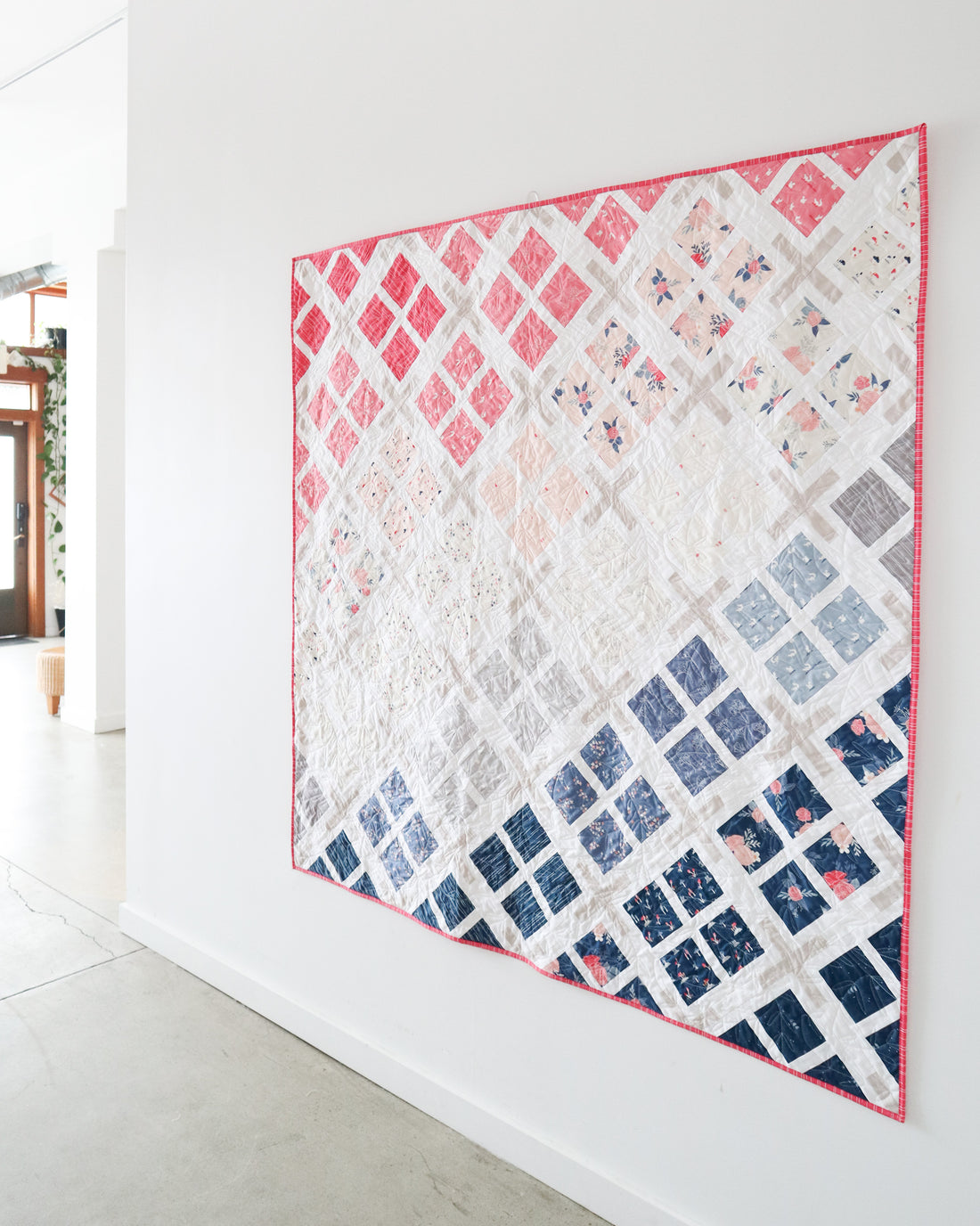 Skylight Quilt Pattern - The South Hill One
Meet the Skylight quilt pattern! This is the first Cotton and Joy quilt pattern of 2023. I usually design my patterns pretty far ahead of time, but not this one! I designed Skylight in December, it was off to testers in January, and it's now releasing just 4 months after I first designed it!
While designing it, I couldn't really decide between a more scrappy look using precuts or an ombre look using yardage, so I ended up including them both in the pattern. This sample is the scrappy-ish, precut friendly one! If you'd like to recreate this quilt for yourself, you can check out this quilt kit for everything you need to make the quilt top!
South Hill Fabric
As I mentioned above this version of the Skylight quilt showcases the scrappy option included in the pattern. I made it using 10" squares of my second fabric collection, South Hill, which shipped to stores in December 2022.
I arranged the blocks so as to showcase the full range of color in the fabric collection. I debated for a while on whether to have the pinks or blue "on the top", but I ended up preferring the pinks on the top left corner, transitioning into the neutrals, and ending with the blues in the bottom right corner.
Skylight Quilt Pattern
The Skylight pattern was born from a desire to create a square block with no stars or more traditional item, while including some fun sashing. From beginning to end, I cycled through 5 or different versions before landing on this on-point layout.
The pattern includes two design option: ombre (using yardage) and the scrappy, precut friendly option showcased here.
The scrappy design option is incredibly versatile and can work with 10" squares like I did for this sample, or with 5" squares or good ol' scraps from your scrap bin! 
Long Arm Quilting
As usual I sent this quilt off to the wonderful Katie at Modern Textiles for long-arm quilting. I had no idea what quilting I wanted on this quilt so Katie sent me a few options and I opted for the Rosemary panto.
This panto is really unlike my usual picks but I love the movement it brings to the overall quilt and how nicely it goes with the florals in the fabric. 
Backing and Binding
For the backing, I used the pink main floral print from South Hill. I love how it really pulls together the colors from all the prints in the quilt, while maintaining a sort of softness
For the binding, I chose to go with a pop of color, using one the hot pink striped print. I love how it's a stripe binding, but not your usual stripe fabric, and how it contrasts so nicely with backing!
QUILT INFORMATION
Quilt Pattern: Skylight by Cotton and Joy
Fabric: South Hill fabric by Fran Gulick of Cotton and Joy, and Confetti Cottons Solids in Gray (Accent) White (Background). Get this quilt kit here!
Backing: Main in Blush - South Hill fabric.
Binding: Stripes in Raspberry - South Hill Fabric.
Pieced on my Janome 9450
Quilted by: Katie Hanson of Modern Textiles
Panto Used: Rosemary
Purchase Pattern