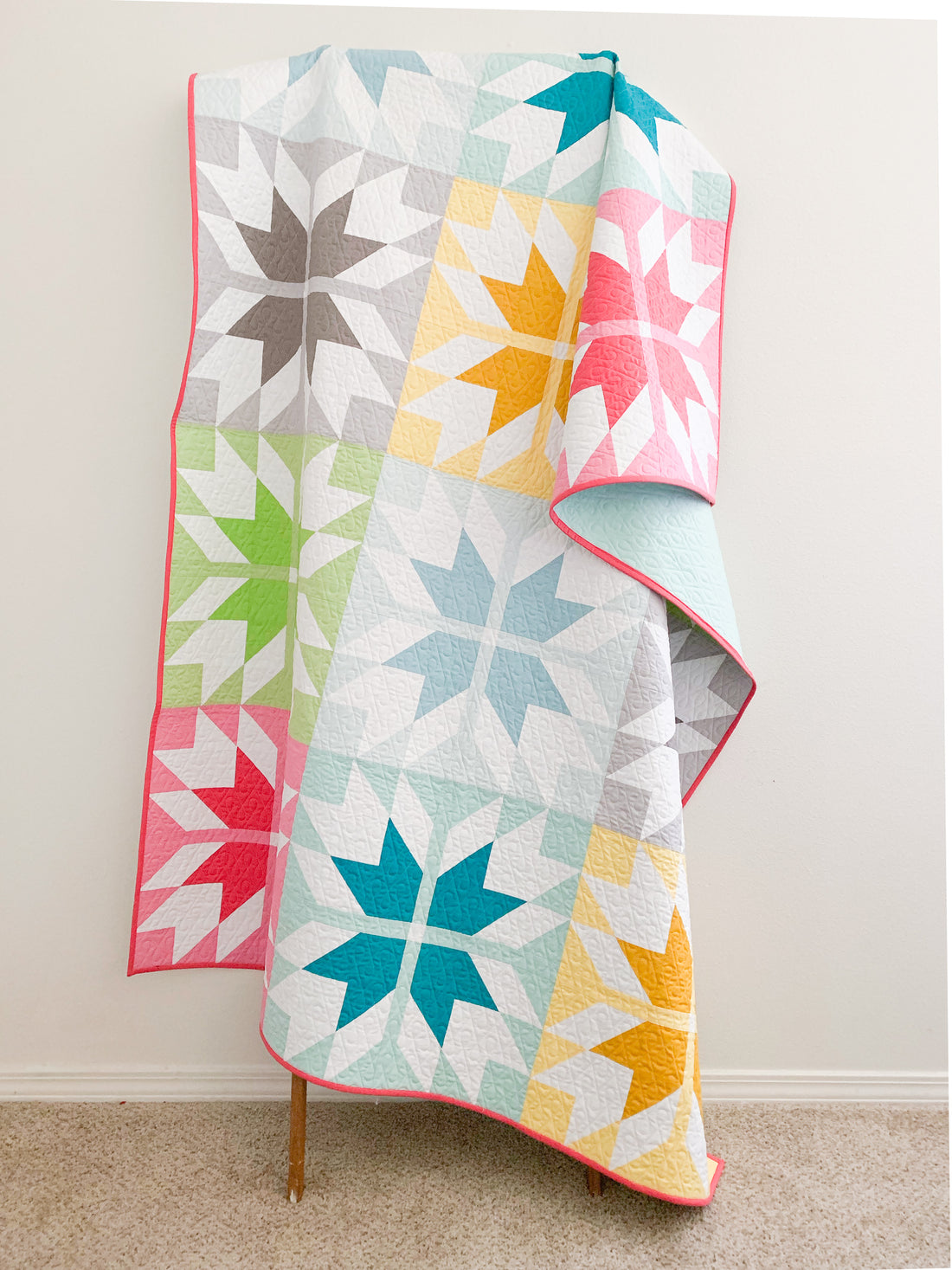 Prairie Tracks Quilt Pattern
Prairie Tracks quilt pattern is now on the shop!
You can purchase a downloadable PDF or a printed pattern.
I'm so excited to finally share the Prairie Tracks quilt with you all! I've had this design in my head for a while now, probably about a year. You see, I love bears and the moment I met the Bear Paw block, I knew I needed a whole quilt of this classic block.
Originally, I wanted to make a bear paw quilt last summer, but with moving back to the States from Germany, that idea got pushed to the side.
There was also the issue of wanted to make this block my own. I love classic blocks, but I'm always looking for a way to update them or elevate them somehow.
There were lots and lots of sketches and a handful of Illustrator mockups before I landed on this block design and layout.
The final block combines the classic bear paw block with a tulip block inside. The moment I saw this block combination on my sketchbook, I knew it was it. It screamed of springtime to me.
It made me think of bears waking up after their long winter hibernation and seemingly endless fields of tulips in the spring.
That was all I could think of when doing my fabric pull - spring, spring, spring and happy bright colors and I am so, so happy with how it all came out!
---
Kona Colors Used
Group A (1/3 Yard Each): Green Tea, Ice Frappe, Sky, Bubble Gum, Lemon, Shadow
Group B (1/4 Yard Each): Chartreuse, Jade Green, Dusty Blue, Punch, Grellow, Smoke
---
Testers Quilts
And now in no particular order, the incredible versions from my testers!
Christine went scrappy on her baby version and I love, love, love it!
Genna knocked out it out of the park per usual! This desert inspired version is D R E A M Y.
Jamie made this bright and happy baby version, and you know it's a good one when a pupster can't resist it!
Jessica always picks the best fabric combos and this wasn't the exception!
Julie made the cutest baby quilt, coordinating solids with adorable prints.
Kasie also made a bright and happy baby quilt and I love the use of the darker background fabric!
I ADORE Sarah's color choices and how well they balance each other!
---
 Purchase The Pattern
pin for later