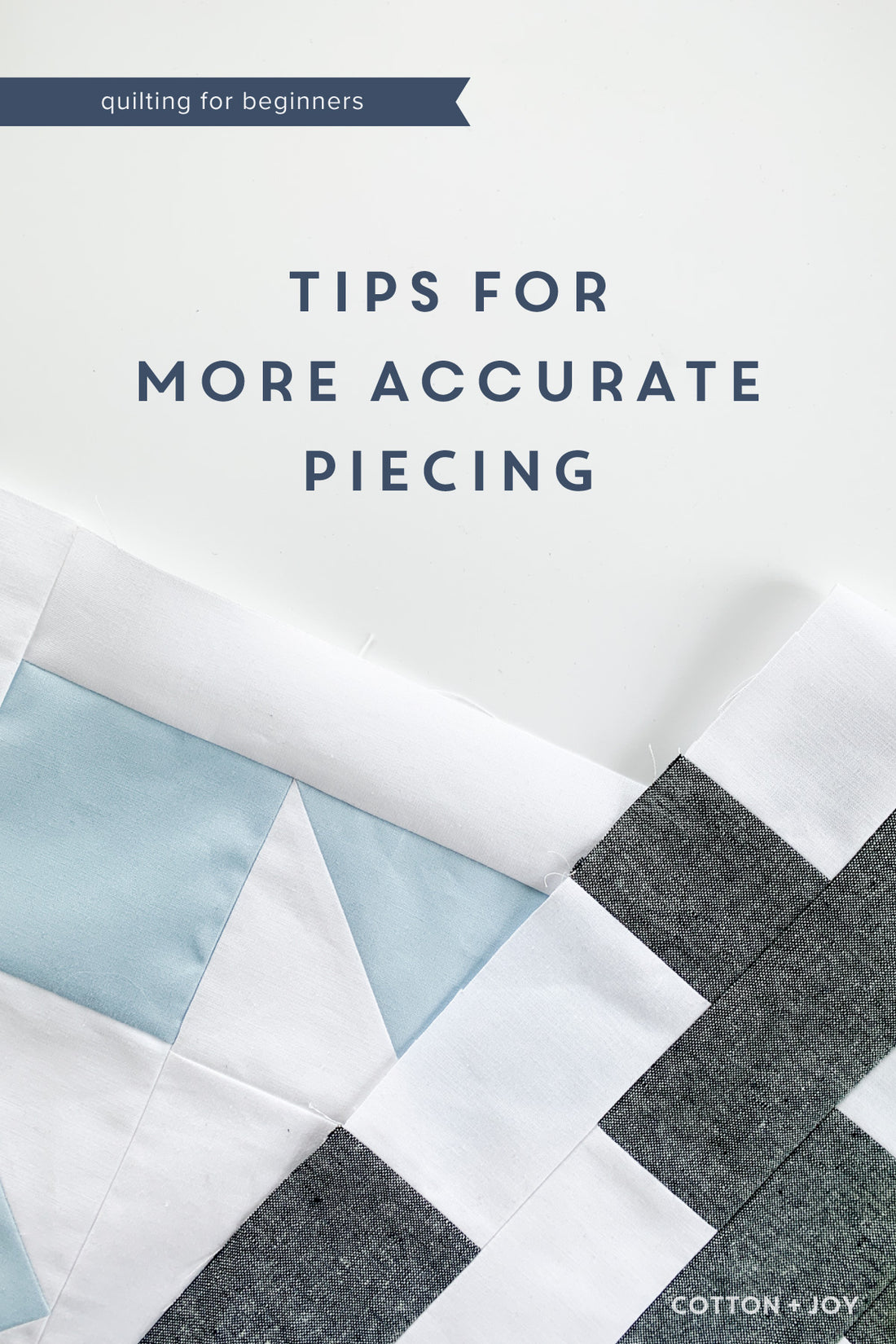 Piecing Tips for Beginning Quilters
Welcome to the Quilting for Beginners series! This is the fifth post in the series where I share tips for more accurate piecing. You can read other posts in this series here.
Cut Accurately
There's no getting around this. You need a good foundation before you ever start piecing your quilt top. If your cutting is inaccurate, there's not much you can do from that point forward to make up for it.
FURTHER READING: HOW TO (PROPERLY) USE A ROTARY CUTTER
Use a 1/4" Foot
Confession Time. When I first started quilting I didn't use my 1/4" pressing foot. It was a little clunky and always required a lead and it annoyed me to no end. So, I would use the marking on my machine and just kind of eyed it.
This kind of worked, emphasis on the kind of. It got my blocks all pieced together and they were mostly the right size, but it lead to a lot of inaccurate blocks, things not matching up quite right, etc.
Then, I changed to a good 1/4" foot and it's made all the difference! I honestly couldn't quilt and match points like I do without this little guy!
FURTHER READING: SCANT 1/4" SEAM - WHAT IT IS AND WHY IT MATTERS
Take It Slow
I'm an impatient quilter and sewist. I want my projects done and I want them done now. So when I'm at my machine I tend to hit petal to the metal and go, go go.
However, while taking it slow is hard for me, I have to say it does make a difference. If your machine has speed control, turn that baby down, and it'll make a huge difference!
Pressing Matters
My first advice in regards to pressing is to press as you go. It can be right down annoying to have to get up every 5 minutes to press pieces, but finger pressing, while it might save you sometime, doesn't get the job done. Pressing as you go makes a HUGE difference.
My second tip here is to press, not iron. I'll admit this is a concept that took me a while to sink in for me, but it truly does make a difference.
What does this mean? When pressing seams, place your iron straight down on the fabric and then pick up straight up. Do not move your iron back and forth like you do when getting wrinkles out of clothes. Moving a hot iron on your quilt pieces can (and does!) stretch and distort them leading to less accurate blocks.
Square Up Blocks
Whenever I start working on a new project I like to measure my blocks or units before I get going to far into chain piecing. This habit allows me to catch any issues with my 1/4" seam and if I need to square things up, it's better to do so early on vs. having to rip blocks apart.
Ripping Isn't Bad
That being said, spending time with your seam ripper isn't a bad thing! We've all been there. Take each time you have to fix a mistake as an opportunity to learn and become a better quilter.