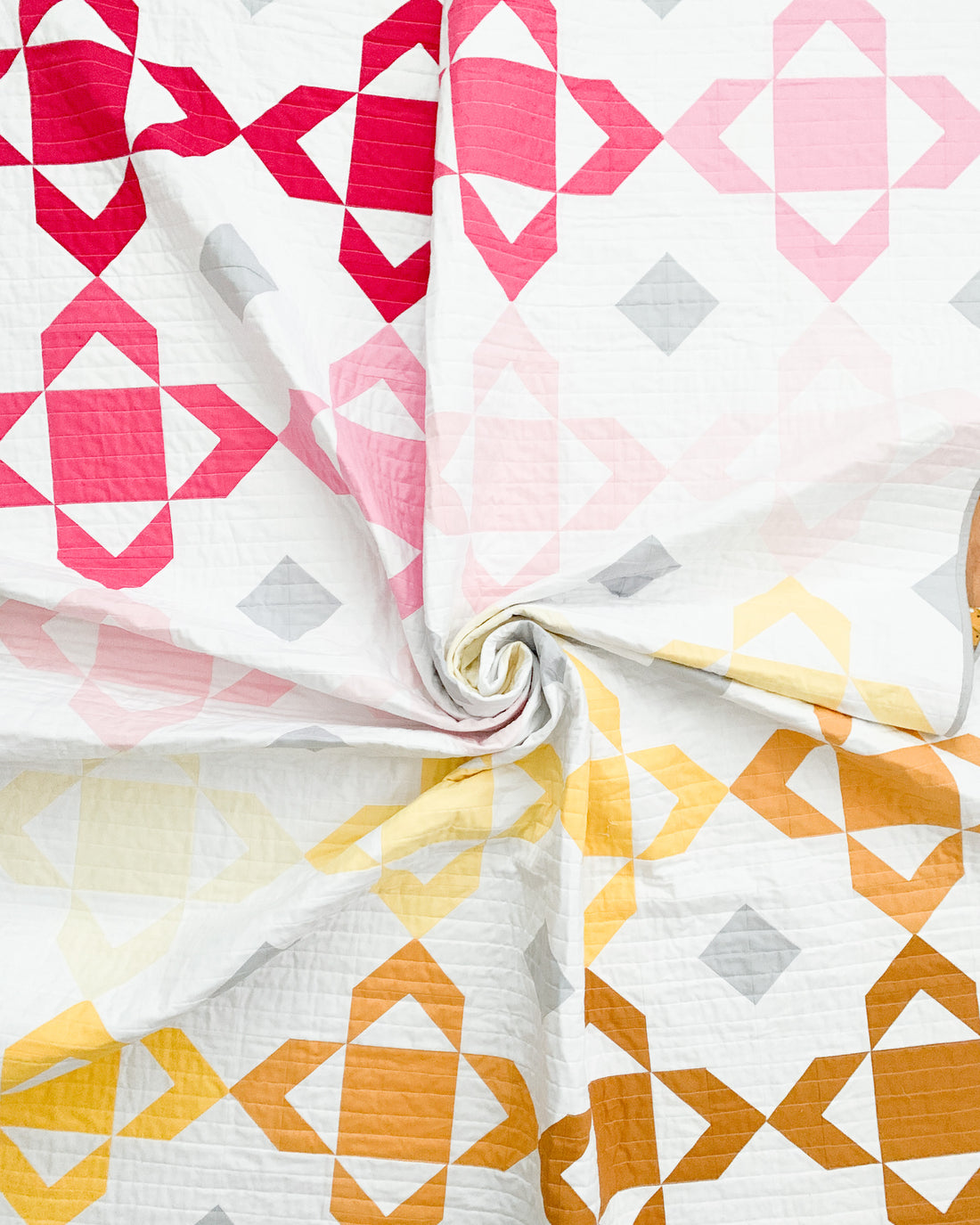 I am so very excited to be sharing this quilt with all of you today! Garden Gems is one of those quilts that has been itching the back of my brain almost since the moment I launched the pattern. I loved the original cover quilt, but I also knew that there was so much more potential with a different layout for the fabric.
So when I had some time with no sewing projects in the plate, I dug through my stash and found the combination of solid fabrics and got to cutting and sewing. I love how the colors feel like Strawberry Lemonade! 
After finishing the blocks and putting them all into rows, I got so giddy - the way the color progression works, just made me so, so happy, and I couldn't wait to see it all put together.
For the quilting, I kept it simple with some straight line quilting about 1" apart. I love how the focus remains on the blocks and the way the colors change from corner to corner. 
I backed this quilt with a floral fabric that has been in my stash for years. Actual years. Three, maybe four years? Yeah, it's been a minute and I kept thinking of getting rid of it, but I'm glad I kept it for just the right project!
For the binding, I kept it simple and used the same light grey I used for the accent pieces in the quilt top. 
I really just love this Garden Gems quilt so, so much. The pattern is available in my shop. It's such a fun pattern to make. You can use solids like I did here or highlight some of your favorite prints! 
Quilt Information
Quilt Pattern: Garden Gems by Cotton and Joy
Fabric: Confetti Cottons Solids in Cranberry, Super Pink, Rose, Petal Pink, Ballerina, Vanilla, Lemon Zest, Riley Yellow, Daisy, Butterscotch, Silver (Accent, Binding), and White (Background.
Machine: Piece and quilted on my Janome 9450.
Purchase the Pattern