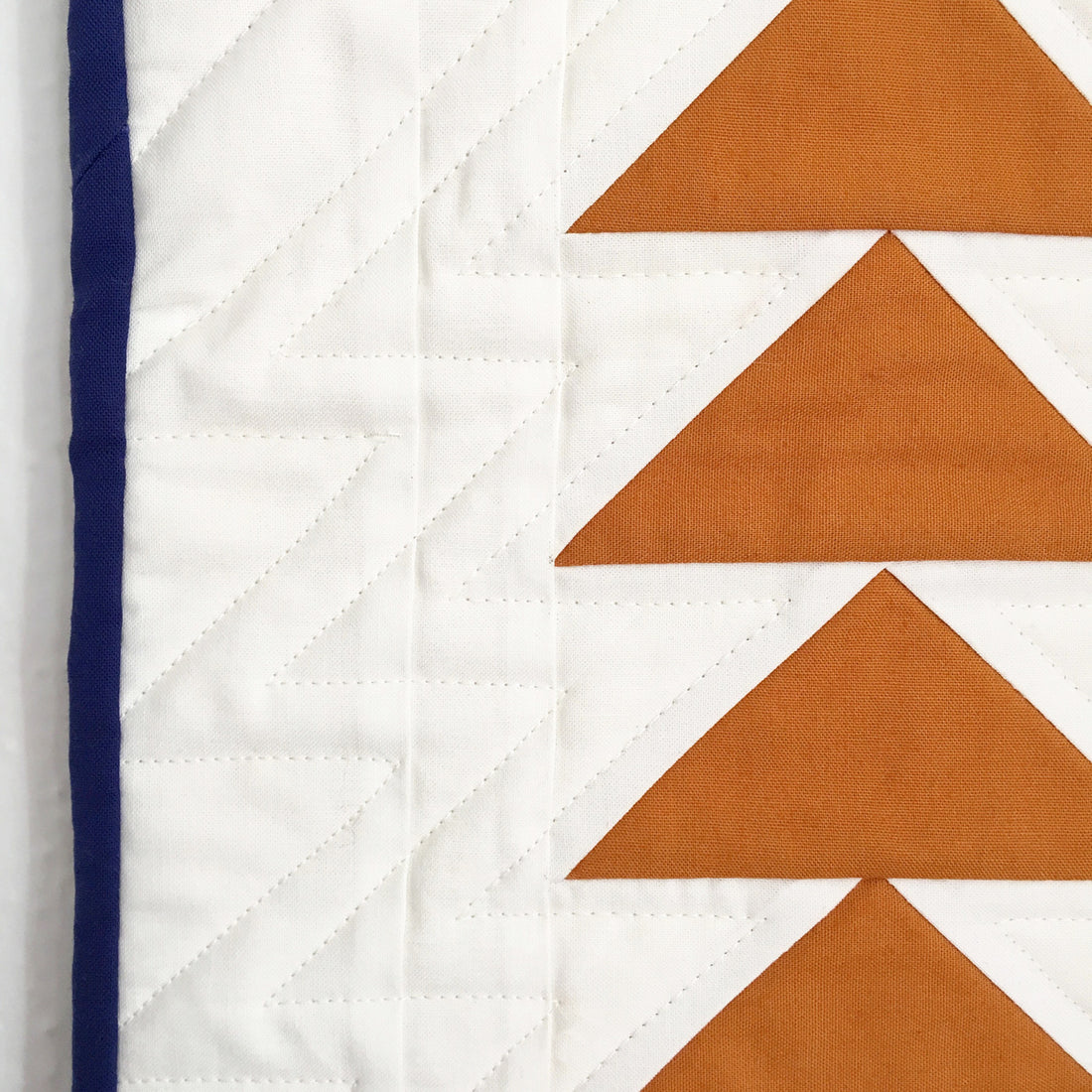 Onward Quilt - A Modern Flying Geese Quilt
It's hard to believe we're already halfway through April! The year is just flying by, faster than I can keep up with it. I meant to share this modern flying geese quilt last week, but the whole week went by in a blink.
I've wanted to do a flying geese quilt for a while, but I'll admit I've been a little scared of those points. But it was second on my list of classic blocks I'm studying so it was time to face my fears. And there was nothing to fear! I took it nice and slow, and it paid off. It's true what they say, slow and steady wins the race.
The Onward Quilt: A Modern Flying Geese Mini Quilt
I kept looking for a modern and minimal flying geese wall hanging, but nothing struck my fancy. So I did the only thing I knew to do - drafted up my own! I picked the fabrics out of a bundle I got from Fabric Bubb. I usually wouldn't have chosen the dark orange/brown fabric, but I love how it looks with the other colors. To create the flying geese, I used the no-waste method. Directions and measurements are all included in the free pattern below.
For the quilting, I went with old faithful straight-line quilting but got a little fancy by outlining each group of geese, first at 1/4 inch away, then twice at 1/2 inch, and finally 1 inch apart. I love the ripple effect this has and makes me think of the ripple geese have on the air while flying.
This little wall hanging quickly became one of my favorite creations. When I finished quilting, I honestly stood there staring at the quilt doing a little dance and giggling I was so in love. It now hangs in our dining room, in a small space between our vintage china cabinet and the window.
If you're looking for a quick finish or want to use up some scraps, this is the perfect mini quilt.
I love the simplicity and versatility of the flying geese block and will be making another flying geese quilt soon!