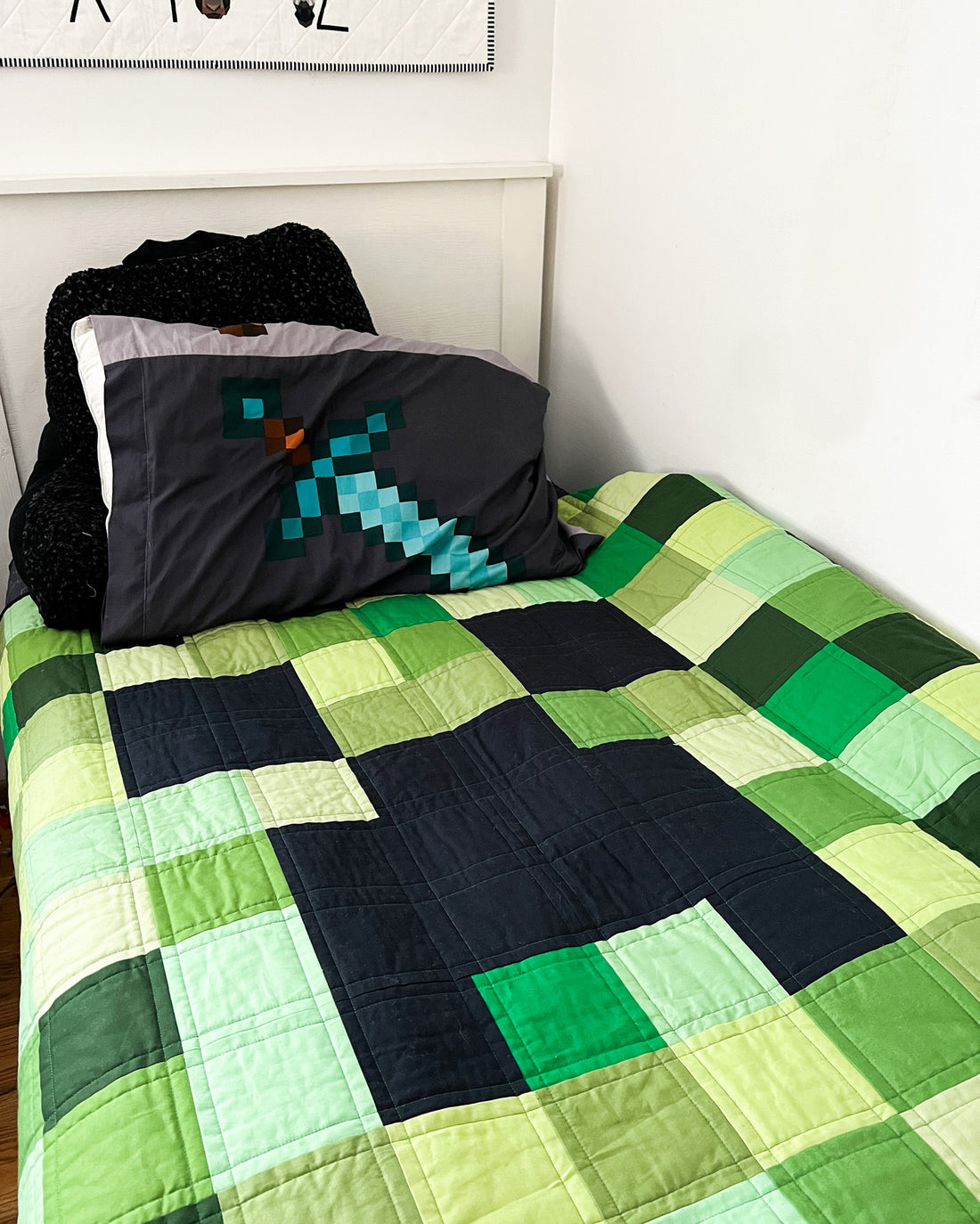 Minecraft Creeper Quilt (Tutorial)
This is a little different from my usual blog posts, but I'm so excited to share it regardless! Over the weekend my oldest kiddo turned 8 years old and as most kids his age, he is all about Minecraft these days. I recently organized my fabric stash and realized I had a bunch of green fabric, so it seemed like the best opportunity and made him a Minecraft Creeper quilt for his birthday!
Once I made the decision to go ahead and make it, I grabbed my trusty notepad and sketched out the boxes and then did some quick math and got to cutting my fabric.
I decided to go with 5" squares on a 12 x 12 arrangement. This meant the quilt finished at 54" x 54", the perfect size for a lap quilt! But let's go through the steps in a little more detail.
MATERIALS
Green Fabric*: 5 Assorted greens, half yard each - cut:

From each green, cut [x3] 5" x WOF, then subcut [x24] 5" x 5" for a total of 124 5" squares.

Black Fabric:

 one yard - cut

:

[x4] 9.5" x 9.5"
[x1] 9.5" x 5"
[x2] 5" x 5"
[x6] 2.5" x WOF (binding)

Backing:

 (I'm providing 3 different options - I used the 3rd option)

Quilting Cotton - Quilting it yourself: 3.5 yards
Quilting Cotton - Sending to longarmer: 4 yards
Minky (60" wide) - quilting it yourself: 1.5 yards
*Note: I used 6 different greens from my stash (they were all less than half a yard each), but using 5 is more efficient if you're purchasing fabric for this quilt.
INSTRUCTIONS
Layout quilt fabric on a design wall, your bed, the floor, etc. It's easier to arrange the black fabric face to create the Creeper's face and then add the green squares. Make sure to alternate the green squares as needed to create the pixelated look.
Following the diagram below, sew fabric squares into sections. Press seams open or to the side, alternating so you can nest seams.
Sew sections into the quilt top.
It really is that simple! This quilt came together in just a couple of afternoons and then took one more afternoon to quilt.
I used minky for the backing for an extra cozy quilt, and I went with some easy walking foot quilting. I used the seams of the "pixels" as a guide, lining up my walking foot on either side of the seams to accentuate the pixelated look.
Quilt Information
Pattern: Self-drafted. See instructions above.
Finished size: 54" x 54"
Fabric: Greens from my stash - Confetti Cottons solids in: Celery, Emerald City, Basil, Sweet Pea, Holly, and Hunter. Plus Black for the face and binding. 
Backing: Minky from JoAnn's in dark grey
Pieced and quilted on my Janome 9450