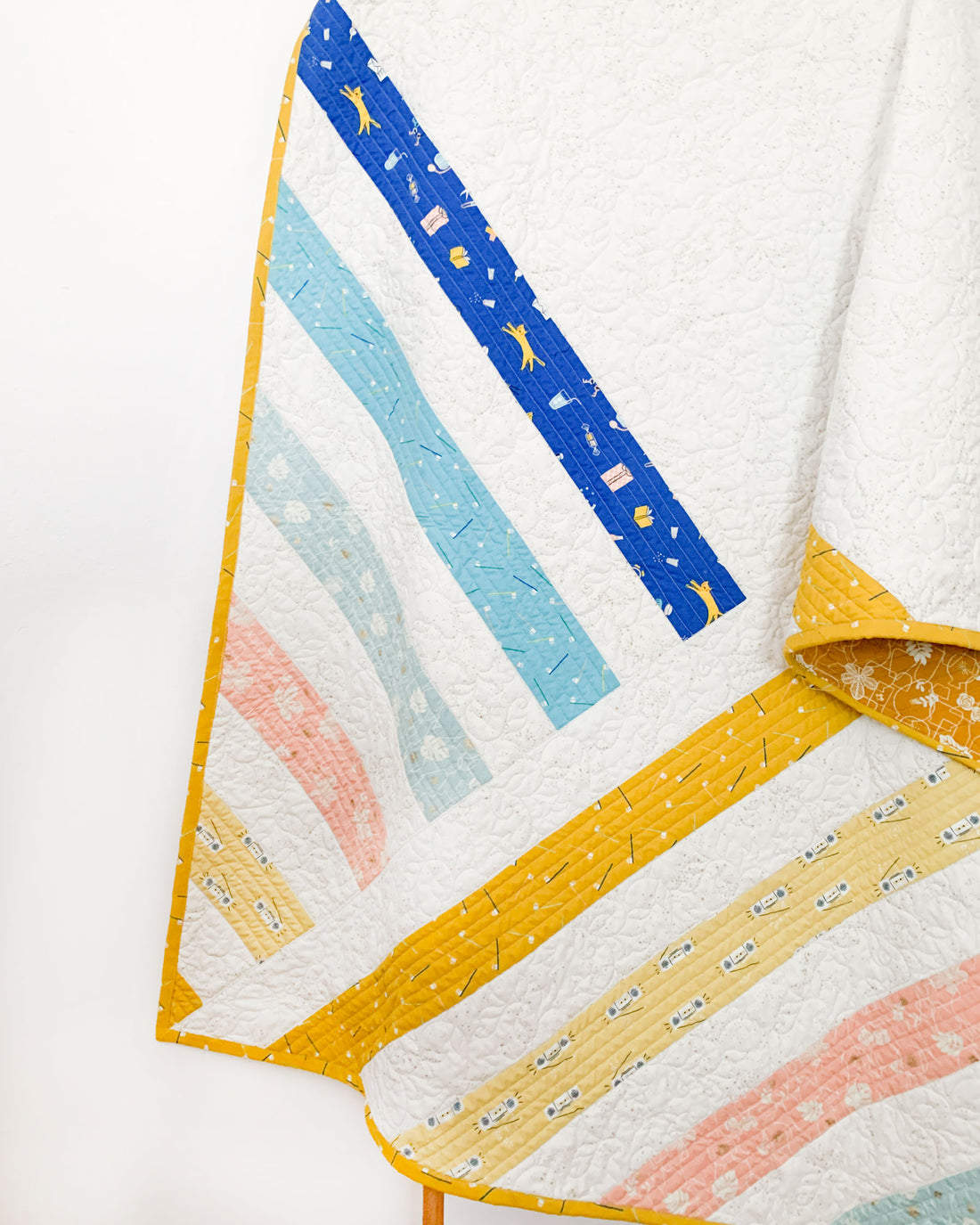 Midpoint Quilt Pattern - The Whatnot One
Happy pattern release day, friends! Meet my newest patter, Midpoint! I'm both extremely excited and extremely nervous to have this out in the world. This pattern is so different from my usual patterns - and yet... I love it to bits!
But let me back up. Midpint got its start sometime late 2019, when Amber from Alderwood Studio reached out to me about designing a pattern for her subscription box, Modern Makes. I showed her a few options, but together we decided on Midpoint.
As I worked on it, I fell in love with the simple lines and beautiful negative space. So on a bit of a whim, when the ladies at Ruby Star Society reached out about submitting new projects for their catalog, I submitted Midpoint. And it was picked up using Rashida Coleman-Hale's upcoming collection, Whatnot!
But then came the reality of actually having to put this together in a size larger than a pillow and I panicked a bit. That negative space made me sweat whenever I thought of it. I spent day after day staring at the mockup in Illustrator. I tried to come up with different ways to tackle the design, until finally, I went for it.
Cutting the fabric was nerve-wracking! Specially since I messed it up I couldn't replace it, but somehow, faster than I thought possible, I had a quilt top!
I wish I had more picture of the process, but honestly Midpoint comes together SO FAST that there was no chance to get pictures until it all came together.
And then came the time to decide on how to quilt this. Once again, that negative space made me sweat so I did the only thing I could think of - I sent it to Jill at J.Coterie. I knew I wanted straight lines on the color stripes and something fluid and fun for the background. I really wanted to play off that contrast and Jill did not disappoint!
When I opened the box, I gasped. It is so good! Pictures do not do it justice!
I honestly don't think I could love the end result any more than I do. And in that last time picture, you can get a glimpse of my Speckled fabrics Midpoint which definitely is one of my most favorite quilts I've ever made. Can't wait to show it to you tomorrow!
Purchase The Pattern