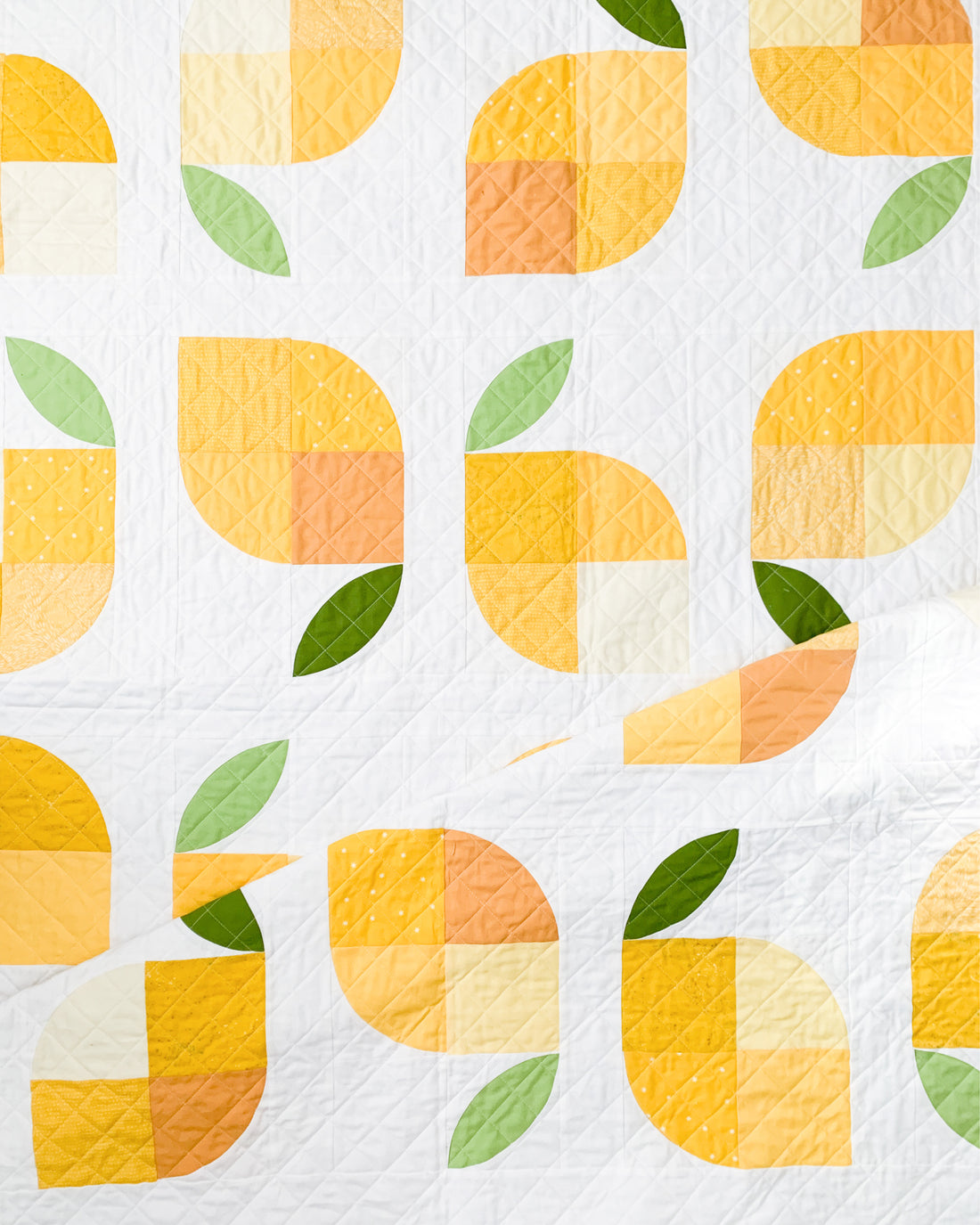 Memi's Lemons Quilt - The Scrappy One
Memi's Lemons Quilt Pattern is now available on my shop!
I will begin by saying I don't really know where to begin with this one, hah. This is one of the most, if not THE most, meaningful pattern I've design and I think that's what makes it hard to talk about.
This is the fastest idea to release pattern I've released. Meaning from the moment I had the idea for this pattern to today, this is the fastest one. Usually quilt patterns ideas happen months, if not a good year, in advance. Not this one.
I had the idea to create a lemons quilt pattern in June during our move across the state. One day while packing, I couldn't stop thinking about my grandma's lemon tree. My mom was a single mom, so while I was growing up we lived with her parents. In our front yard my grandma, Memi, had a beautiful lemon tree.
Every Sunday during the summer, she'd go out there and pick lemons from it and made the best lemonades. Sweet, but not too sweet and so refreshing. Perfect for when I'd come in from the backyard, sweating from playing with friends or my cousins.
And that's all I could think about as we were packing our house for the 10th time in 11 years of marriage (gotta love military life hah). So one night, when I should've been sleeping, I opened up Illustrator and started playing with this idea of making a lemons quilt. Specifically a scrappy lemons quilt. I tried a few different block ideas until I came up with this block.
And then I couldn't do anything about it! We were moving and I was in the middle of working on the Midpoint Pattern release. But man oh man, I couldn't stop thinking about picking just the perfect yellow fabrics and making this quilt. In the middle of all of this, I drove up to just north of Seattle and met Kristina from Fabric Bubb. We have been emailing and messaging for a couple of years, but hadn't met in person yet. It was a great visit and together we pulled just the perfect mixture of fabrics for this lemons quilt.
The second we got somewhat settled in our new home, I pulled out these fabrics and got to work. I wish I had stopped to take more in-progress pictures, but I honestly couldn't bring myself to stop sewing. I love everything about this quilt - the different yellows and textures, the whimsy, yet clean look of the full quilt. It's modern and lemony without being in your face about it.
It was the perfect first quilt to make in my new sewing room. And I couldn't help myself and took this beauty out to a Spokane mural to celebrate the first pattern created in our new town. Bonus points - it was at a donuts shop!
For the backing, I originally had thought of using a gingham print. It just seems like a perfectly summery backing to use. But as I was unpacking my sewing room, I found an Alison Glass fabric from her Sun Print collection that went perfectly with this quilt. I quilted this beauty with some diagonal crosshatch and finished it off with some striped binding!
I cannot wait to show you my other two samples - including the Fairy Dust Ombre sample that you can peek in that last photo!
---
Buy the Memi's Lemons Quilt Pattern
Quilt Information
Fabric
Lemons: Dashflow in Daffodil, Moonscape in Lemon, Spark in Goldenrod, Kona Cotton in Canary, Duckling, Ochre, Lemon, and Meringue.
Leaves: Kona Cotton in Peridot and Cabbage.
Background: Kona cotton in White .
Pieced and quilted in a Janome 9450.