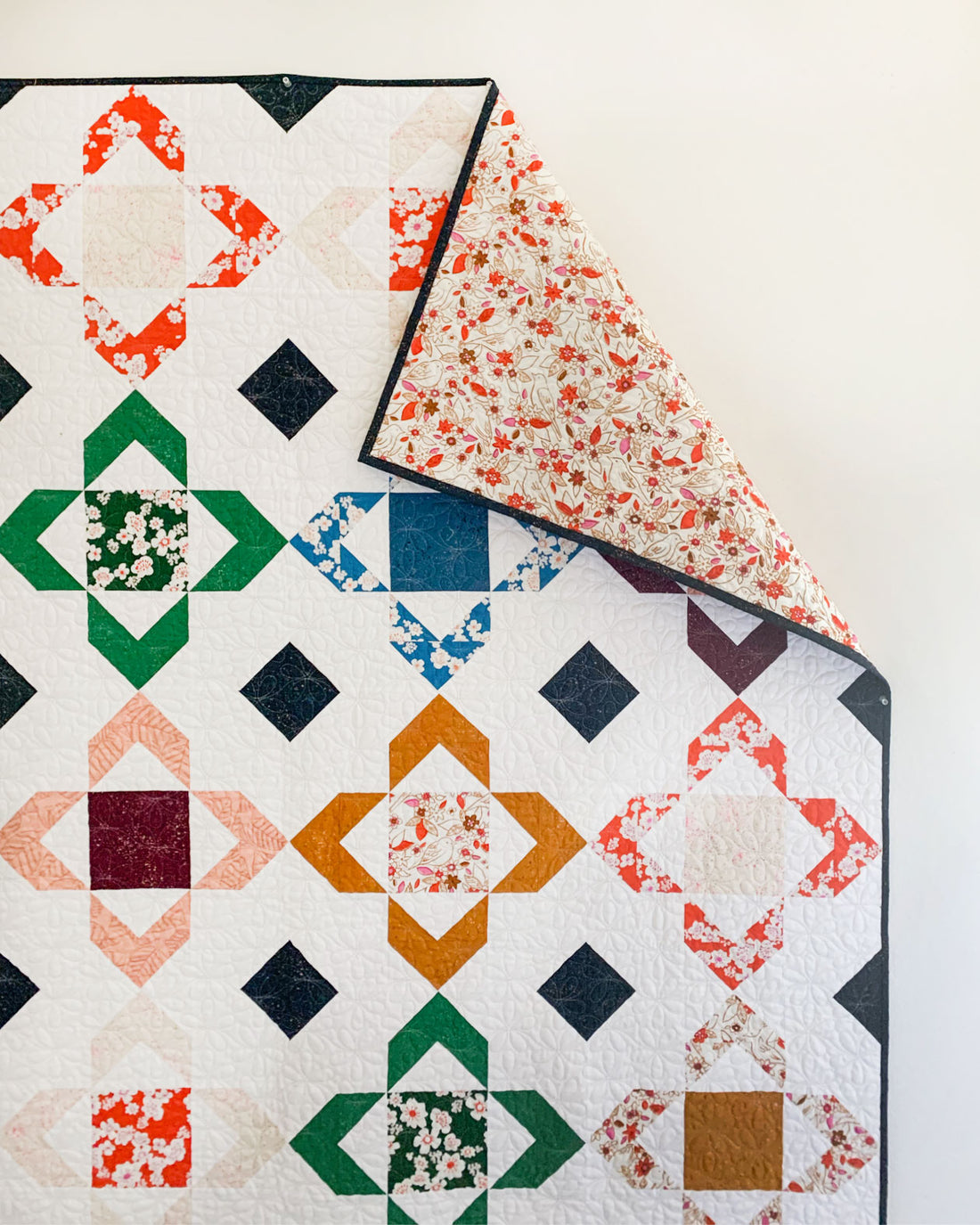 Garden Gems Quilt Pattern
Garden Gems quilt pattern is now available in the shop!
I am so excited to introduce you all to Garden Gems, a beginner-friendly, block-based pattern. It is the perfect pattern to mix and match your favorite FQs and feature your favorite prints or solids in the center square.
Today's release of Garden Gems has been months and months in the making. I first designed this pattern back in February of this year, but even after getting it onto Illustrator with some preliminary color choices, something still didn't feel right about it.
It wasn't until I began working with the amazing ladies at Ruby Star Society and their 2019 Spring Quilt Market releases, that things started clicking into place with this pattern.
The cover for the pattern mixes one of their basics, Speckled, with a 2019 line, Aviary. The best thing about Aviary, besides the gorgeous illustrations, is that it's a collaborative collection. Meaning, three of the RSS ladies (Melody Miller, Rashida Coleman-Hale, and Alexia Marcelle Abegg) worked on this collection together.
This pattern release feels like a culmination of sorts. Before Ruby Star Society picked this pattern to appear in their catalog, I was still in "let's see where this takes me" mode, but afterward, I realized I could really make something out of this business if I wanted. Ever since I've been working my little tail off to make things happen. This makes it all real.
I've worked as an entrepreneur for 5-6 years now doing web design, and I've been in a constant state of feeling not good enough and like I'm an impostor doing this whole "work from home mom". In all these years, nothing has ever felt so right like this.
Designing and writing patterns, sharing this passion with the world, and seeing other people do amazing thing with my patterns has been restoring me and healing me in ways I did not know I needed to be restored and healed. I wish I was better with words so I could express how much this space and the love my patterns receive means to me. I'm not sure where this business is taking me, or where I will take it, but I'm here and excited about this adventure like never before.
And now I'm going to stop blabbering and just say, thank you. Thank you for your support, it means more than I can say.
Tomorrow I will be sharing my all solids version along with all the amazing work from my testers so keep an eye out for that!
---
Purchase the pattern