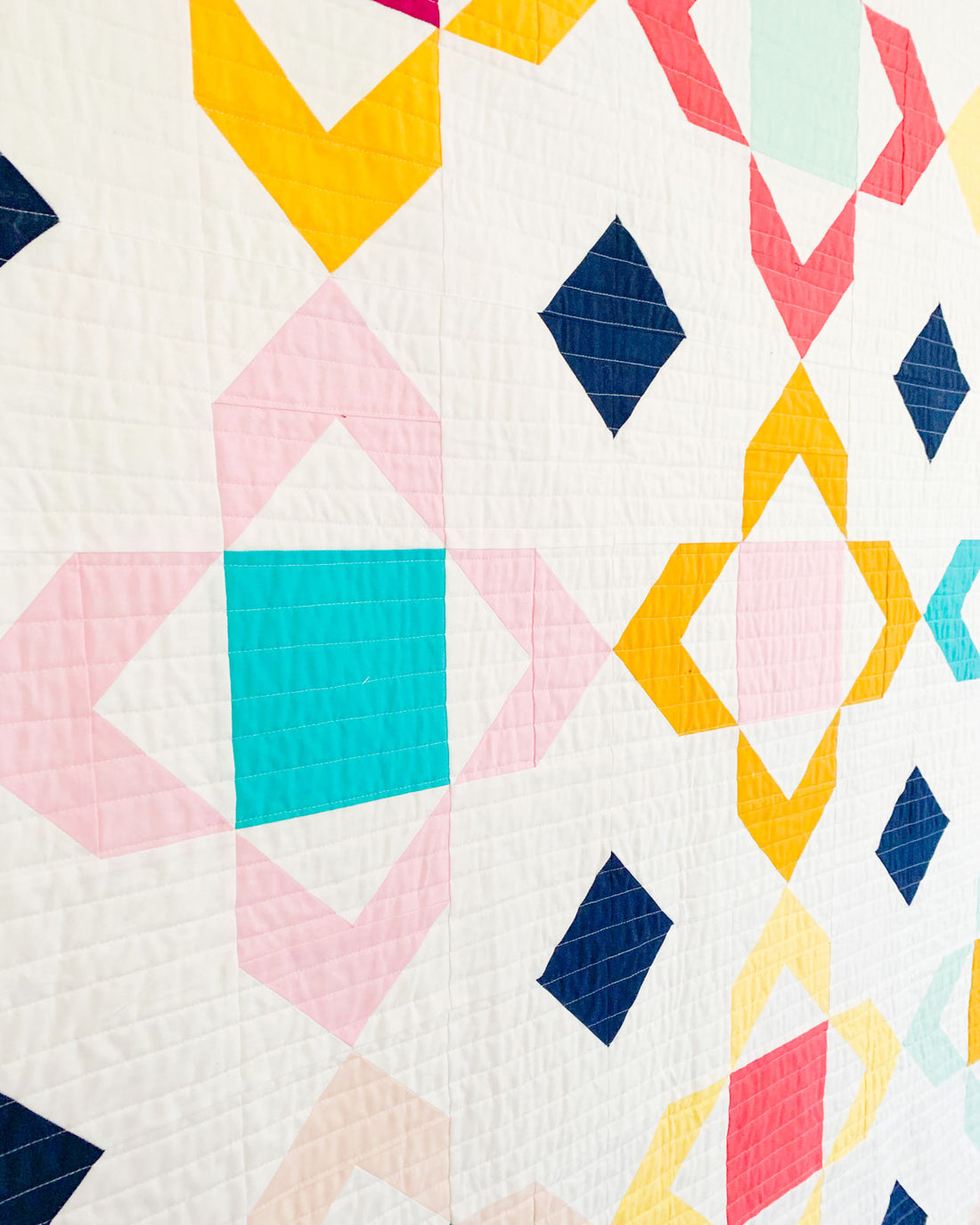 Garden Gems in Kona Solids + Testers Quilts!
The Garden Gems quilt pattern is now available to purchase in my shop!
Today, I'm sharing my second Garden Gems quilt, the Kona Solids one. It's no secret I'm an all solids quilt lover, so I knew from the start that I wanted to make an all solids quilt, even if it didn't end up on the cover.
What I love about solids is how much room there is to play with color, combinations, and just overall have fun. But truth is, I had the hardest time choosing my colors for this quilt. I went through quite a few mockups on Illustrator and did at least 3 different pulls from my stash before I settled on this one.
I also didn't choose an accent color until I had all my blocks together. I kept going back and forth between light grey and this navy. In the end, I decided to go with my favorite navy, Storm.
I love how it sets off the bright colors I used and provides depth instead of just blending in. For the backing, I used the white Moonscape print from Dear Stella. I love how it reads like a solid until you get closer to it.
I really wish I had taken more progress pictures but I was kind of in a mission to finish this quilt and didn't stop to take any! Either way, I'm so happy with the finish on this and I think it'll be my next bed quilt once I get it all washed and full of post-wash crinkle goodness :)
---
Garden Gems by Testers
And now for a look at all the amazing quilts my testers made. They seriously knocked it out of the park this time around!
---
Jessica has tested every pattern I've put out and every time she makes one of my favorite quilts. This time is no exception!
Alison made this beautiful baby Garden Gems and then took it to ITALY. Look at this gorgeous photo!
Sarah made the sweetest baby quilt with adorable strawberry filled prints!
Claudia made this lovely throw size with some of my favorite fussy cut center blocks!
Lynn made this sweet baby Garden Gems and I just love the colors she used!
I am not exaggerating when I say my jaw DROPPED when I saw Emily's quilt. I knew she was making a queen size Garden Gems but it didn't quite fully register until I saw these pictures. To say that this quilt is incredible, it's an understatement.
Jill made this wonderful twin size Garden Gems and I love how it looks in this photo!
Petra made this custom size Garden Gems with SLOTHS fabric in the center blocks! She posted a sneak peek of the quilting she's doing and it's amazing.
Kasie is another quilter that has tested all of my patterns and I love her use of color and that red barn she uses for her photos!
Tracy is another quilter that made my jaw dropped. First, she made not one, but TWO Garden Gems. And one of them is a scrappy-licious quilt that is just TOO GOOD.
Genna has been with me from the beginning and she always takes THE BEST pictures of her quilts during hikes and Garden Gems was no exception!
And last, but not least Melissa made this beautiful throw size Garden Gems with some Liberty prints that are simply stunning!
---
Purchase the Pattern