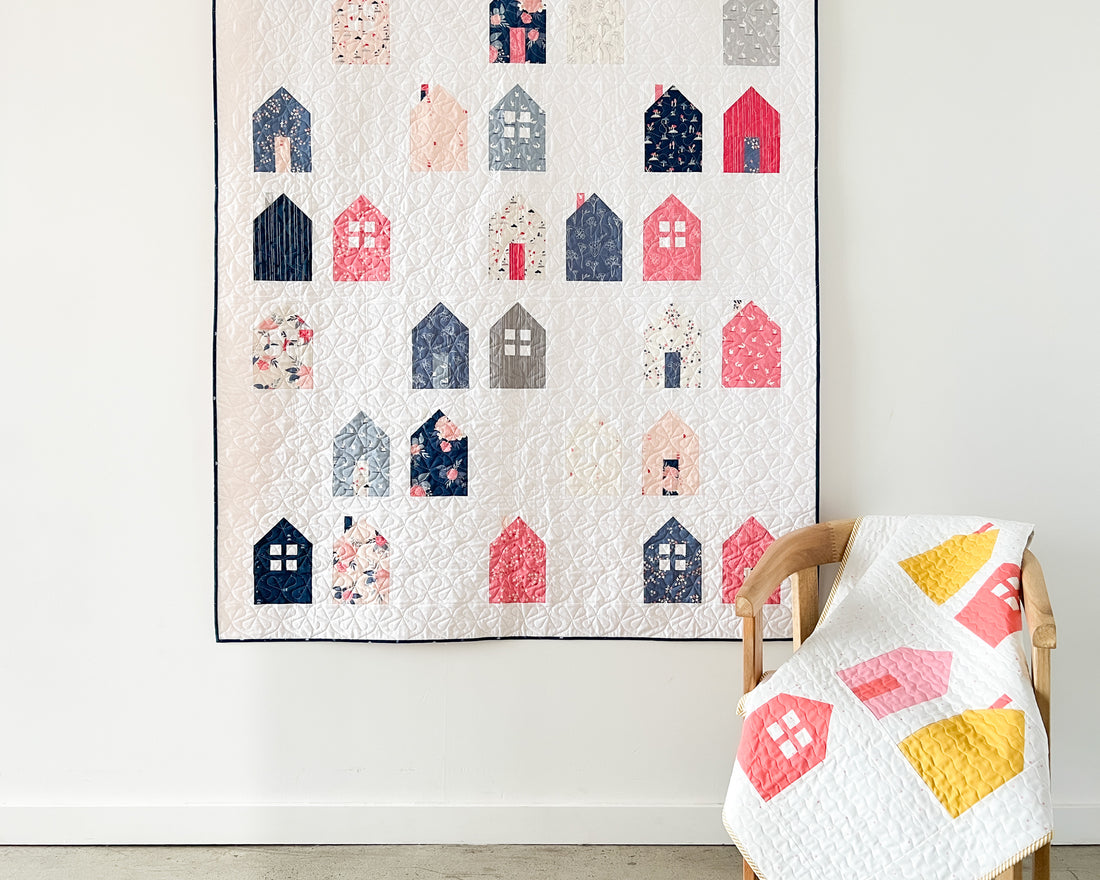 Cozy Village In South Hill Fabric
Meet Cozy Village! This quilt pattern is part of the South Hill fabric collection coming December 2022. This pattern has been in the works since September 2021 so having it out in the world is so, so exciting!
South Hill Fabric
This version of Cozy Village was made using 10" squares of my second fabric collection, South Hill arriving to shops December 2022.
The fabric collection was inspired by our first year in our forever home - in Spokane's South Hill neighborhood, hence the name.
Therefore, it felt only right to have a fun little house quilt be part of the collection!
Cozy Village Pattern
This pattern is a modern take on the traditional house blocks and includes three different house blocks, plus some empty spaces, to create a dynamic design.
This pattern is incredible versatile and it would be stunning in any collection. It's beginner friendly (all straight seams, and traditional piecing). It uses uses Fat Quarters or 10" squares.
Long Arm Quilting
I sort of cheated with this one, because back in the spring the wonderful Katie at Modern Textiles quilted a panel of this quilt for Quilt Market. Since we did that, I knew exactly what quilting I wanted to do this quilt. 
We used the Twist Tie panto, which is one of Katie's own creations, and I love how sweet it is. It adds the overall quilt some movement thanks to the loops and just makes the whole quilt softer.
Backing and Binding
For the backing, I used a sweet pink Shades fabric that coordinates with the South Hill fabric. It has a tiny bit of pop against the stark white of the background fabric, but doesn't overshadow the front of the quilt.
For the binding, I chose to go with a pop of color, using one of the navy prints from my fabric collection. It contrasts so nicely with both the front and backing - I love it so much!
I'll be back tomorrow with the baby size sample I did with solid fabrics, but I couldn't help sharing a sneak peek!
QUILT INFORMATION
Quilt Pattern: Cozy Village by Cotton and Joy
Fabric: South Hill fabric by Fran Gulick of Cotton and Joy, and Confetti Cottons Solids in White (Background).
Backing: Shades in Cotton Candy, Riley Blake Designs.
Binding: Confetti Sky in Navy - South Hill Fabric.
Pieced on my Janome 9450
Quilted by: Katie Hanson of Modern Textiles
Panto Used: Twist Tie
PURCHASE THE PATTERN