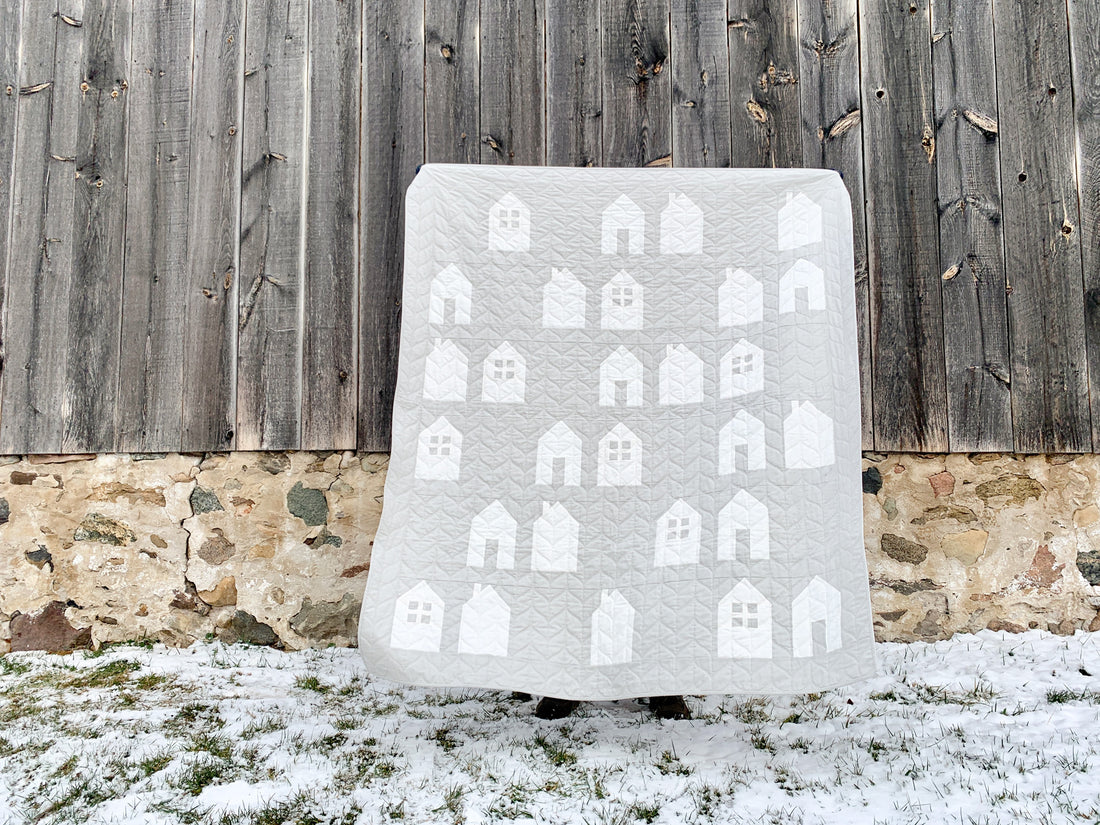 Cozy Village - The two-Color Variation
At the tail end of 2022 I released my Cozy Village pattern and it includes two variations: one using FQs and one for a more scrappy look using 10" precuts. However, during testing the wonderful Breanna came up with another variation that simply capture my heart: a two-color variation!
It seemed it captured a lot of people's hearts because I've been getting some questions about this version so with Breanna's help, I will be sharing a little more about how to make this 2-color version.
Why The Switch 
I asked Breanna why she went with a two-color version and here's what she had to say:
"The idea for a two-color version of Cozy Village was born out of a struggle to pick fabric for the original version. Oftentimes when I feel overwhelmed by fabric choices I tell myself to keep things simple.
In this case, simple meant stripping the pattern down to just two colors. As soon as I realized a two-color version would work, I headed straight for my fabric stash and pulled out this cozy grey and cream combination.
I initially planned to do grey houses on a cream background, but was worried about how light the finished quilt would end up being. So I switched to white houses on a grey background last minute and quickly fell in love with the results."
The Quilting
I fell in love with this two-color version the second I saw pictures of the blocks, and like other quilters I know how difficult it can be to pick just the right quilting to go with a quilt top, but Breanna couldn't have chosen a more perfect pantograph to finish off this beauty.
She went with Chunky Knit by Tawny Oland, saying "it adds just the right amount of warmth and texture to this cozy little village" and I couldn't agree more!
Making Your Own
Since this version is so popular, I'm adding here an extension for the main pattern. This extension includes the fabric requirements to make a Two-Color Cozy Village in each of the 3 sizes (baby, throw, and queen), as well as cutting instructions to make the most of your fabric.
Please note you will still need to purchase the Cozy Village for the full cutting and sewing instructions.
Hope you love this two color variation as much as I do!
And many, many thanks to Breanna for creating this beauty while testing the pattern and for allowing me to share it on here. Be sure to follow her on Instagram - @roseivyquilts.