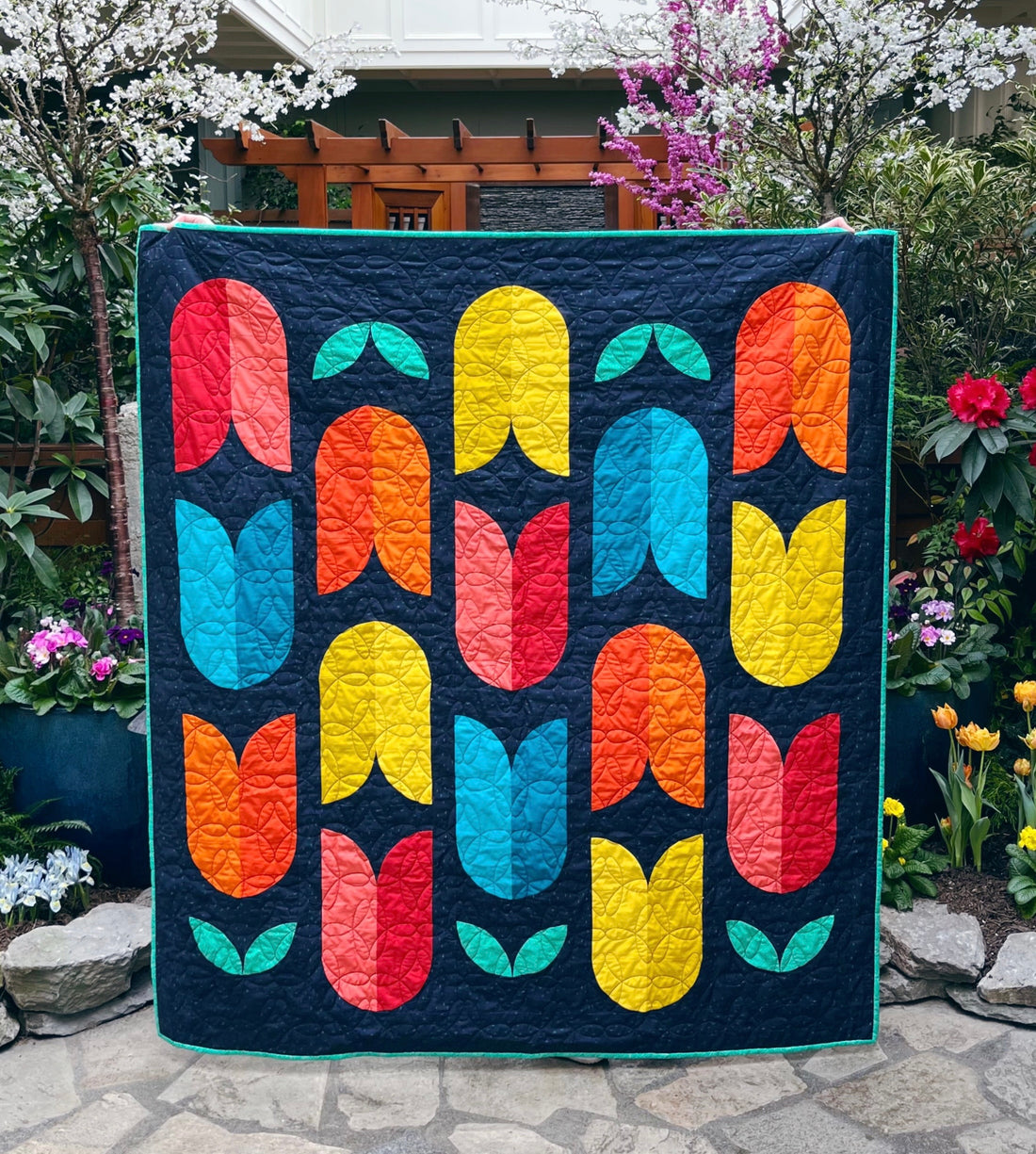 Copihue Quilt - Testers Quilts
I always say I feel like the luckiest pattern designer. I have an amazing group of testers who volunteer their time to look over my pattern. They each pick incredible fabric combinations I might have never thought of.
I usually include the tester quilts at the bottom of one of my other blog posts during a pattern release, but for this release, I figured I would give them their very own post. So, without further adieu, here are the Copihue testers quilts!
Vibrant Copihues 
Lauren of SewLoSew, blew me away with her vibrant color choices and a dark background. I made about a dozen mockups and not once did I use a dark background and I'm really questioning why - just look at this beauty!
Pink Field
Amy always blows me away with her bright and lovely color pulls. I love the pink background of this Copihue quilt with the colorful flowers.
Scrappy Blues
Genna always has some of the best takes on my patterns, and this was no exception. I love the scrappy look on this baby size Copihue quilt!
Pretty in Pink
I am a little tempted to drive to Julie's house and take this quilt for myself. I love the different pinks she used and the not-solid background!
Muted Palette
Breanna of Rose Ivy Quilts went with some lovely muted colors and I adore how they look against grey background!
Peachy Baby
Jessica always make the loveliest versions of my patterns and this peachy baby Copihue is no exception.
Sparkler Copihue
Kate of Freckles and Quilts created this beautiful Copihue using the Sparkler collection from Riley Blake and I adore the end result.
Neutral Copihue
And last, but definitely not least - this INCREDIBLE Copihue quilt from Maechen. I love how the pattern looks in this black and white version. It's so different from my two samples, and SO SO GOOD.
Purchase the Pattern