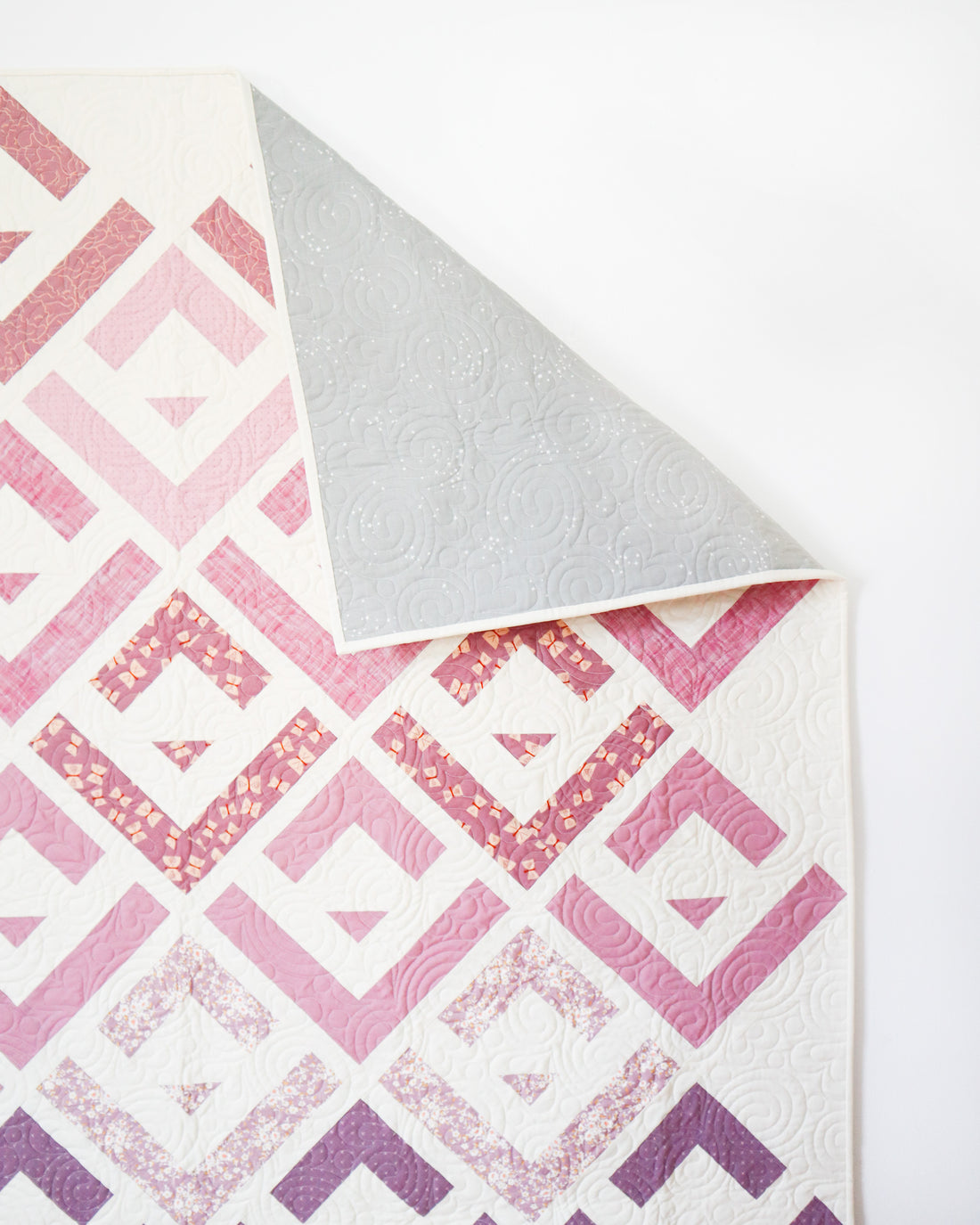 Cabin Valley Quilt - The Purple One
The Cabin Valley quilt pattern is now available in my shop!
In one of those weird twists of fate purple is my favorite color, yet in all these years I've never a purple quilt - until now! When I was scheming what samples I would be making for my Cabin Valley quilt, I knew I had to make an all purple quilt. I just had to! 
Fabric Pull
Most of the fabric used for this quilt came from my stash, but apparently I'm severely lacking in the purple section of my stash, so I did have to buy two of the prints I used.
For the background fabric, I decided to forego my usual stark white for a nice creamy off-white and I couldn't be happier with this decision. It perfectly compliments the purples I used and some of the details in the busier prints.
Longarm Quilting
Since I knew this was a quilt I would be keeping, I wanted the perfect texture for it. Thankfully, Katie at Modern Textiles knows me well by know and she always gives me the perfect balance between texture and snuggleness!
For the panto, we went with Sweet Marmalade and it's so, so good. We used the original Marmalade panto for my Berry Lemonade Memi's Lemons and that's one of my favorite on-the-couch quilts, so I cannot wait to use this purple Cabin Valley when it enters the rotation! 
I honestly could not be happier with how this quilt turned out and hopefully this isn't the last purple quilt I make! haha
Purchase the Pattern
Quilt Information
Prints (from top to bottom): She by Alexia Marcelle Abegg, Add It Up in Lavender, Manchester Cotton Yarn Dye in Berry, Butterflies in Lavander by Alexia Marcelle Abegg, Kona Cotton Solid, Calico Days in Lavender by Sharon Holland, Cross Embroidered Woven in Orchid, Essex Linen in Orchid, Kona Cotton Solid.
Background and Binding: Bella Solids in Snow
Backing: Freckles in Koala by Cotton and Steel
Pieced on a Janome 9450
Quilted by Katie Hanson from Modern Textiles
Panto: Sweet Marmalade