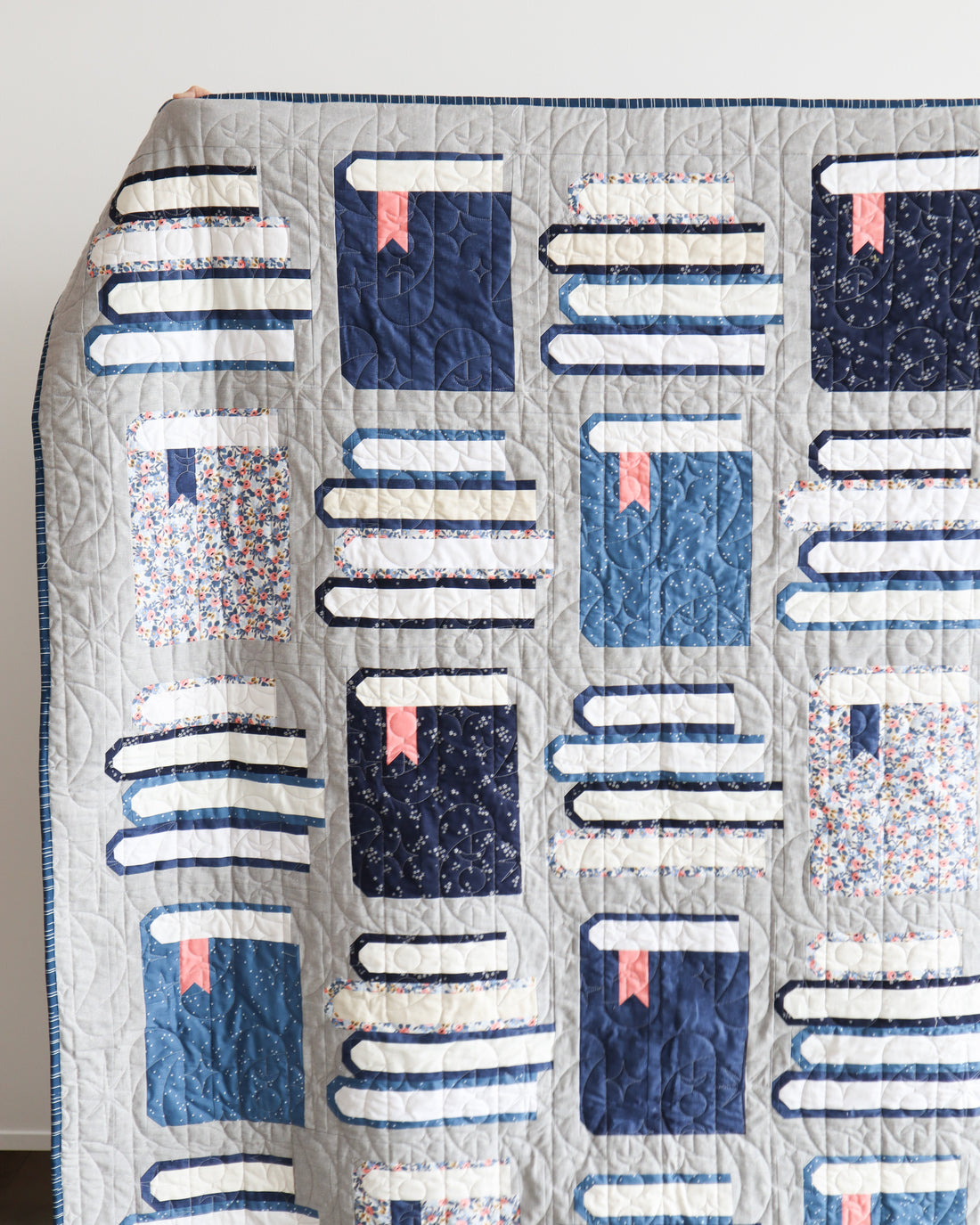 Book Nook Quilt - The Navy One
Most quilts I make these days are for pattern releases and occasionally as gifts. So it's not often I make quilts for myself or from patterns that aren't my own. This Book Nook quilt is an exception on all accounts.
I'm a big reader, and in a previous life (aka, before I became a quilt pattern designer), I worked in libraries. So when I saw Lindsey's Book Nook quilt pattern, I was in love. The best part was that this pattern is traditionally pieced, which I love. I know FPP can lead to amazing results, but it's not my favorite thing to do, but I digress.
Fabric Pull
I knew as soon as I saw Lindsey's pattern that I would be making. The question was, what fabric would I use? My initial fabric pull had each full book in a different blue with sort of an ombre effect, but after I made my first round of books, I didn't love the results. So back to the drawing board, it was. 
After some back and forth, I decided to simplify my plan and instead go with three mid to dark blues, plus one of my favorite florals from Rifle Paper Co. To bring them all together, I used a solid peach for the bookmarks, except for those that went with the floral books. Those got a navy bookmark. 
The next tricky bit was choosing a background. Since the books have white or off-whites for the pages, I couldn't do my trusty white background. After testing a few different options, I went with a light grey Essex I had in my stash - I lucked out and had just enough!
Long Arm Quilting
From the get-go, I knew this would be a quilt I wanted to use and snuggle with in our living room, so I wanted it to be as cozy as possible. So, I decided to use a nice navy minky for the backing. This meant I wouldn't be quilting this myself. Instead, I sent it to Katie at Modern Textiles.
I wish I could say this would be surprising, but I was completely undecided on the quilting design. I honestly had no idea what to use, and that's when Katie asked what my favorite book was. Maybe we could use something related to that. 
My favorite series is A Court of Thorns and Roses by Sarah J. Maas, so I got on Google and searched for "stars panto" (this makes sense if you've read the books). And I found what's quite possibly, the most perfect panto ever to exist. Celestial Sky by Mistletoe Quilting Co reminds me of Feyre and the Night Court so perfectly that I simply had to have it on this quilt. Thankfully, Katie was willing to work with me!
I love, love the texture this design gives the quilt and the meaning (to me) behind it. It perfectly fits this quilt!
So, needless to say, I am in love with this quilt. I always use it while watching TV with my family, and it's simply perfect. 
Quilt Information
Pattern: Book Nook by Lindsey of Pen And Paper Patterns
Fabric: Blossom in Denim, Seeds in Midnight from Daybreak, Shabby in Navy by Riley Blake Designs, Les Fleurs Rosa Periwinkle by Rifle Paper Co., Confetti Cottons Solids in Peony, Various whites and off whites from my stash, Essex Yarn Dyed in Steel (background).
Quilted by Katie Hanson of Modern Textiles
Panto: Celestial Sky by Mistletoe Quilting Co