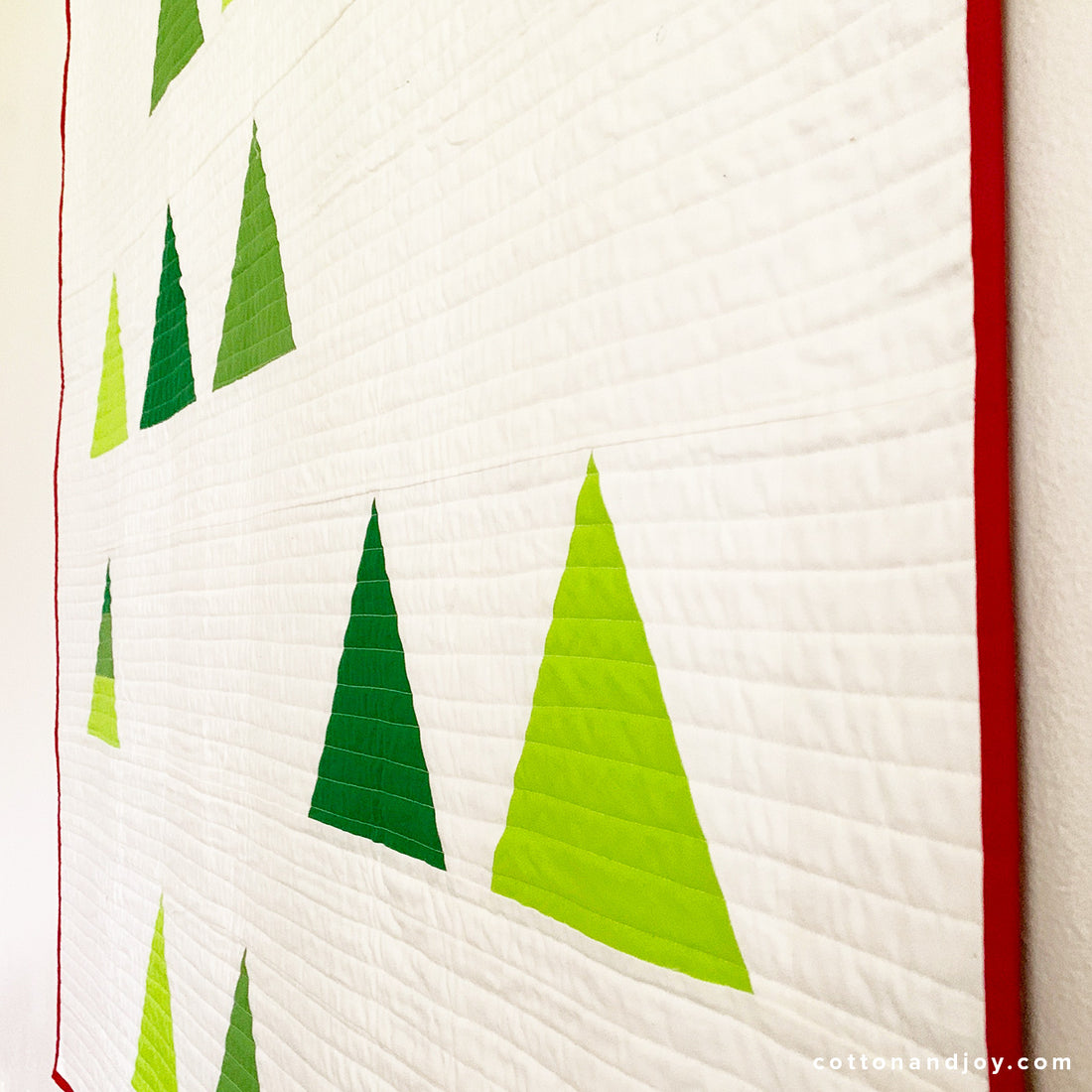 Tree Farm Pattern - A Modern Christmas Quilt Pattern
Find the Tree Farm Quilt Pattern in the shop
It is here! The Tree Farm Quilt Pattern is here! This pattern has been in the works for a while now. I first envisioned this pattern back in March (yes, March!) but after a quick sketch, I put aside because who makes Christmas quilts in March? (Almost me, almost!)
Since then it's been nagging and nagging me, always on the back of my mind until I couldn't wait any longer and decided to play with this idea of a modern tree-inspired quilt in September. The result was a couple of failed attempts, a lot of test blocks, and a fall-inspired version that I gave me the pinch of wild bravery I needed to embark on this journey.
The pattern is available both as a digital download and as a printed version on my shop. It includes two sizes wall hanging and throw and uses traditional piecing techniques. I list it as a "Confident Beginner" pattern because it does require the use of templates, but they are clear and detailed instructions to help even those who have never worked with templates before!
One thing that scared me about making this an official pattern was that it would be too boring? While the idea for it initially was most certainly that of a Christmas quilt, don't be afraid to play with color and fabric choices. Your trees don't have to be green and your background doesn't have to white! Don't believe me? Scroll on down!
---
Tree Farm Quilts In The Wild
This being my first pattern, I wanted to make sure there were no issues with it so I put out a call for pattern testers and I could not be happier with the results. These talented sewists gave me wonderful feedback in ways to improve the pattern and made some beautiful variations of this quilt!
Genna's version is a sweet spot between fall and Gryffindor magic and I have half a mind to make an exact replica for those Harry Potter marathons that are bound to happen over the holidays.
When I say there's a good chance I'll go steal Julie's winter inspired wall hanging version, I am not joking.
And can we talk about these fussy cut deer? I just can't. They are so dang cute.
Meghan took the green and white color scheme and reversed it for amazing results.
More gold trees, but with a grey background this time. But the stunner here is the quilting. Those swirls! *Insert heart-eyed emoji*
Beautiful grey background and fussy cut owls might be the way to may heart.
Corinne brought my classic Christmas vision to life and I love, love it!
This beautiful dark beauty was inspired by the first time Kate and her husband got a tree and my heart exploded with pure joy when I saw it.
Kate's fabric choices are swoon worthy! I love, love her blocks!
This monochromatic version by Jessica is amazing.
Julie used a traditional green and white colorway but her use of prints was perfect (and inspired my own wall hanging version above!)
---
Purchase The Pattern
pin for later