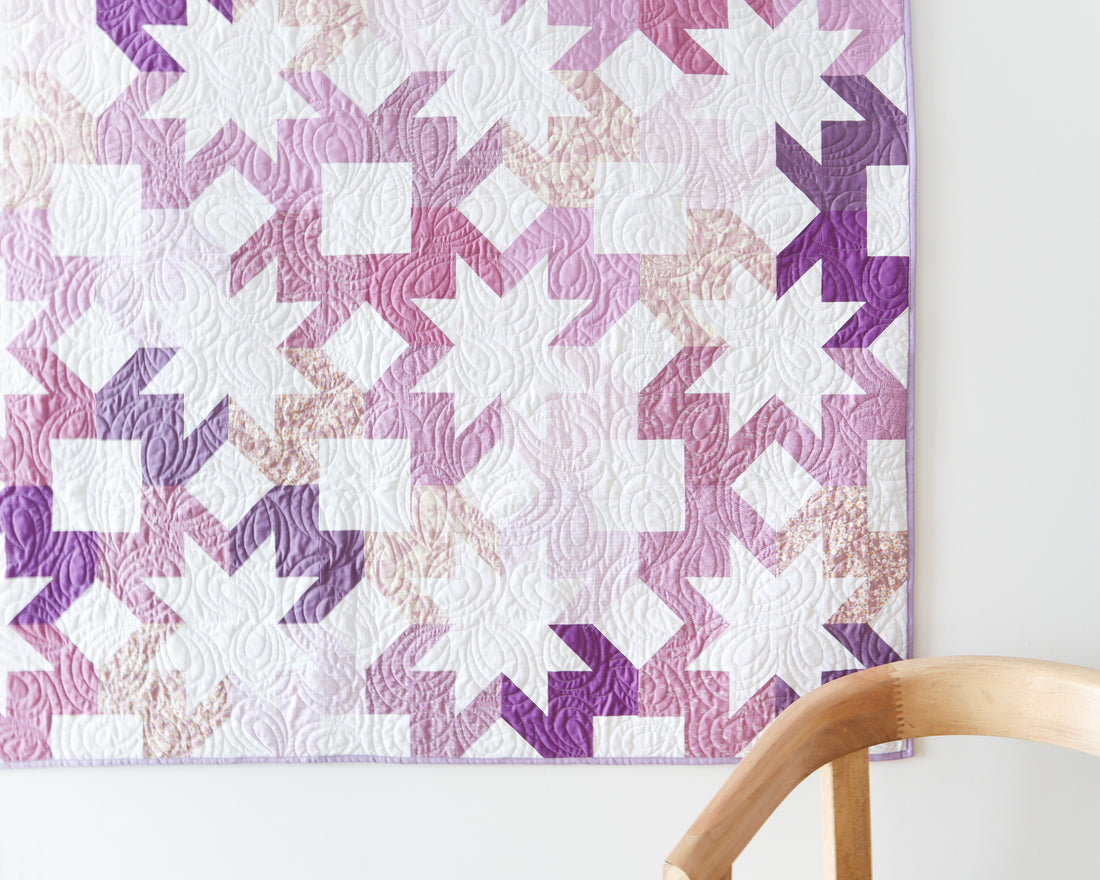 Starlight Quilt - the Purple One
The Starlight quilt pattern is now available in the shop
I'm so excited to be sharing my second sample of the Starlight quilt pattern today - except this was the first sample I made, hah! When I designed this pattern, I picked the colors for the cover version right away. However, before jumping head first into that sample, I wanted to make sure I had all my math right and had the best construction method in mind.
Purple Quilt
Part of writing a quilt pattern is making multiple samples and while I love sewing them, I hate making samples that will go unused or end up in a pile in storage for a long time. So I decided to make this sample for me. I needed a new living room quilt anyways so I thought - why not make this one I'll use and snuggle with?
With that thought in mind, I went into my stash. I had decided to stick to one color family right away but I couldn't decide if I wanted all navies or all purples. But, after a quick debate, I decided to go with purples. We have quite a few navy quilts already and I've joked with friends that I've entered my purple era since I've been using it a lot. 
So I dug through my stash and after a while I ended up with this group of 7 fabrics - some solids, some prints, some traditional cotton, some wovens.
Beginner Friendly and Chain Piecing
As soon as I had all my fabric cut, I got to sewing. And I love love how quickly it all came together. Yes, the HSTs can take a minute, but you can chain piece those, and then chain pieces the all of the blocks and quilt top together. 
This makes the Starlight quilt a super beginner friendly quilt, and a fast project to sew. I can already tell I'll be making more of this pattern in the future when I need a fast project!
Minky Backing
Since I knew from the onset that this would be a living room quilt, I decided to use a minky backing on this quilt. I ordered some 90" Minky Cuddle from Fat Quarter Shop since I didn't want to have to try and figure out how to piece a minky backing 😆
I love how cozy the end result is! It's perfect for cuddling on the couch and watching TV.
Long Arm Quilting
Since I was using minky for the backing, I knew right away that I wouldn't be quilting this one on my own. So I sent it out to Ashley of Hen House Quilting. We talked a bit about different pantos we could use but decided on Chestnut Swirls.
This gives the quilt just enough texture while staying cozy. I love how the swirls help breakup the angles on the quilt design and add movement to the quilt as a whole!
Quilt in the Wild
In late April, my mom and I made the trip from Spokane to Seattle to attend a concert. Since I had just finished this quilt and I knew we'd be making a quick stop at my alma mater, the University of Washington, I packing this quilt and brought out to take some pictures.
We only got a handful but these two pictures in my favorite spot in campus, the Quad, just outside the building I spent the most time in (Savery) are so, so special to me!
--
Quilt Pattern: Starlight by Cotton and Joy
Fabric: Various purples from my stash. Confetti Cottons in White (Background).
Backing: Minky in Grey
Binding: Confetti Cotton Solids in Lilac
Pieced on my Janome 9450
Quilted by: Ashley of Hen House Quilting
Panto Used: Chestnut Swirls
Purchase the Pattern