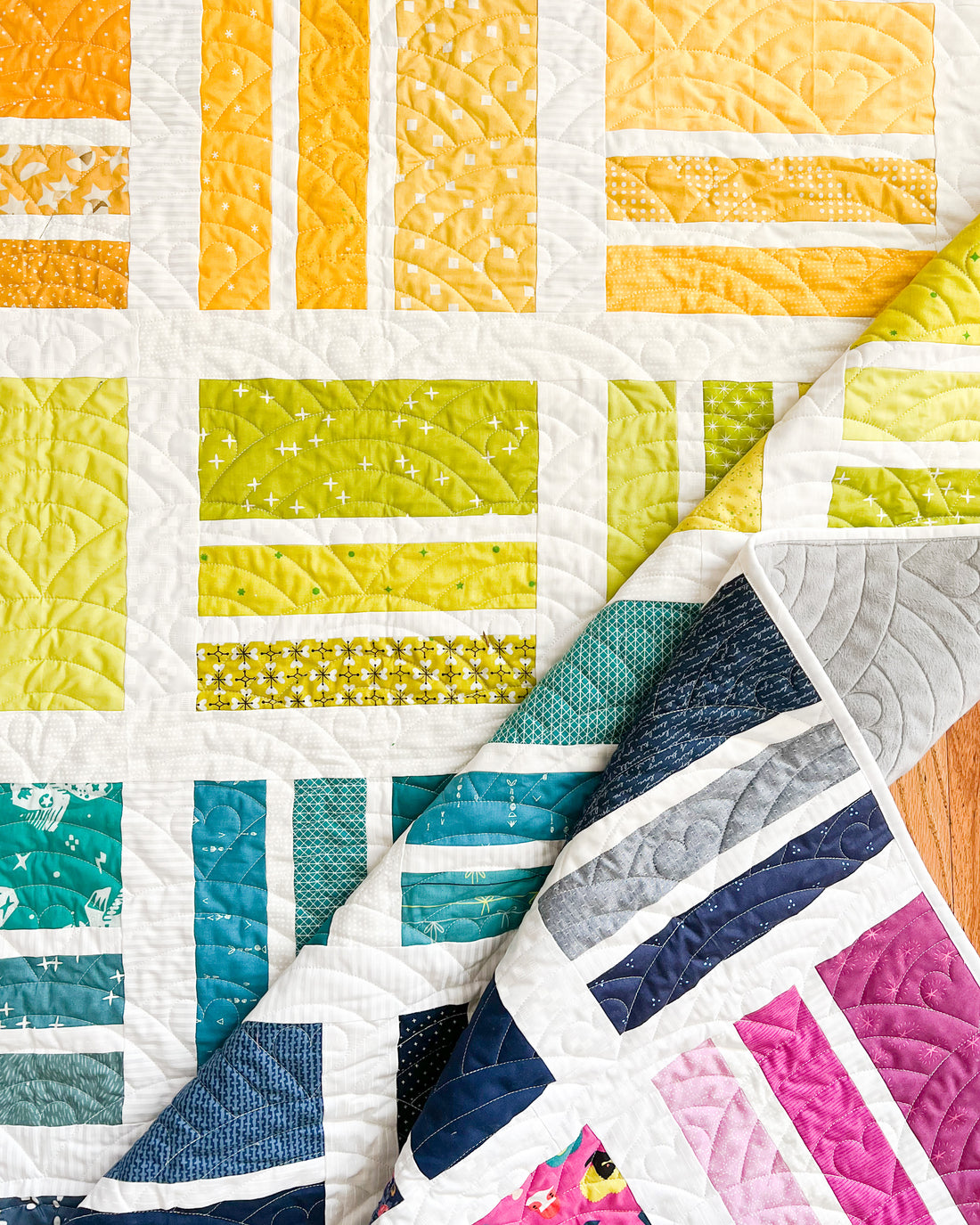 Squared Up - Scrappy Rainbow
Over the summer two of my favorite quilters made scrappy rainbow quilts. As I watched their quilts come together on Instagram, I got the itch to also make a scrappy rainbow quilt. Squared Up was just the perfect pattern to make this happen.
So I grabbed my scrap bins and dug through them one day, grabbing the right sized scraps as I went. I also went through my stash and found any cut-into FQs or random "big" scraps / small fabric cuts I might've had in there. This is the colorful bunch I ended up with.
For the background fabric, I also went the scrappy route. This is a change from my previous scrappy quilts. I usually just use the same white or off-white fabric for the background, but for this one I grabbed 5 or so white-on-white prints from my stash and mix and match them for the background.
This was, by far, one of my most delightfully fun quilts to work on. Putting each block together was so fun, mix and matching the prints in each color way until they were just right. I honestly just had the best time.
And I turned into a real life heart-eye emoji when I put the rows together and then the quilt top together. One of the things I love about this quilt - aside from how bright and happy it is - is how I can look at each block, and say what quilt used that fabric or this other fabric. It's a little bit like a scrapbook of my past quilts.
I ended up deciding now to add the borders for this version of the pattern. I didn't have enough fabric from the white-on-white prints I used and nothing else blended just right with the background fabrics I had used. And honestly, I just liked it without the borders.
While my best friend was visiting in early September, we took the just completed quilt top to Riverfront Park here in Spokane and got this photo. I've been waiting for just the perfect quilt to photograph in the Pavillion and this was just right!
Long Arm Quilting and Minky Backing
When trying to decide on a backing, I honestly couldn't make up my mind. I thought of using a basic in a white/creme color to match the background. I thought of something rainbow-y but nothing seemed right. And then I saw Tawny from Simply Fabulous Quilting had added minky backings to her offerings and I just couldn't help myself. 
So I sent the quilt top to her and went with a light grey minky backing. I figured this would be in our living room or end up in one of my kiddo's room so a not-white backing was for the best haha
For the quilting, I went with a baptist fans with a heart detail. It reminds me of rainbows and the heart is just the cutest detail. Overall this has just the perfect amount of texture and coziness. It's already one of the most used quilts in our home!
Purchase the Pattern
Quilt Information
Pattern: Squared Up by Cotton and Joy
Pieced on a Janome 9450
Backing: Silver Cuddle Minky
Quilted by Tawny of Simply Fabulous Quilting
Panto: Baptist Heart Clams by Julie Hirt