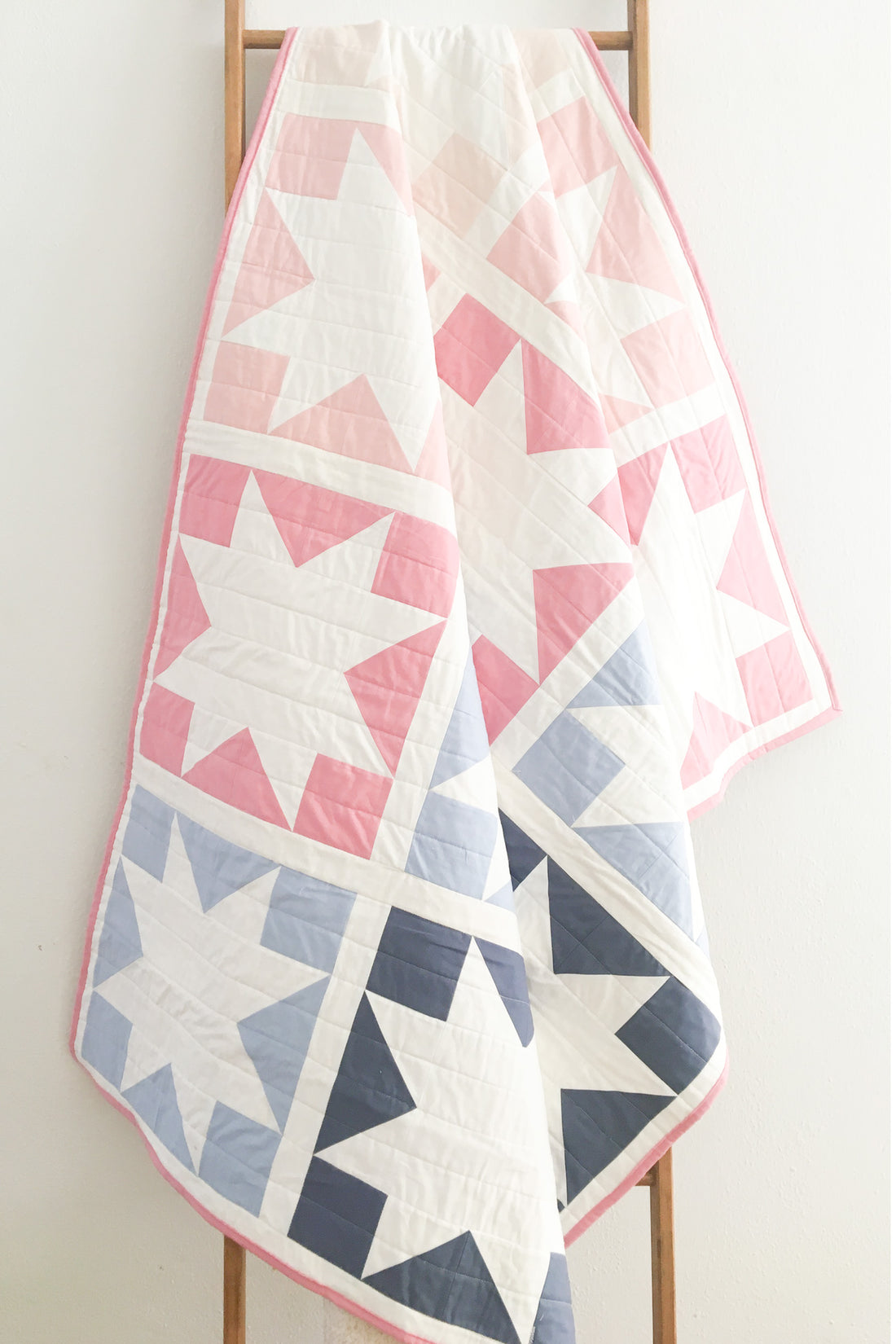 Spring Quilt - Inside Out Star
I am so, so happy to finally share my finished spring quilt! I swear, this is the quilt that did not want to be finished, but I nevertheless I persisted.
I used Then Came June's Inside Out Star pattern for my spring quilt. It's a great pattern, easy to follow with clear directions even a beginner can follow. My issues came from getting overly excited and forgetting fundamentals.
I got way too excited when starting this quilt, especially about trying the Magic 8 technique for half-square triangles, and chain piecing that I forgot to pay close attention to my seam allowances. This oversight meant some triangles came out a touch too small or blocks didn't match up quite as they should have.
Then as I got the blocks ready, I completely forgot about my sashing strips and had to spend some quality time with my seam ripper. Because of all these issues and mistakes, I kept getting angry at myself and putting this quilt top aside and it'd stare at me as I worked on other projects, such as my Onward Quilt.
But last week I gave myself a strong, solid pep talk and worked through my mistakes, and as Tim Gunn would say, I made it work. And I am so dang happy I did!
Look at this beautiful spring quilt! Part of me wishes I had gone with a custom palette, but a bigger part of me is so dang happy I went with the colors of the original quilt. The colors are so dreamy and go together so well.
In fact, I love the colors so much I just had to use them in the backing as well. I used scraps left over from the bundle and patched together a fun strip for the edge. This strip and the dreamy fabric that looks like a letter make this one of the favorite backings I've done.
For the binding, I used one of the pinks from the quilt top to bring it all together. I love how the pink looks with the backing fabric as much as I love how it brings the whole quilt top together.
This quilt had a lot of lessons in store for me, and it's made me a better quilter. Meghan's pattern is clear and easy to follow - just remember not to get overly excited as I did!
Spring Quilt 2018
---
Trending Patterns
---