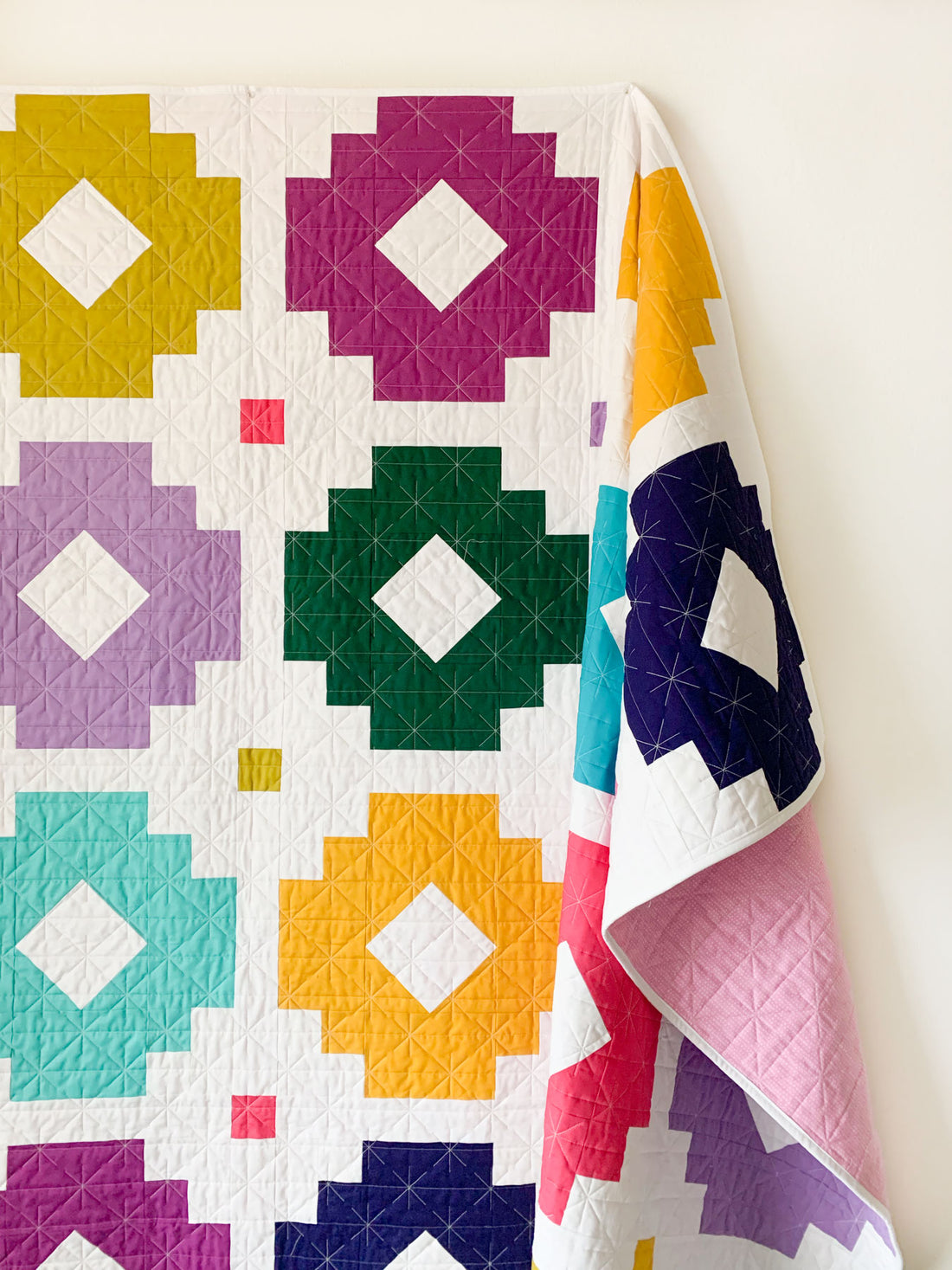 Solstice Lights Quilt Pattern
I absolutely love writing these blog posts on the day a new pattern releases, but there's a reason I'm a quilter and not a writer - I'm terrible at introductions haha! Long story short - I am so, so excited to introduce you all to the Solstice Lights quilt pattern and to have it out in the world.
I know we're not supposed to have favorites among our children (and these quilt patterns are kind of like children to me) but this is definitely one of my favorites, if not #1!
The Solstice Lights blocks are so fun to work on and come together so quickly and easily. This pattern is perfect for beginners and experienced quilters looking for a fast and satisfying finish.
Another thing I love about this pattern is how easily it can be done as a scrappy quilt. I added some notes within the pattern on how to do this after having a little too much fun putting together my scrappy-ish Fig Tree & Co Solstice Lights.
Thursday was a BIG DAY for a second reason, it marked 1 year since I launched my very first quilt pattern. I honestly cannot believe it's been one year since I got started on this little adventure! I am so proud of each and every pattern I've released and I cannot wait to share more with you all!
Testers Quilts
Once again, this quilt pattern couldn't have happened without the feedback and encouragement from my fantastic pattern testers! One of the best parts of this process is seeing all the different versions testers make - just scroll on down and see all the beauties!
Alison made this scrappy, all neutral version that has sparked a few ideas in my head for more Solstice Lights if I find the time!
Lynn made the sweetest baby quilt with the most adorable fussy cut deer that I just cannot get enough of!
Jessica made this sweet baby version in pinks and peaches that's so incredibly lovely!
Genna made one of my all-time favorite versions of my quilt patterns! The fabric choices in this quilt top so beyond perfect! I cannot wait to see how she'll quilt this!
And now for a completely different feeling photo! From Genna's frozen landscape to Melissa's positively summer-y landscape. I love the soft pink in Melissa's background and navy corner squares!
Kasie made this beautiful scrappy version that just shines next to that beautiful barn!
And last but definitely not least, Delphine made one of my favorite scrappy versions! The scrappy goodness on this is so, so good! I can't stop looking at these beautiful images.
Fabric Bundle
I've once again have had the pleasure and honor to work with Kristina from Fabric Bubb to put together a fabric bundle with all the Kona colors for the all-solids quilt on the cover. You can purchase the fabric bundle here.
Purchase the pattern
pin for later