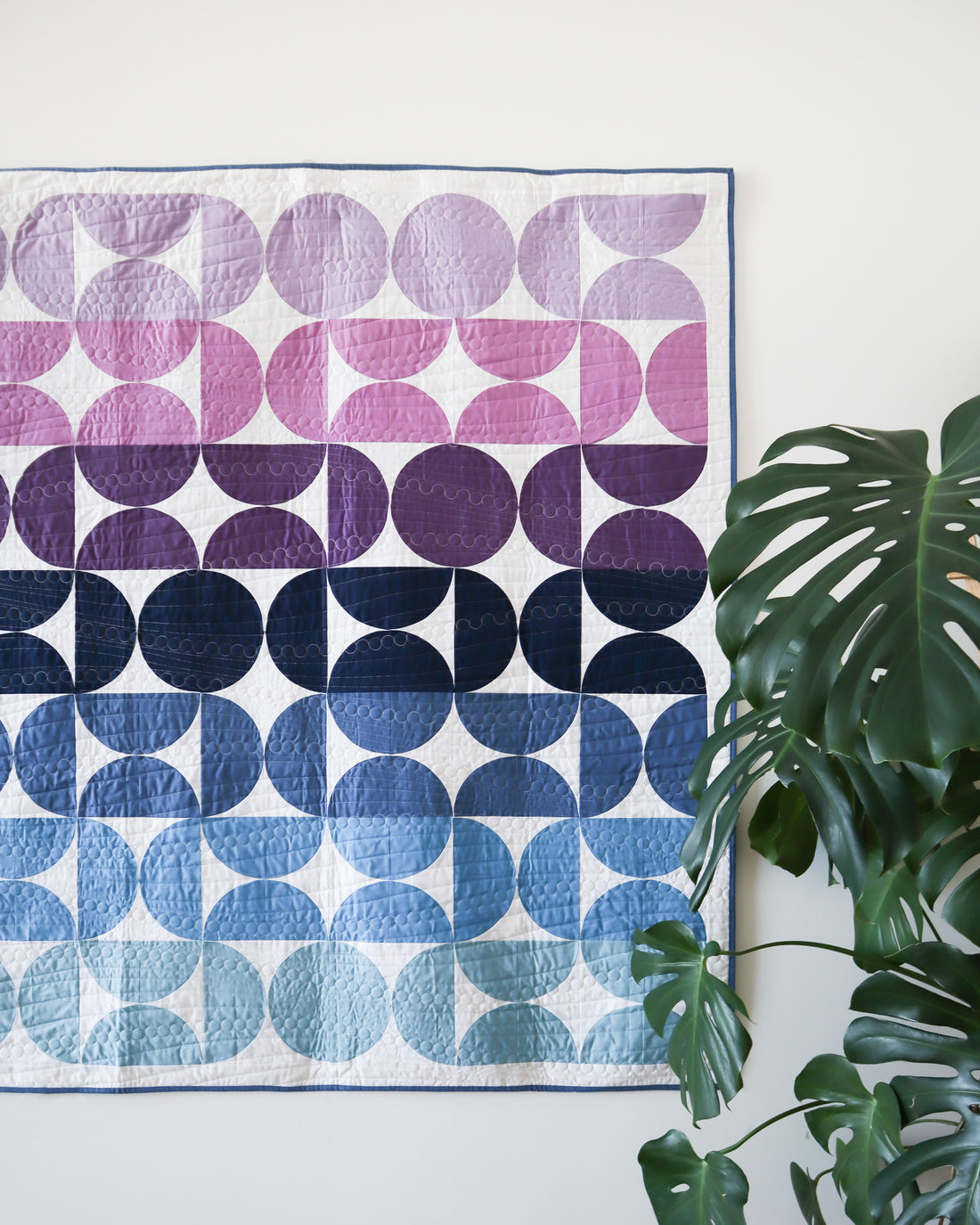 Reverie Quilt - The Modern Ombre One
The Reverie Quilt Pattern is now available in the shop! 
After designing Reverie to work with my Moonchild fabric collection and with Layer Cakes specifically, I took to Illustrator to see how it might work with a more structure approach. Truth is, anytime I can make a quilt pattern have an ombre look or option, I will do it. 
Thankfully, Reverie lends itself beautifully to this approach! After about 5 minutes I had at least a dozen of mockups with color options to choose from. 
Night Sky Ombre Fabric
However, once I knew this approach worked with Reverie, I wanted to get going immediately. So I went to my fabric stash and grabbed two different fabric pulls and then messaged a couple of friends for opinions since I couldn't make up my mind. 
The two options were truly pretty different from each other. One was all warm colors and more of a Strawberry Lemonade look, while the other had cool colors and more reminiscent of a sunset/twilight look.
In the end, everyone agreed I had to go with the sunset/twilight colors, since it fit the moons/crescents motifs on the pattern best.
Modern Curves Templates
While sewing this sample, I got to work with my new Modern Curves Templates for the first time. Riley Blake sent me some samples to make sure they looked and worked like intended. 
I designed these templates specifically for this pattern and let me tell you - they're incredible. They cut down on cutting time so much! I sped through the whole thing and was ready to sew in no time. 
Longarm Quilting
This was the first sample I sew for my Starly/Reverie double release, which meant I had 3 more samples to sew, so I sent this quilt top off to Katie of Modern Textiles. I've always loved working with Katie so I knew it was in good hands!
After some back and forth, we went with the Waves and Pearls pantograph. I love the movement it adds to the overall quilt and how it leans into both the curves and the structure of the pattern beautifully.
Because I wanted to keep the focus of the quilt on the ombre design as well as the beautiful quilting Katie did, I decided to keep the binding pretty simple with some navy to frame the quilt. 
Quilt Information
Quilt Pattern: Reverie by Cotton and Joy
Fabric: Confetti Cotton Solids - You can purchase a kit here!
Backing: Shabby in Navy
Binding: Confetti Cotton Solids in Navy
Pieced on my Janome M7
Quilted by: Katie of Modern Textiles
Panto Used: Waves and Pearls
Purchase the Pattern