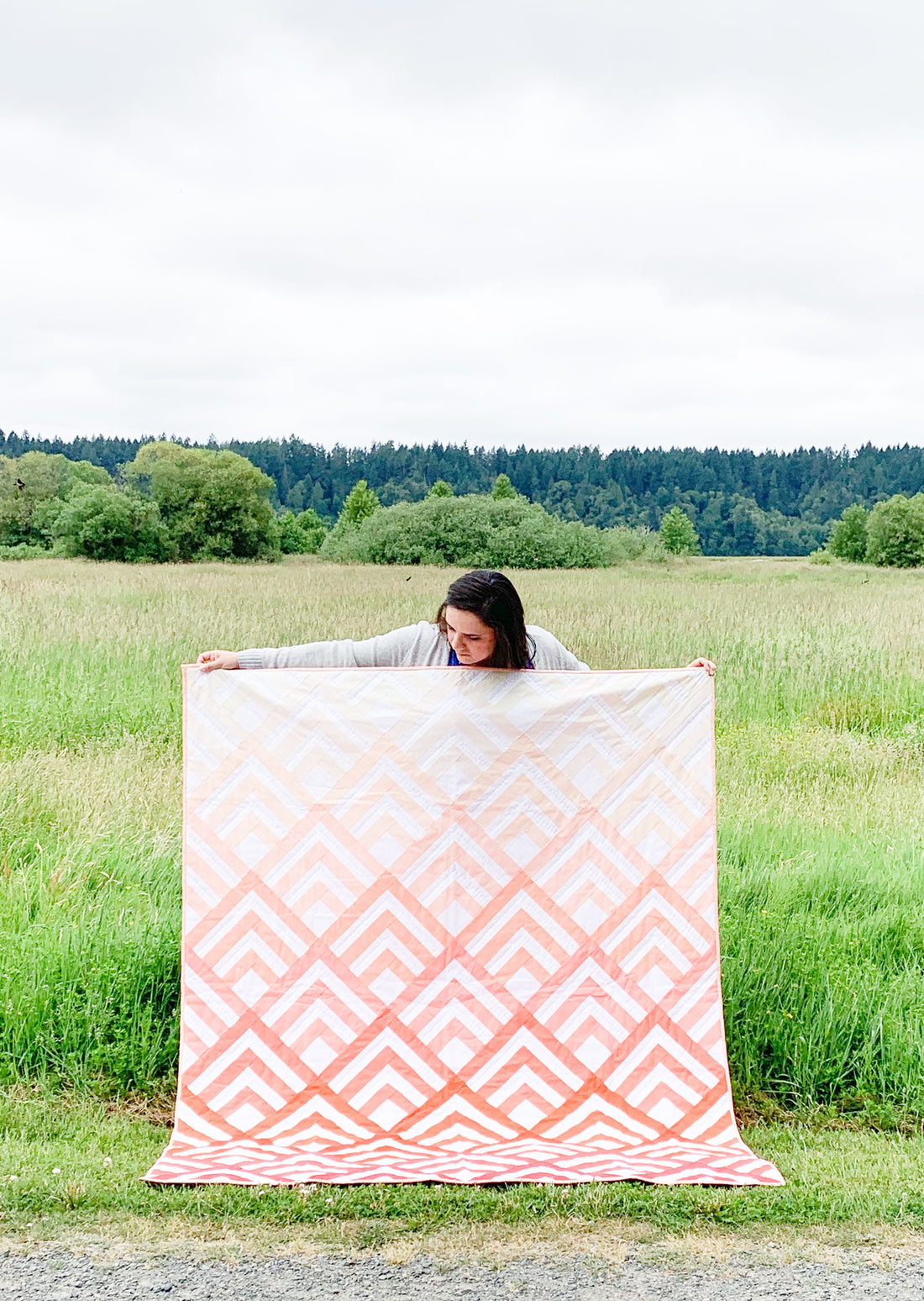 Pantone Quilt 2019 - Cabin Peaks in Living Coral
The pattern for this quilt, Cabin Peaks, is now available on my shop!
One of the things I have always hated about writing are introductions, so let's jump right in shall we? I meant to share this quilt last week, but the truth is I barely finished my Living Coral Cabin Peaks quilt in time to enter it into the Pantone Quilt Challenge. Yikes.
Hopefully, it doesn't become a thing because I also almost didn't finish my quilt last year, hah. But onto this year's quilt!
Initially, I wasn't sure I'd join in this year's challenge. Coral isn't my favorite color (unlike purple), so at first, I just didn't feel it. But as I organized my stash back in March I realized I have a lot of coral/peach fabric already in my stash, so why not join?
The next step was thinking of a design. I looked through my sketchbook and found this quarter cabin idea that had been rumbling about in my head for a while. Last year I did a modern take on a classic block, so it felt right to do another modern take on a classic block for this year's challenge.
From the initial sketches and illustrator mockups, I knew I wanted at least one ombré/gradient version of this quilt idea, and I decided to make this one it - and I love the results.
For the quilting, I was originally going to mix machine and hand quilting, but after I basted it, I did something crazy and started hand quilting the whole thing. As of right now, only the white sections have quilting, but I will be adding quilting to the color sections as well.
And transparency's sake let it be known my coral/peach stack isn't any smaller. If anything it grew! After I did the math, a few block tests, and then more math, I ended up having to order more fabric to achieve the perfect gradient... oops haha.
For the pictures of the completed quilt, we hopped on the car and after a quick 10-minute drive, took a walk around the Nisqually National Wildlife Refuge. It's a gorgeous place and I honestly cannot wait to go back! That gorgeous white barn will, for sure, be making another appearance in my quilt photos!
Anyways! If you wish to see some of the other gorgeous quilts entered into the challenge be sure to visit either Bryan House Quilts or No Hats In The House!
Purchase The Pattern