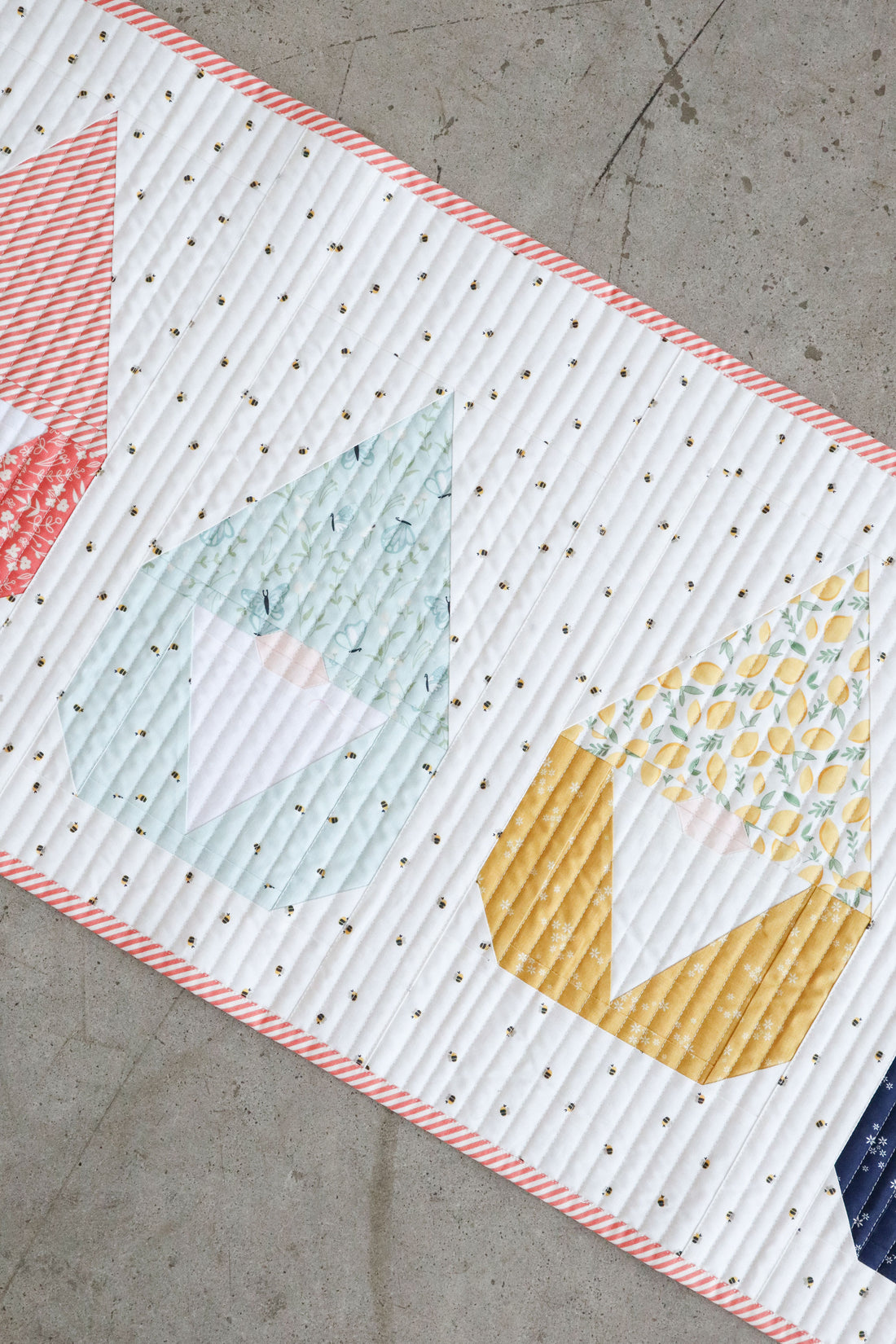 Nordic Gnome Table Runner
The Nordic Gnome quilt pattern is now available in my shop!
I am so, so excited to share this little cutie with you all! I love including multiple sizes in my patterns - usually I include baby, throw, and one or two bed sizes. However, for the Nordic Gnome quilt pattern a baby size seemed a little odd, so for the small size I decided to go with a table runner instead! 
It was the best, cutest decision I could've made because this table runner turned out cuter than I could've imagined
Daybreak Fabric
After using non-traditional Christmas colors for my cover quilt, and Christmas fabric for my second sample, I knew I wanted to take this table runner in a completely different directions.
And my Daybreak fabric collection was just calling my name!
I know, most people associate gnomes with Christmas and winter time. Even my inspiration were Christmas gnomes I got in Germany, but there is such a thing as garden gnomes, so why not make spring gnomes?
It seemed like an unusual choice, but it was honestly the perfect choice! 
I used some scraps from previous Daybreak projects and I love each little gnome turned out. And I love how the white bee fabric looks on the background - it's just different enough from the beard white solid fabric, but it doesn't take away from the prints in the gnomes themselves.
Straight Line Quilting
Since I sent out both my throw size samples off to get long armed, I decided to quilt this little guy myself. I usually do 3/4" when doing straight line quilting, but since this was such a small project, I decided to do 1/2" lines.
To accomplish this 1/2" straight line quilting, I lined up the edge of my walking foot with one of the sashing seams. From there, I lined up my walking foot on that stitching line and so forth.
This took a little longer than I hoped but the texture is incredible!
Backing and Binding
I stuck with more Daybreak fabric for the backing and binding since I have it all in hand. I used the main print in light blue for the backing. It brings just enough contrast to the fabric from the front but also pulls in some of those pinks.
For the binding, I knew I wanted to use one of the stripes and after some quick deliberations I decided on the pink stripes. I love, love how it pops against the white fabric on the background.
Quilt Information
Quilt Pattern: Nordic Gnome by Cotton and Joy
Fabric: Daybreak by Fran Gulick for Riley Blake Designs.
Backing: Daybreak Main in Mist Fran Gulick for Riley Blake Designs.
Binding: Daybreak Stripes in Coral Fran Gulick for Riley Blake Designs.
Pieced and quilted on my Janome 9450.
Purchase the Pattern