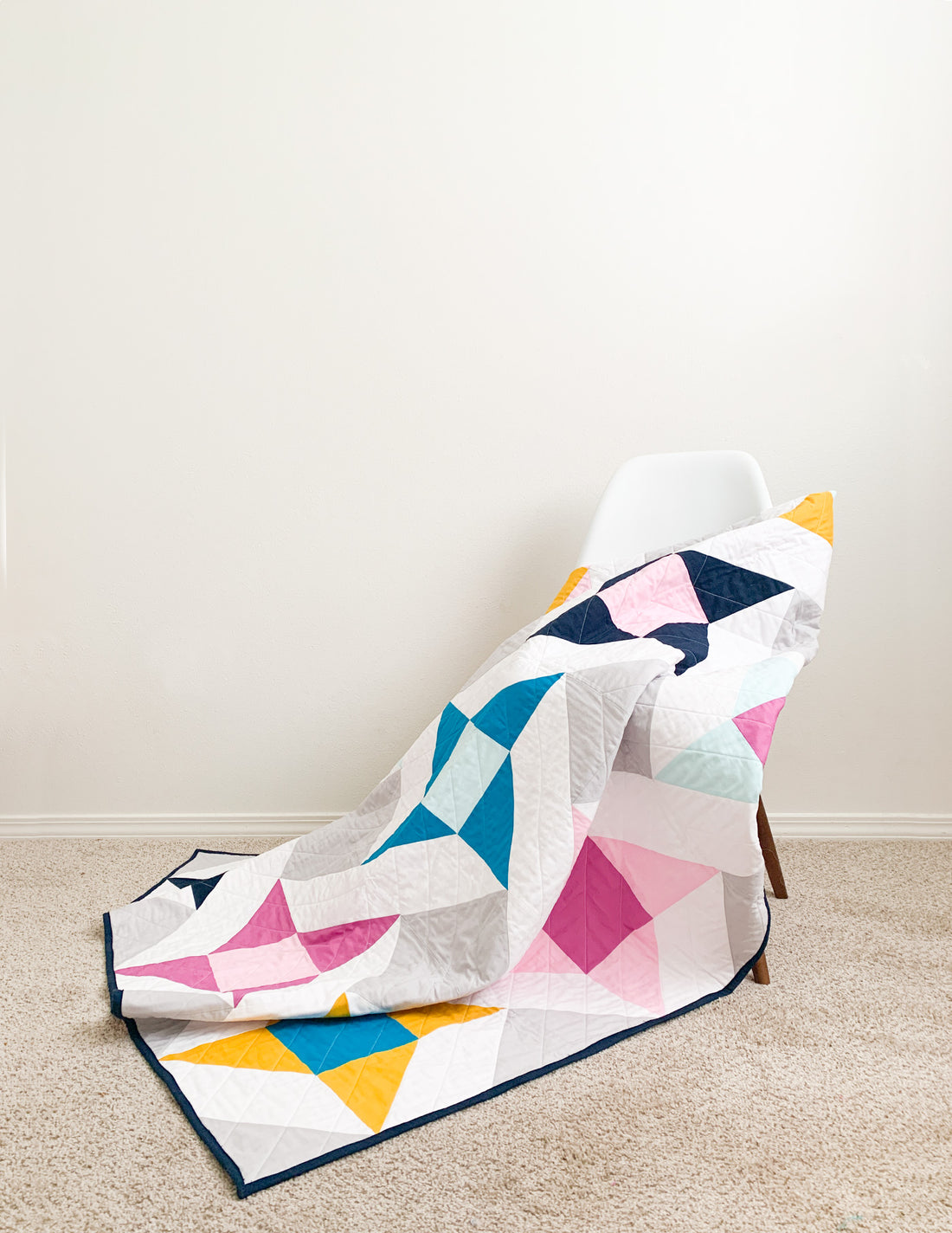 Mighty Stars Quilt Pattern
YAY! Happy release day! I've been super anxious about this day and have written and rewritten this post in my head probably about a thousand times.
As crazy as it sounds this pattern has been in the works for 6, 7 months? A long time. At some point last year I promised my best friend that I'd make her a quilt. I wasn't sure of the design and even after finding the perfect fabric for her, nothing seemed right.
Then, one day while going down the Pinterest rabbit hole, I found myself learning about classic quilting blocks and came across the Friendship Star. It was perfect. I took out my sketch pad and played around with it until it all came together.
I decided against sashing and instead followed a way that gives the illusion of the stars connecting with one another. I liked this setting because it made me think of the stars coming together or being brought together in the same way years of friendship brings me and my best friend together, even though we are miles apart.
As for the name, I played around with a few different ideas, but Mighty Stars comes from two reasons. At first, I just called it the friend or friendship quilt, but that just sounded boring. I thought about calling it my friend's name, Meg, but then she texted me... her name on my phone is pretty long and full of inside jokes but it starts off with "Mighty Meg". And then it dawned on. The stars in this design are pretty dang big, mighty big if you will, and so was born The Mighty Stars quilt.
So this, the cover quilt, is actually the third Mighty Stars quilt I've made. The original Mighty Stars lives in Meg's apartment in NYC. I sent it to her sometime in October, after teasing her with pictures for months. (I'll share full pictures tomorrow!)
The second Mighty Stars was the Sonata version I shared earlier this month. And the third is this, the cover quilt. For the cover quilt I wanted to do fun and happy colors. Fun like my friend, and happy like her friendship makes me.
I love how all the colors play off each other, the contrast, the movement, just all of it!
---
And now for all the amazing versions my testers made! In no particular order, here we go!
I love the colors of Emily's (@lemonyquilts) version and the way the white background pops!
I audibly gasped when I saw Genna's (@wetmountainquiltco) version - the blues and greens together are just so, so good!
I honestly cannot get over how perfect Jessica's (@sewmilliemae)version. She's amazing with colors! I wish I could steal this from her because I love it THAT much!
Julie's (@thelittlepineneedle) version speaks to my heart! The mixture of Essex linens and cottons, the texture, the colors. So, so good!
I love the fun prints Kasie (@marmalademoodquilts) used and the contrast they have with the dark background.
Hi, hello. Kate's (@katesmakesandcreates) version is incredible! Can we talk about these amazing metallic blush pinks and the navy and how AMAZING this looks?! AAAH LOVE IT.
Kate (@snailcrafts)knocked my socks off with this dark blues version. Love, love!
I feel like I keep saying this, but I cannot get over the fabrics L.T. (@panola.isle) used! I love how warm and cozy the whole thing looks!
And how incredibly sweet is Meghan's (@fabricandfiction) baby version? So lovely!
Purchase The Pattern
pin for later