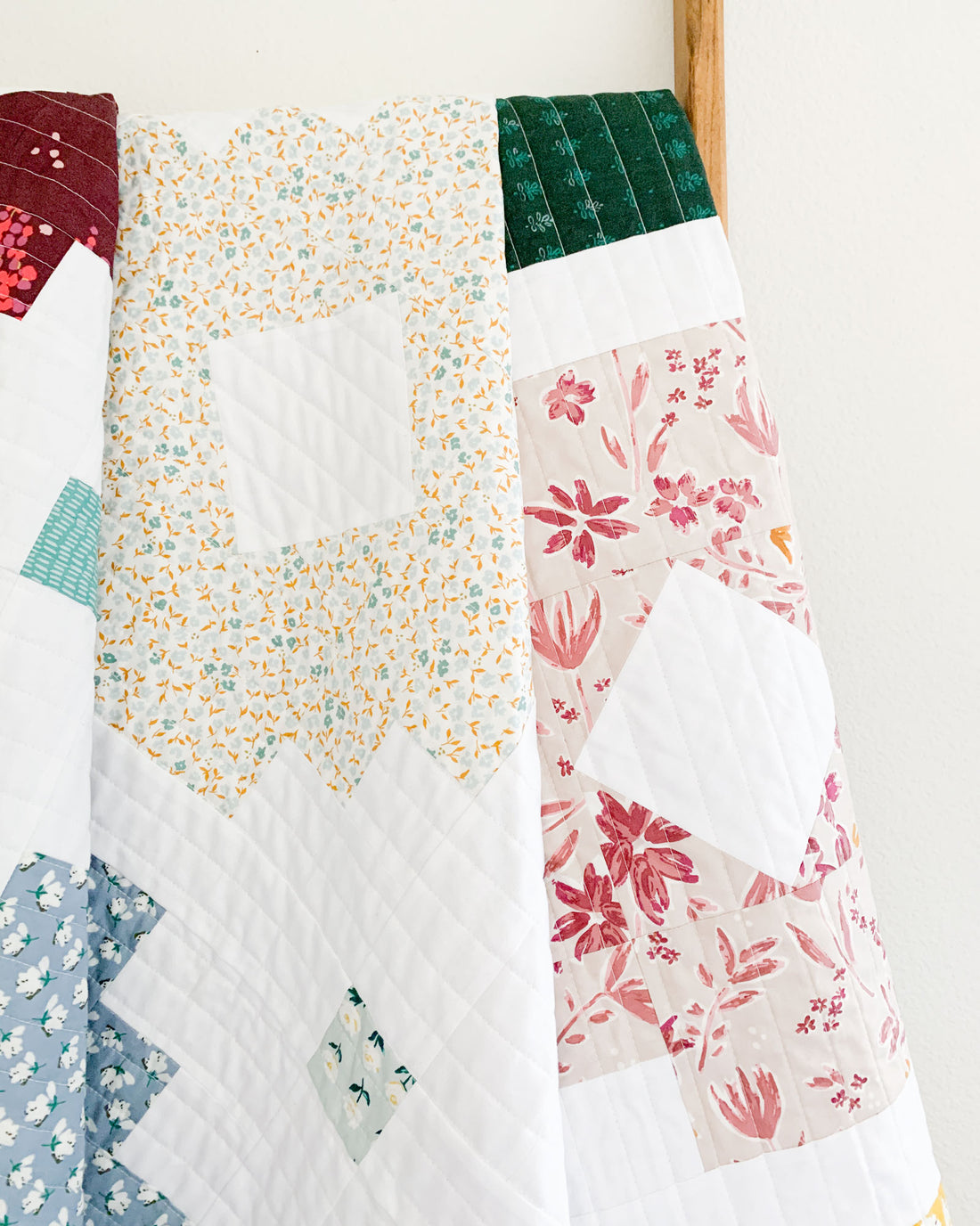 It's no secret that I love Amy Sinibaldi and her beautiful fabric, and when I saw peeks online of her newest collection for Art Gallery Fabrics, Mayfair, I turned into a full-blown heart eyes emoji.
Something about the way the deep plums set off against the bright yellows and teals just took my breath away. It was love at first sight and I knew I had to make a quilt with these beautiful prints.
Initially, I was thinking I'd make a Hexie Blooms quilt because that pairing just seems so perfect, but I knew I would never be able to top the queen size quilt my pattern tester Emily made, so I was left scratching my head for a minute.
So many options with these beautiful fabrics! I also knew I couldn't bear to cut these fabrics into teeny tiny pieces - it'd feel like destroying Amy's work in some way. I wanted these prints to be the stars of the show and that's when I knew - it had to be a Solstice Lights quilt. After all, I designed that pattern to showcase beautiful fabric without interruption by unnecessary seams or getting cut into teeny tiny pieces.
I started with the yellow print and as soon as I put my first block together, I knew this was the right choice. It was a perfect pairing. After that, I cut all of my pieces and chained pieced the whole quilt top in no time.
For the quilting, I went with some classic straight lines set 3/4" apart, because as I said, I wanted all the focus to be on Amy's beautiful work. The texture on this quilt is just perfect - not too overwhelming and just cozy enough.
For the backing, I used a plum Pure Solids from Art Gallery fabric and I stuck with white for the binding because I just couldn't decide on color or print that wouldn't disrupt the flow of the whole quilt.
All in all, this project was the perfect happiness and joy break I needed among all the crazy in the world right now.
Stay healthy and safe, friends!
Purchase The Pattern
pin for later