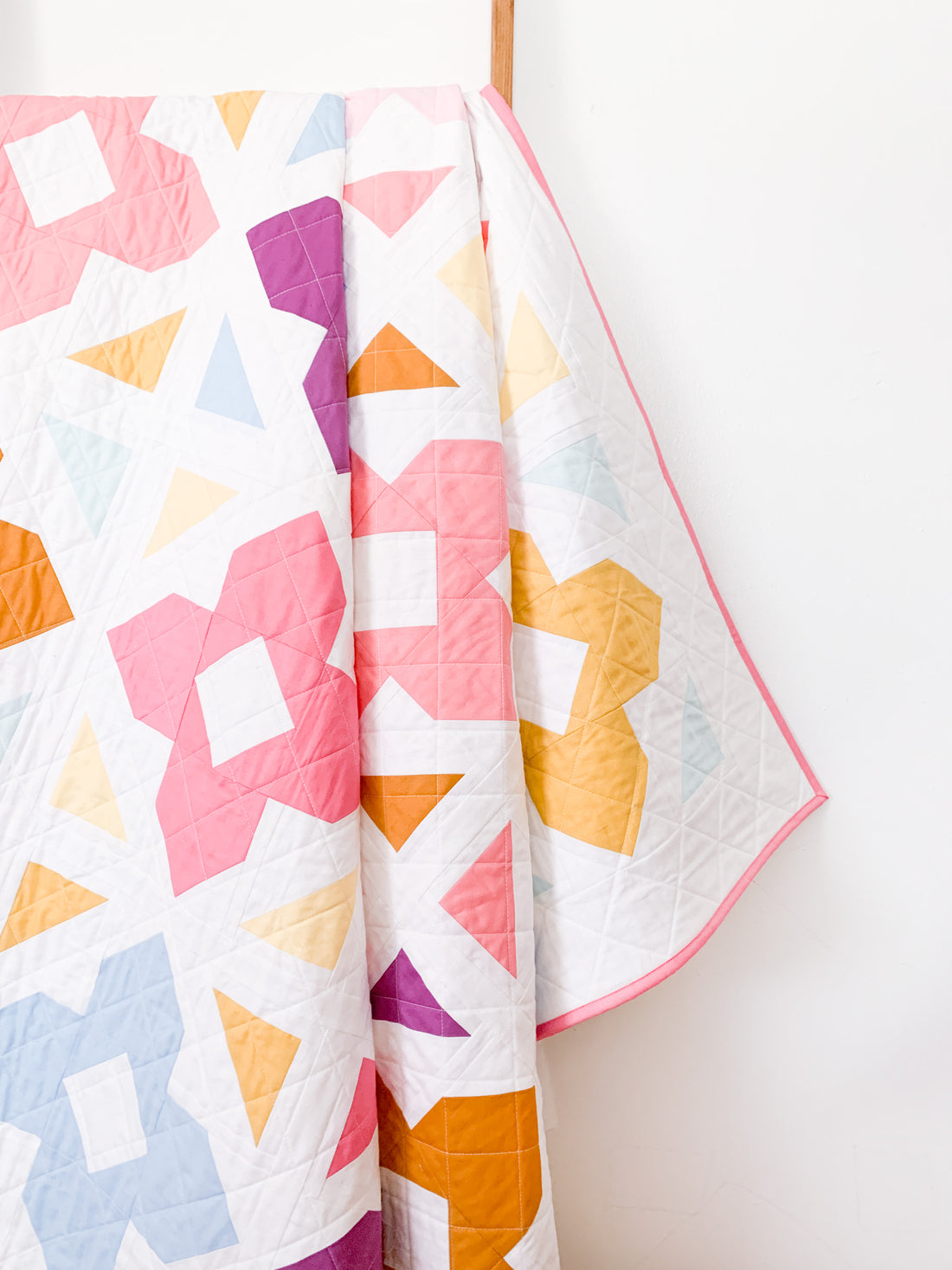 Luminaries Quilt - Confetti Solids (+ Testers Quilts!)
I have so much to say about this quilt pattern, but I'm not sure where to start! The Luminaries quilt pattern has been an idea, sitting in my drafts, for over a year now. The block sketch has been there waiting for the right time, the right fabric pull. 
When I was finalizing the Daybreak fabric collection, I had to figure out what quilt patterns I would include with it and the moment I came across the Luminaries block sketch, I knew this was it.
While I waited for the sample yardage for Daybreak, I broke out my Confetti Cottons solids swatch cards and after some shuffling, I came out with the perfect combination for this all solids Luminaries quilt.
The combination feels like the perfect spring/summer palette!
As soon as I had the fabric in my hands, I got to cutting and sewing and I love how quickly it all started coming together.
Once I had all the sub-units together, the quilt blocks started coming together so, so quickly and I had so much fun mix and matching all the pieces and colors!
For the quilting I kept it pretty simple with some straight line quilting on my Janome 9450. I love how the quilting complements the lines on the quilt pattern and really showcases the colors throughout the quilt!
For both the backing and the binding I used contrasting solids already used in the quilt top. For all the fabric information scroll to the bottom :)
Purchase the Pattern
Quilt Information
Pattern: Luminaries by Cotton and Joy
Fabric: Confetti Cottons Solids in Bleached Denim, Boy Blue, Lipstick, Coral, Sunshine, Honey, Butterscotch, Orchid, Violet, Piglet Pink, Petal Pink, and White (background)
Pieced and quilted in a Janome 9450
Testers Quilts
Of course no quilt pattern release happens without the amazing feedback from testers. This time around I had only 5 testers because there was a period of secret sewing - between when I sent the PDF to testers and when I could announce this pattern. And of course these wonderful people blew me away with their versions - without further adieu, and in no particular order, the testers quilts!
Julie always makes some of my favorite versions and this was no exception. She used some beautiful Amy Sinibaldi fabric and a light pink for the background fabric for the perfect combination!
Maechen used colors similar to mine, only in more muted tones, and it looks so, so good!!
Genna modified the pattern a bit and made a wall hanging size using 6 blocks in a 2-color version that I adore!
Jessica also used two colors for this blue and white version and I love how modern, yet traditional the quilt looks!