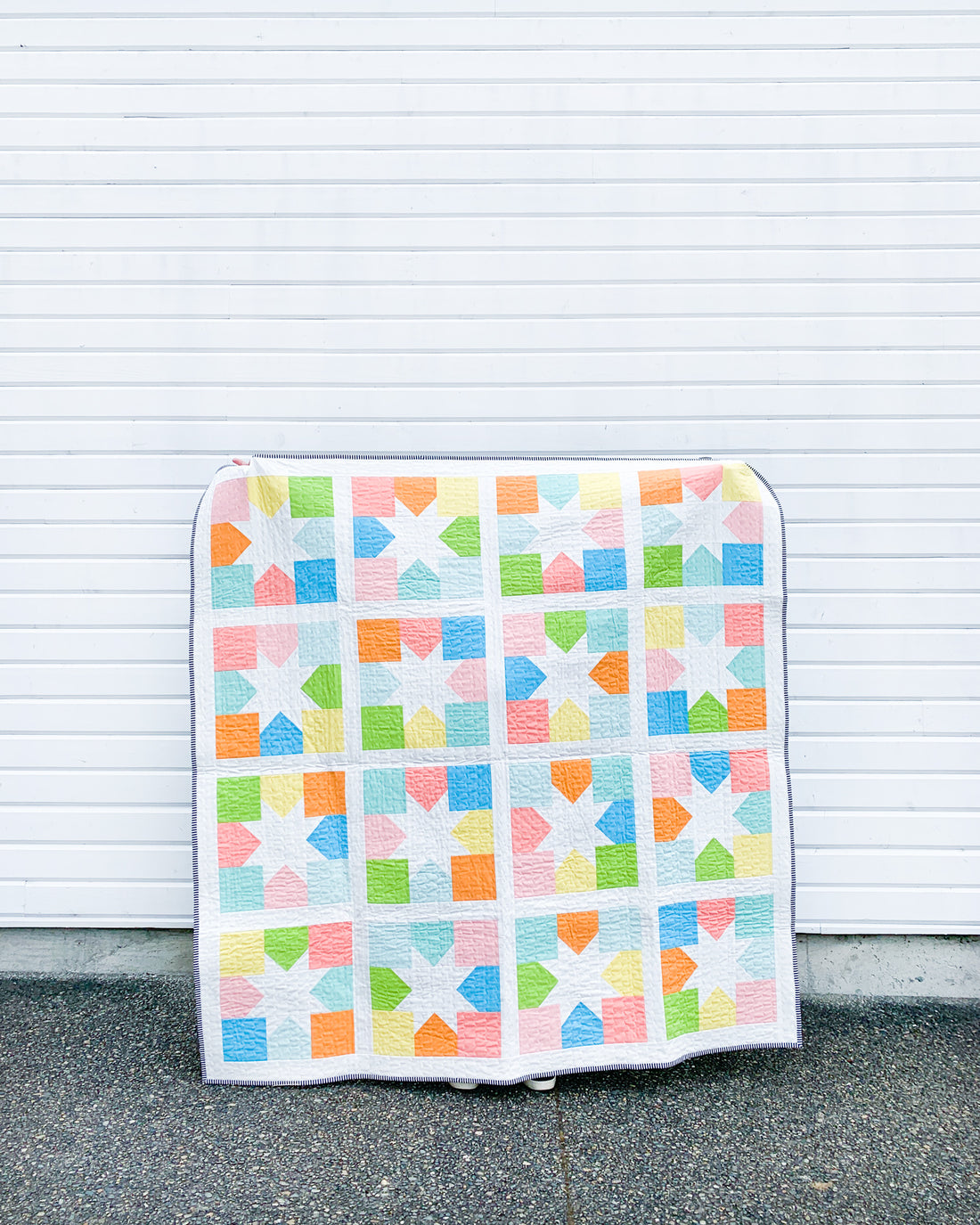 Joyful Stars - Scrappy Bella Solids (and testers quilts!)
You didn't actually think I'd release a whole new pattern without making an all-solids sample, now did you? 😏
That said, this quilt is a bit of a departure from my usual pattern samples. This time I worked with Bella Solids from Moda Fabrics and y'all... I think I might be a convert! The colors are beautiful and rich, there was considerably less fraying than with other solids, and these were so much softer! I kept petting them as I was working on this quilt haha
But let me back up.
When I first started working on this quilt, I knew I wanted to make the Ombre version and scrappy navy blue version. For a minute, I did actually consider not doing an all-solids version. I went back and forth about it for a few days. Ultimately, it felt wrong not doing one. So then it was time to decide on colors.
This is always my favorite part! I knew I wanted something bright and happy. Something summery. Something that broke through the last of winter's clouds here in the PNW, something that let me forget the craziness in the world and just brought me joy. I did quite a few mockups on Illustrator, until finally I landed on these colors. That's when I reached out to Moda Fabrics, and shortly thereafter these beauties arrived!
I honestly couldn't wait to cut into these and see this summer sherbet - err, quilt, come to life!
Unlike my navy scrappy Joyful Stars, this all-solids version uses only eight fabrics, which means each fabric is in each of the blocks. I was a little afraid this would lead to a less scrappy look or repeated blocks. I tried not to think too much about it, so as I was working on the blocks I grabbed squares at random and hoped for the best, thankfully it all worked out!
The two photos below make me so, so happy! They are so cheery and happy. Working on this quilt top was a bright spot of joy in all the madness of the world. It was honestly therapeutic.
When it came to quilting, I wasn't too sure what I wanted. I knew I didn't want the same straight line quilting I did on my Fairy Dust Ombre quilt, but I also didn't have enough time to send it off to a long armer. So I decided to try using one of the decorative stitches that comes programmed in my machine.
I have seen other quilters using this or the zig-zag stitching and loved how it looked, but it was still really scary to do it. I told myself "try 3 lines of quilting, if it sucks, you can rip it out" and I think I held my breath the entire time I was doing those first 3 lines. But then I saw the texture this brought to the quilt and there was no stopping - it's somehow even better in real life than in the pictures!
For the binding I had two options - keep it soft and cheery like the solids I used, or go for something a little more dramatic. And I am so glad I went with some stripe binding! It can be a little scary to use something that contrasts to much with the rest of the quilt, but it brings it all together just perfectly!
Fabric Information
Bella Solids from Moda in:
- Carnation (9900-384)
- Princess (9900-335)
- Aqua (9900-34)
- Ruby Ice (9900-169)
- Summer House Lime (9900-173)
- Amelia Apricot (9900-162)
- Sunshine (9900-130)
- Capri (9900-225)
- Off White (9900-200)
(you can purchase them online at Fat Quarter Shop)
Purchase the Pattern
---
Testers Quilts!
As always, I couldn't have done this pattern without my amazing pattern testers so without further adieu, here are their quilts!
Alison used some old Cotton and Steele precuts for her bright and happy baby sized Joyful Stars and I adore the end result!
Genna knocked my socks off with this baby quilt using a darker fabric for the stars and sashing!
The wonderful ladies at Rosie Girl Quilting made an adorable baby quilt in all solids that makes me want to snuggle!
I'm not lying when I say I want to steal this baby quilt Jessica made. It features beautiful Bonnie and Camille fabrics from precuts for the perfect scrappy look!
Keyana knocked it out of the park with this scrappy throw size quilt. I seriously cannot get enough of it!
And last, but definitely not least, Kasie who made not one but TWO quilts! One for her daughter and one for her husband. I love both of them but the last one, made with Clementine fabrics by Melody Miller for Ruby Star Society stole my heart!