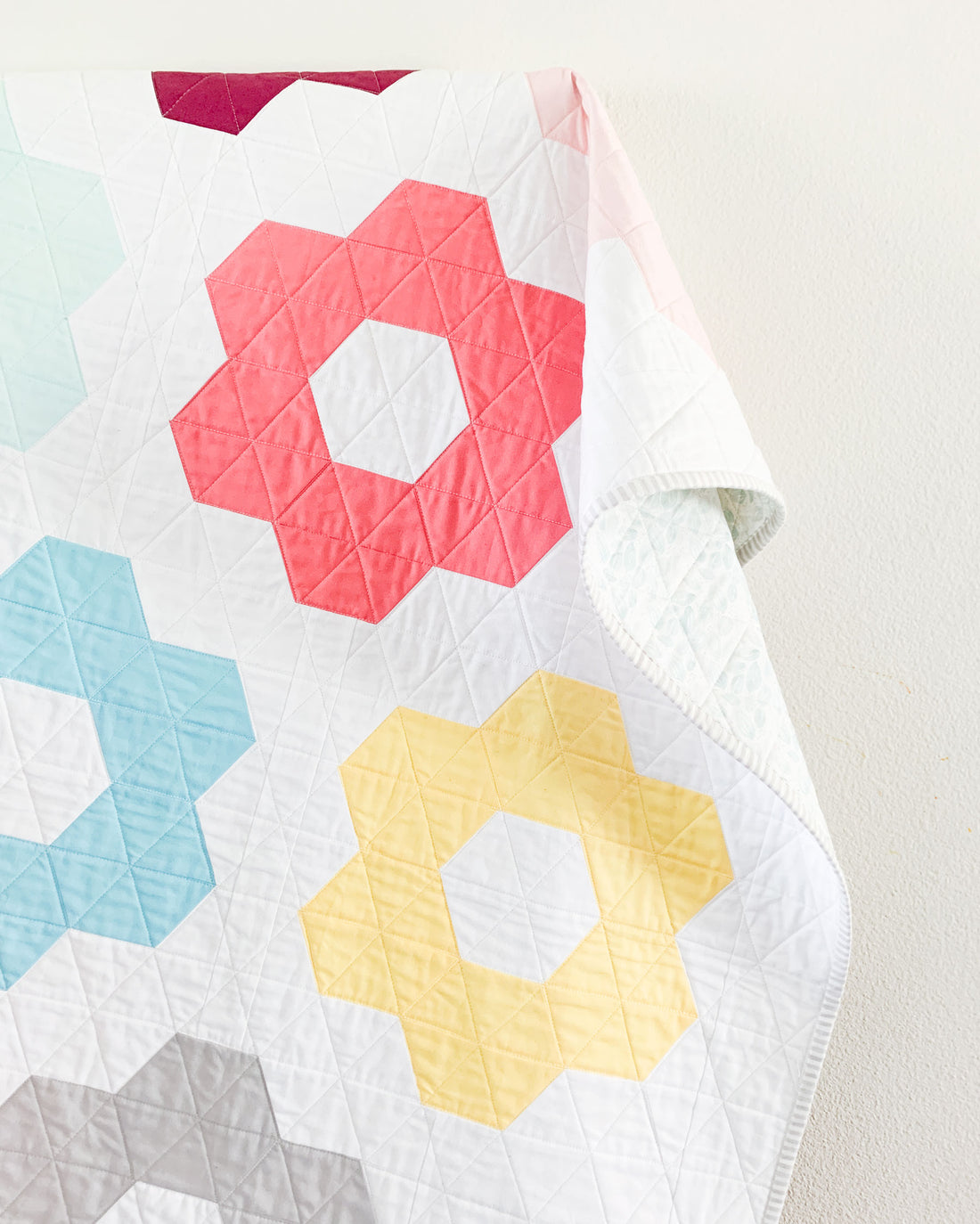 Hexie Blooms Quilt Pattern
It feels a little strange to be writing this post about such a happy hexagon quilt pattern when it feels like we are living in a dystopian book, but here we go!
Meet my new quilt pattern, Hexie Blooms! Hexie Blooms is a hexagon quilt pattern, the idea for which was born almost 9 months ago. I have loved and admired the look of vintage Grandmother's Flower Garden hexagon quilts for years, but I've always known I don't have the time, or the patience, to hand piece one.
So what's a girl to do? Well, one day the idea struck! Big, beautiful hexie flowers in big beautiful modern fabrics. So, I sat down with my computer, pen, and paper and figured out the basics of this hexagon quilt pattern... and then had to wait until my schedule cleared up because I knew that once I got started, there'd be no stopping, haha.
I finally was able to make time this winter and as I worked on sample blocks I wouldn't help but have this giddy feeling of "this is it!" the whole time. From there, I moved onto my first sample using an Ombre Jelly Roll (which I'll share soon!), and finally, this: my all-solids sample with soft and happy spring colors. Perfect for the first day of spring!
A modern hexagon quilt pattern
One of the hardest parts of writing the pattern for Hexie Blooms was making a hexagon quilt pattern easy enough for beginners to make. I want anyone to be able to make it and so I had to find a way to eliminate any and all Y-seams, as well as breaking this down into manageable chunks. and I'm happy to report that this is a confident beginner pattern!
I only added the confident portion to the skill level required for this quilt because the cutting does require a template and there is a bit seam matching involved. If you can handle those two things, you can make this quilt no problem!
Straight Line Quilting
For the quilting, I chose to quilt this one myself on my trusty Janome 4120QDC. I did straight lines using my walking foot - first left to right and then diagonals at 60-degrees in both directions, following the edges of the hexagons in the quilt design. It took a little while to finish it, but the texture on this quilt is EVERYTHING!
Now, for the second hardest part of writing this pattern: Taking good pictures of this my Hexie Blooms! The pictures honestly do not do justice to this quilt - especially to the colors. Something between the cloudy skies and the extra texture I did for the quilting. I'm hoping to get some better pictures soon once the PNW gives me a little more sun :)
---
Purchase Pattern
---
Testers Quilts
And now for my favorite part - testers quilts! As always, my testers knocked it out of the park. Enjoy these hexagon quilts!
Emily started testing with the intentions of making a throw size quilt but ended up upgrading to a QUEEN SIZE quilt and I'm in love, y'all!
Genna continuously blows me away with her fabric choices and her beautiful pictures and this time it was no exception! I love how she took the 2-color option and rebelled a little by making the background two "just different" blues :)
Jessica always has beautiful fabric choices in her quilts, and this was no exception. I love how happy and cheery her baby size quilt is!
I'm always partial to a classic white background, but I love how Allison's yellow background contrasts with her main prints!
Joy blew me away with her beautiful fabric choices for this quilt! I love how bright and happy they are and the scrappy background is just perfect!
I ADORE Claudia's range of pink and red fabrics and I cannot wait to see how she finishes this off!
My favorite mother-daughter team over at Rosie Girl Quilting made this lovely baby version and I cannot get over how perfect the quilting is on this!
Julie completely BLEW ME AWAY with her fabric choices and how she put together this beautiful scrappy version. I honestly wish I could keep this for my self!
The wonderful Petra made this citruslicious baby-sized quilt that I adore!
And oh my gosh, y'all! THIS QUILT. It blew me away and the pictures are so incredible! I wish I could've picked just one but it was an impossible task, so please join me in ooooh-ing and aaaah-ing at this beautiful Hexie Blooms by Kayla at The Leal Scoop!