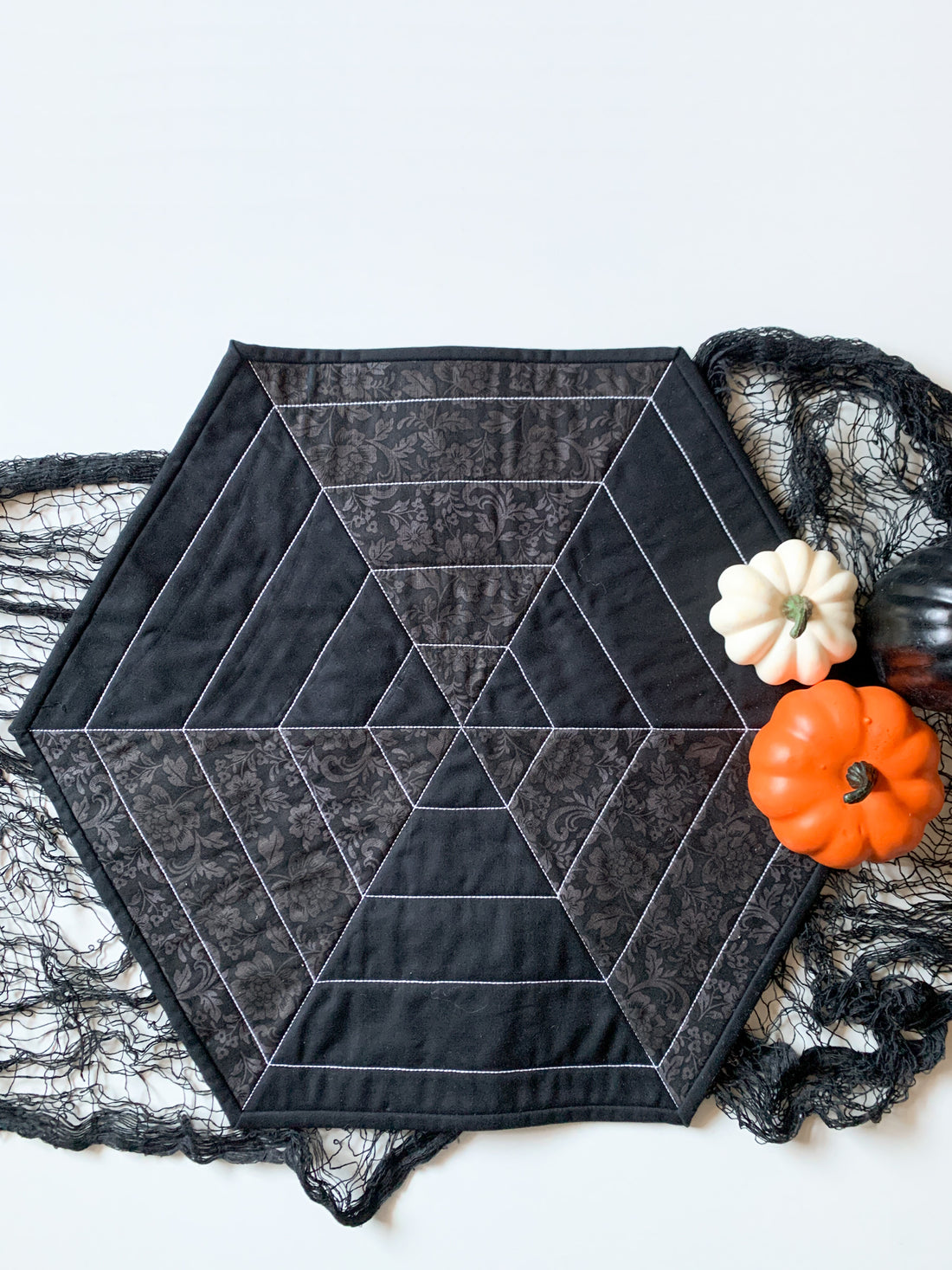 A Spooky Halloween Table Topper [Free Pattern]
Happy October 1st or as I like to call it - Happy First Day of Halloween! Because yes, I think of Halloween as a season and not just a day. I'm all about decorating for Halloween with lots of pumpkins, crows, witchy goodness, and just general spookiness. This year I realized I was lacking on the table decorations so I whipped up spiderweb table topper!
There are actually a lot of spiderweb table toppers tutorials out on the interwebs, but I wanted a cleaner, more modern look so instead of using Jelly Roll strips, this tutorial (slash free pattern) uses Fat Quarters and contrasting thread for the spiderweb effect!
Spiderweb Halloween Table Topper: Supplies
• Two Fat Quarters (but you can totally use just one!)
• Rotary Cutter
• 60-degree ruler (or use template included in pattern below)
• Marking tool (I used a Hera Marker)
• Contrasting Thread (I used this silver thread)
• Backing Fabric (about 2/3 yard)
• Batting
• Basting spray or pins
Spiderweb Table Topper - Step by Step
Step 1 - Cut Your Triangles
Using your 60-degree ruler cut a total of 6 triangles. I used two fabrics: Kona Solids Black and an off-black print from JoAnn's. If you don't have a 60-degree ruler, the PDF pattern includes a template you can use! And you can totally use just one fabric for this - I'm actually in the middle of working on an all-black one!
Step 2 - Create Your Rows
Next, lay out your triangles how you'd like them to be on your table topper. Since I used two fabrics, I decided to alternate them.
From here, sew your rows together one at a time, making sure to match notches on your triangles.
Step 3 - Sew Your Rows Together
Once you have your two rows of three triangles each, sew your top together. Make sure to match the points in the middle of the two rows, as seen below.
I'm not usually a pinner - as in I almost never use pins when sewing - but for this one, I added a pin right in the middle and then a couple more at the beginning and end to make sure this point would match.
Step 4: Baste It, Baby!
Yup. The little topper comes together that quickly! Now layer your backing, batting, and newly sewn top and use your preferred basting method to temporarily join these three layers.
Step 5: Quilt it!
This is the magic step that turns these little triangles into a spiderweb. Using contrasting thread (I use this silver thread both on my bobbin and top thread), start by quilting just off the ditch along the seams.
In order to do this, I set my needle so it was just one bump off the center, and then lined up my walking opening with the center, so the needle was just off the ditch the entire time. You can see what I mean on the picture below.
Once you've quilted just off the ditch on all the seams, take your favorite fabric marking tool and start marking the lines to connect the spiderweb. I used my Hera Marker, but you can also use disappearing pens, or a chalk pencil.
I marked my web lines about 1-3/4 inches apart, as you can see on the picture below.
After you've marked your lines, go back to your machine and quilt your lines, making sure to leave long tails at the beginning and end so you can knot and then bury your threads.
Step 6: Bind It
Finish off your Halloween Table topper by burying your threads, and adding the binding. Spook it up with some pumpkins or other Halloween decor!
Download PDF Pattern