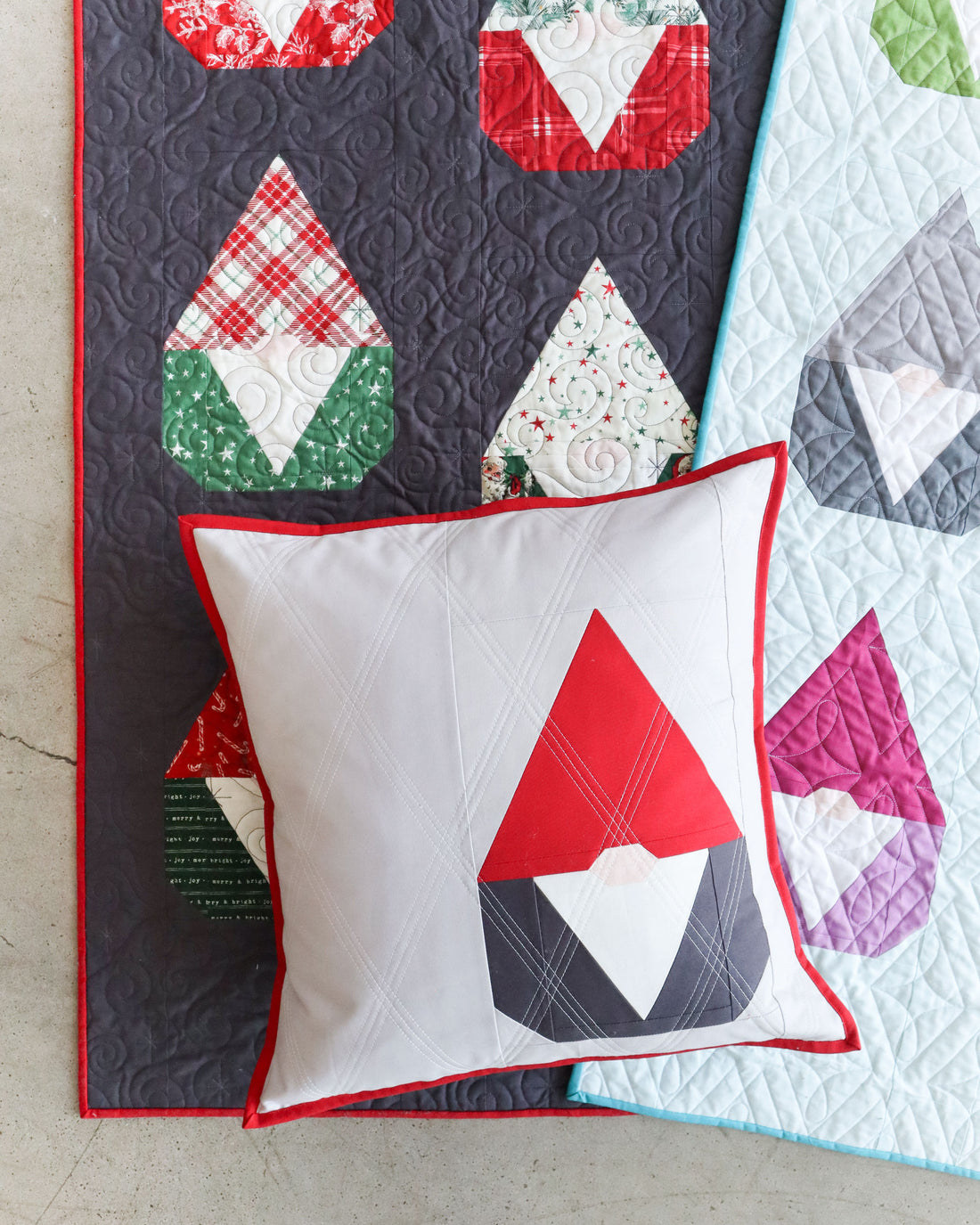 FREE Nordic Gnome Pillow Tutorial
I am so excited to bring you all a fun and easy project if you already have the Nordic Gnome quilt pattern! If you don't have the pattern yet, you can grab it in my shop to make this pillow :)
The Nordic Gnome pattern is block based and I thought it would be fun to do a quick project like a pillow cover in case you need to infuse your home with some holiday cheer, but don't have the time to make a full quilt!
Nordic Gnome Pillow Supplies
Making this pillow cover is perfect for using scraps! The nose pieces are as small as 2.5" long. The only larger bit of fabric you'll need is for the background fabric, but you could use scraps for that as well for a more scrappy look.
Here's all you'll need!
Fabric according to the pattern
~20" square piece of batting (You just need a smidge larger than the pillow top)
19" or 20" pillow insert
For my fabrics I just grabbed some solid fabric scraps I had in my scrap bins. I went with some slightly Christmas-y colors but nothing in your face. 
I wish I had gotten more pictures during the process, but this honestly comes together so quickly, that I didn't!
Here's the overall process to make this pillow cover.
Piece a Nordic Gnome block, then add the background pieces per the pattern instructions to create the top
Sandwich the pillow top on batting and some backing fabric (I used some left over white fabric from another project)
Quilt the sandwich
Finish by adding back panels, then the binding for a fun pop.
Finishing The Pillow Cover
You can quilt your pillow cover however you like! Since it's such a small project, you can do something like 1/2" apart lines like I did on my table runner. 
I choose to do some diamond-like straight line quilting that parallel the lines from the gnome's hat and beard. 
For the backing, I use some left over fabric from my Christmas Nordic Gnome. Since I had decided to do a binding, I wanted it to really pop and used the same red as the hat in the Gnome.
Let me know in the comments if you have plans on using this Nordic Gnome pillow pattern to make add some holiday cheer home. Use #NordicGnomeQuilt on Instagram to see what others are making!