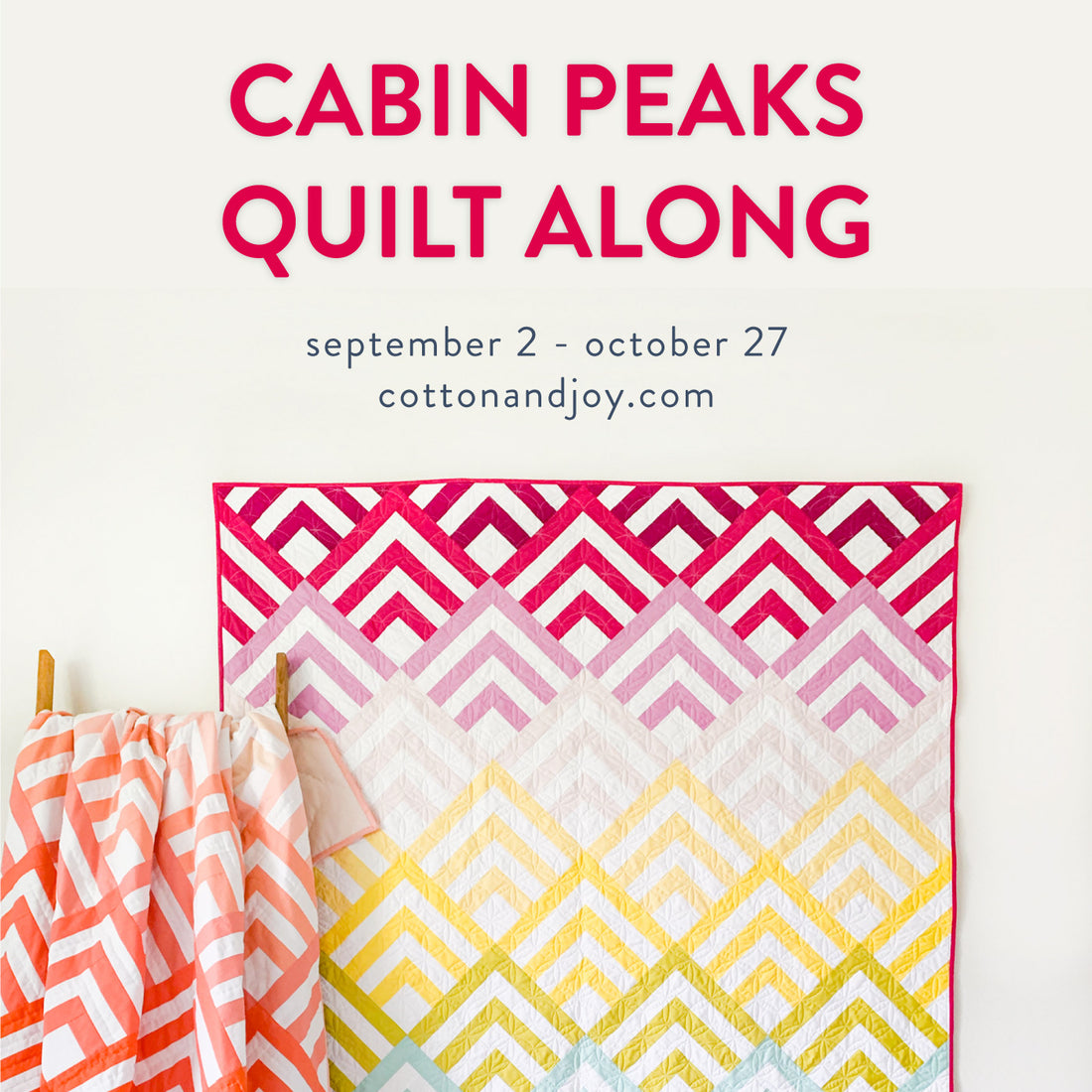 Coming Soon: Cabin Peaks Quilt Along!
I am so excited to share that I am going to be hosting my first ever quilt along! YAY!! My newest pattern, Cabin Peaks is by far one of my most popular patterns and I got quite a few questions about a quilt along, so we're going for it!
Cabin Peaks is perfect for confident beginners. It's a block-based pattern and comes in multiple sizes from baby to king. The quilt along will mostly revolve around making a throw size quilt, which finishes at 60" x 75", but you can tackle any size!
The Cabin Peaks block is a modern take on the classic Log Cabin block. Because the block builds on itself from a center square it requires a consistent seam allowance. So, if you've been curious about this classic, want to work on your seam allowance, or have been curious about setting blocks on point, join in as I'll help break down these techniques and answer questions along the way!
Dates
The quilt along will run for 8 weeks starting the first week of September. Here are the exact dates -
September 2, 2019 - October 27, 2019
How Join
Follow along on Instagram using the hashtag #cabinpeaksqal
RSVP below and sign up to receive the weekly quilt-along emails. (Be sure to check the "Cabin Peaks" box!)
Supplies Needed
You'll need the Cabin Peaks pattern (PDF or Printed copy), and of course, fabric :)
While the pattern is written for yardage, one of the tips I'll share is how to use Fat Quarters and even Jelly Rolls if you're feeling brave (it'll require some finagling but it can be done!)
Tentative Schedule
Week One - Fabric pull and cut all fabric
Week Two - Make 4 Blocks
Week Three - Make 8 Blocks
Week Four - Make 8 Blocks
Week Five - Make 8 Blocks
Week Six - Make 8 Blocks
Week Seven - Make 8 Blocks
Week Eight - Finish your quilt top!
If you're making a size other than the throw size, find the total number of blocks your quilt size has and divide that by 6 to get your weekly block count :)
Sponsors
And what's a quilt along without some fun prizes from some amazing sponsors?! Join in and you could win
And drum roll, please! The grand prize is...
One lucky person will get FREE quilting from Jill of J.Coterie! I'll choose a winner at the end of the QAL.
---
Get the pattern
If you need to get the pattern, click the links below.