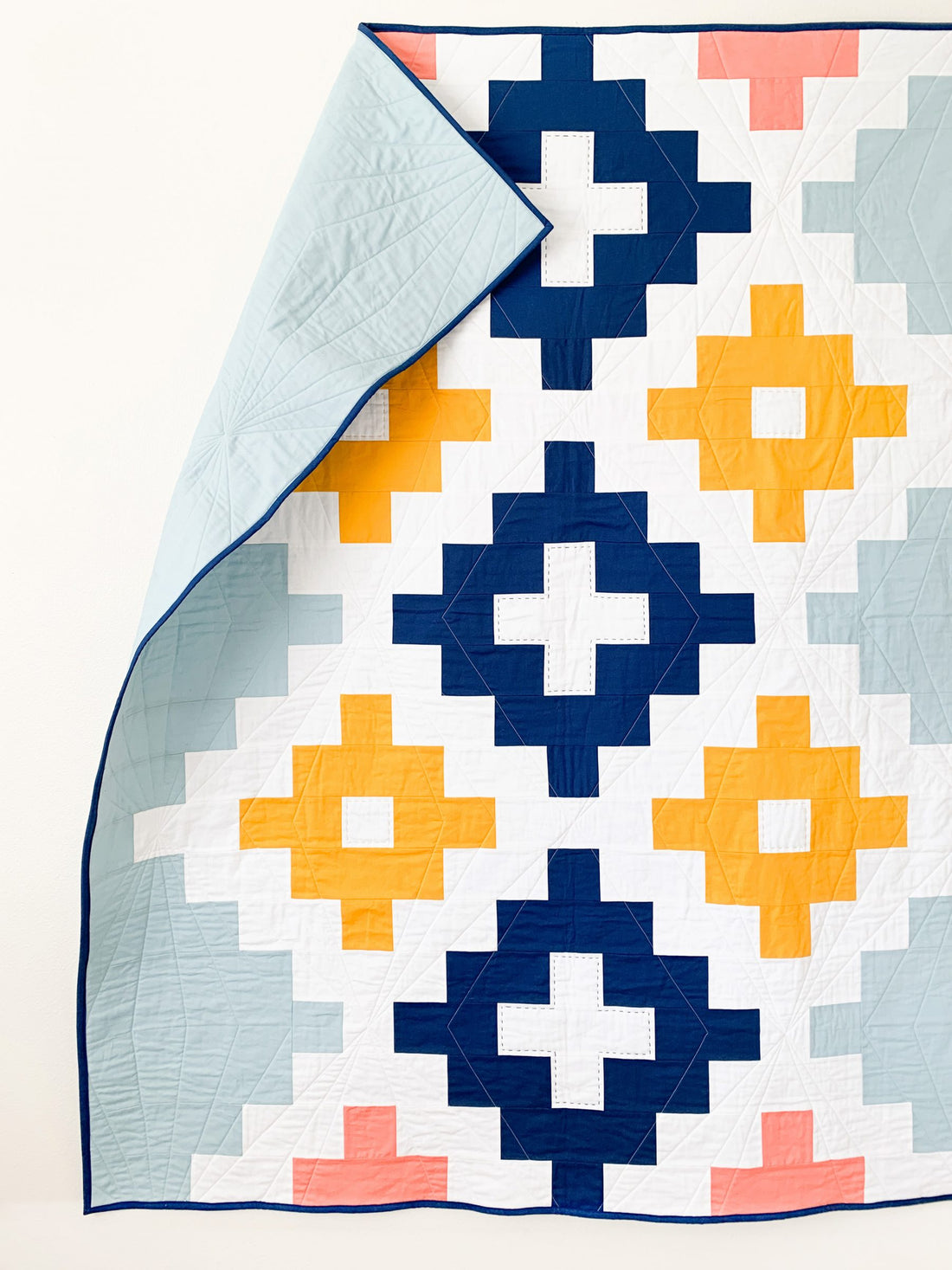 Happy pattern release day! The Andes Ode Quilt Pattern is here! I first sketched out this pattern idea last year, after a long trip down the rabbit hole that is Pinterest and Google Images.
For the second half of 2018 I felt a lost of nostalgia for my home country, Chile. I was born, raised, and lived until I was 15 in Chile, a skinny stretch of country nestled between the Andes Mountains and the Pacific Ocean. I've lived in the US for almost half my life now, but Chile will always be home.
My nostalgia, I think, came from having applied for my US Citizenship last year, combined with having my family here for the holidays. I felt a special pull and tug that I didn't know what to do with. So, as one does, I was spending time online looking at my own home country (weird, right? haha) and that's when I ended up looking at Mapuche textiles.
The ponchos I had seen so many times as I child that I took them for granted, suddenly were the only thing I wanted. I started learning more about Mapuche imagery and symbols, and that's when I met the Andean Star, and one of the main Mapuche symbols.
Similar to the Inca star, you can find this, and similar shapes, on the Mapuche Flag and many of the ponchos worn by the Mapuche people - and it called to me. So I began sketching, playing around with the sizes and shapes until I landed on this arrangement.
The name was easy - the design is based on the Andean Star, and Chile is known, amongst other things, for being a country of poets. This pattern is in many ways, my ode to Chile and my roots.
For the quilting on the cover quilt, I wanted to do something more than my usual straight-line quilting, so I turned to Jacquie Gering's amazing book "Walk". I used one of the many designs on there, scaled it for my quilt and went for it. It was scary, but fun scary!
I also added some touches of hand quilting inside the stars in matching blue and yellow. I honestly could not be happier or prouder of this quilt and pattern. I truly hope you love it as much as I do!
---
And now for all the amazing versions my testers made!
In no particular order, here we go!
Genna (@wetmountainquiltco) always makes beautiful quilts and I'm so fortunate to have her as a tester!
I love, love this version by Jessica (sewmilliemae)! She took on one of the color variations and it looks so good!
I love the colors Alexa (Maple Winds Quilts)chose, that minty touch is just perfect!
I gasped when I saw Kate's (katesmakesandcreates) quilt because it's SO freaking gorgeous! I cannot get over her fabric choices, they are so, so perfect!
I cannot get over how happy this quilt by Jamie (Sew Brainy) makes me every time I see a picture of it. The colors are so bright and happy, perfect for this dreary end-of-winter days!
Another happy, happy quilt! Rachel (Kinkfolk Fibers) took on one of the color variations included in the pattern and it looks so, so good!
Not even going to lie, this quilt by Sarah (The Crafty Seashell) makes me want to go to the beach right now! The colors are so perfect!
I love how the yellow in Emily's quilt (lemonyquilts) perfectly balances all the pink she used!
Talk about scrappy goodness! Kasie (marmalademoodquilts) used beautiful fabric scraps by Amy Sinibaldi and the result is just plain gorgeous!
L.T. (panola.isle) always does an incredible job when pattern testing for me, and this was not the exception! I love the colors and textures on her version of Andes Ode!
Janet (patchworkandpaws) did not one, but TWO Andes Ode quilts, including a baby version that will be going to her very first grandson and the cuteness is almost too much!
---
Purchase The Pattern
pin for later